Quick Report: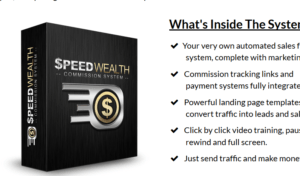 Name: Speed Wealth Commission System by Matthew Neer.
Price: So the gateway price is $27, but let's be honest, we all know it's not the last price tag you'll see and when I purchased that, here are the 3 up-sells which followed: $197, $97 and $199. One of the reasons for me returning this program was because of this stuff, and I'll explain why when I discuss each up-sell below.
Note: I also learned when trying to refund that this program actually has the audacity to charge me $19.95 every single month. For what I ask? You'll be asking that too when you see my review of this thing…
Overall Rating: 1 out of 10 stars. Before I even had a chance to check out the members area, I was bombarded by up-sells, then an intrusive questionnaire and after all of that, horrendous training on making money online, which I will tell you about just so you know why I say this…
Recommended? N.O, NO!

What you need to know about Speed Wealth Commission System:
This is honestly my first time encountering a product by Matthew Neer, but reading reviews from other bloggers on this guy, he appears to be someone who makes products quite often, a negative sign in my experience because it shows that there isn't enough quality or credibility in one to make it worth focusing on, and after seeing the training inside Speed Wealth Commission System, I can see why…
Here's what you see inside the program:
Anyway the short explanation of this program is that Matthew is basically showing how to make money, promoting his product, so he can make more money. Here's the basic idea:
1) You are told to get an autoresponder (Get Response).
2) You are shown how to create an affiliate link to promote Speed Wealth Commission System.
3) You are told to go out, buy paid traffic from a traffic exchange website and send it to your affiliate link/site.
4) You are told about the awesome income opportunities if you make a sale for this guy and if people buy the program from you, plus the expensive up-sells, how much you can make.
This is basically it, the rest of the site is just basic talks and webinars on making money online, which I didn't find to be that educational.
An experts thoughts on the method Matthew teaches:
As an online marketer, I can gauge how well the training taught in programs like these can turn out. Overall, this method of creating an online income is primitive and unlikely to work. In fact, it's mentioned a lot in typically low quality programs.
The idea of collecting a list, then buying mass traffic to send offers to that list just doesn't work as simply as I just described it (or the training did for that matter). 
People need to visit a site, get value from you, get emails with free stuff and earn your trust, and only then will they make sales. The training in this program doesn't mention this stuff and you also have to keep in mind that whatever you may have paid to try this program is amplified with the up-sells, plus the fact that the traffic exchange site you're pitched costs money to try.
Let's talk about the 3 up-sells for a quick moment:
While up-sells a normal part of just about everything we buy today, when it comes to Speed Wealth Commission System, I think they are just absurd, so I didn't buy them, but I had a chance to see what I was going to be getting if I did, here's info on them:
1) The first one is a $197 offer for some awesome webinars where you learn good stuff on online marketing. Right off the bat, I can tell you that there's awesome places in this industry where you get 100's of webinars for far less than this, and the content is amazing. You can also look up content on YouTube for these matters and also get great info.
2) The second one was likely the one which I liked least, it was a $97 offer to buy some squeeze pages. It's basically those pop up pages you see which ask for your email and give you something extravagant like "see how I make so and so". Truth be told, I have one of these too, but I made it myself entirely and it converts pretty well. I don't like the idea of buying this stuff, when you can just make squeeze pages on your own. 
3) And finally, the last up-sell a $199 offer for email templates which I assume is copies of what to send your email list so they'll buy stuff from you. In all honesty, I feel this is another waste of money because good email copies can be made by you. Think of it this way: If you collect an email list, your job is to give that list value and good information (before you even sell them anything), and as long as you're writing well, giving out good info, that is what will count as good email sending policies.
So overall, speaking from an experienced point of view on this stuff, I didn't find any of the 3 up-sells offered here were worth it.
Oh and let me tell you about what comes next in Matthew's sales funnel…
After the $27 offer, after the up-sells, comes a questionnaire. I dislike these things A LOT because they almost 100% elude to the fact that you are not done with seeing up-sells or more stuff to buy, no, they are gauging your qualification in this questionnaire by asking you personal questions, so then they can figure out how to sell more stuff to you.
Now even as a marketer, here's the core reason why I dislike this approach and find it sleazy:
First of all, until I reached the questionnaire part of the program, I didn't know who Matthew was or if I should even trust the guy. As of now, all I see is get rich quick promises, a lot of up-sells to buy before I even got any value out of his program and to top if all off, now I need to prove myself to him by answering personal questions? No thanks man, so far, scam signals are going off…
It should be the opposite, Matthew and his program have to show me that they are legit and offering me value and training that works before they even ask me to buy any more of their stuff. As it stands right now, this formula is flipped upside down and it is the reason I don't just hesitate to answer that questionnaire, it's the reason I don't recommend this program at all (not to mention how much I didn't like the training). 

Final Rating: Speed Wealth Commission System.

Red flag
1 out of 10 stars. I don't see anything speedy about it, if nothing else, your wallet will get lighter, that's the only fast part about it that I see…
My final thoughts: 
Yeah I wasn't happy about doing this product review, not at all. It didn't offer good value in my opinion and it was asking me too much, too soon before gaining my trust. As of now, I have zero trust for Matthew and this program as well as his up-sells. And that came after I saw the low quality training, that I then mixed in with the up-sell and questionnaire experience.
So there's my thoughts and review on the Speed Wealth Commission System. I just recommended a way better option and I hope you guys will take a look at it, cheers.