Quick Report: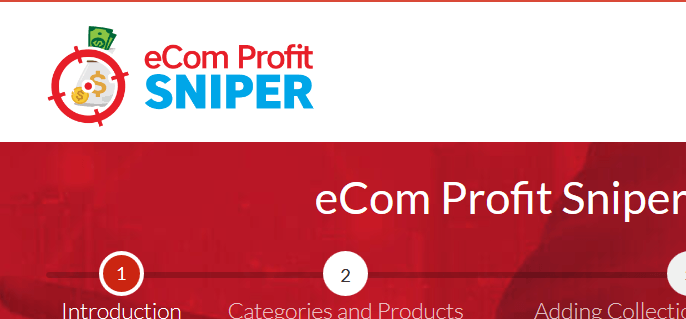 Name: eCom Profit Sniper.
Price: $37 with 2 up-sells following the $37 purchase. 1 up-sell is for $197, which you can get a discount for ($97) if you don't buy it from the original page and a $196 up-sell following that. Being that I only purchased the $37, that is what my review will be based on.
Overall Rating:

3 out of 10 stars

.
I am pleasantly surprised to say this program wasn't a scam, but the instructions/videos are honestly things I could hop on YouTube to find or other free sources, so I don't really see why anyone would want to pay the $37 for this.
That being said, this program does offer decent training but I feel the training cuts off too early (after they show you how to set up you eStore) and I feel that more info is provided in the up-sells, which I am not willing to pay extra for, sorry.
Recommended? No, I believe if you want a good program to show you how to make money online, this is what you should get:

What is eCom Profit Sniper?
So it's about 20 video lessons on setting up an eStore.
Specifically, what you're going to be doing is making a website (there is an option to buy one through Bluehost within the members area for cheap), then you are shown how to install a Shopify account on that website you make.
Then you are told to sell niche products on that Shopify store on your site by going on places like eBay and finding popular selling products, then once you find them, you go and try to buy them on a site called Ali Express, and if you do, then you put up that product on your page.
The next step is that you're shown how to make a Facebook page for your store and advertise the product/s to an audience on Facebook.
And after that, it cuts off, and I'd say the instructions on the last part are quite vague, and it's this lack of info that makes making money off this formula tough.
Here's an inside look into eCom Profit Sniper:
A 5 step example of how the eCom Profit Sniper formula works:
Step 1:
Buy a website.
Step 2: 
Install Shopify on that website (it's free). Also you are shown how to set things up.
Step 3:
You pick a niche topic on what products you'll be selling on your Shopify site. Now anytime there is mention of picking niches, I always tell people about my article on 100 niche topics that I made to help them choose something, although after picking, I tell them to make a blog website, vs an eStore site because that is how I make money online through that approach and there is training that I recommend for that which I will recommend above eCom Profit Sniper because there's more of it provided without having to pay so much more later (it is called Wealthy Affiliate).
Step 4: 
Once you pick the niche, you will look for the niche products on sites like eBay. Let's say for this example, I decide on a niche topic like camping supplies. So I'll hop on eBay or other sources and find which camping supplies are selling well.
Once I find a few products, I'll make a note of them, then hop on Ali Express and try to find those products for a cheap price. Once I do, I'll buy them.
Step 5:
I'll set up a FB page for my Shopify site, then make ads/banners promoting the camping supplies to what is likely going to be people interested in camping topics. Hopefully they'll see the page and buy from my store.
Now this is where I said the instructions were vague, but giving it the benefit of the doubt, this is probably the most logical way to do business in this step.
I will say this last part is going to be the piece of the puzzle that determines if your store is going to be successful or not and like I said, I felt the instructions in this section were lacking. 

Pros:
-I like the instructions. I was honestly surprised, as the sales page advertising this product was a bit cheap and gave me a "get rich quick" vibe, something I dislike. 
-There is some decent content within the members area. There are mainly videos, but you do get instructions in PDF to help you take notes and apply the training.
Cons:
-I don't like that the training is broad, especially in the last section on getting visitors to the shopify site. This is actually a big part of this whole formula that needs more explanation for people.
-I honestly don't see how the content on this program differs from me hopping on YouTube and typing in something like "How to make money on Shopify" or something like that. There's tons of good, free videos on there for this exact same subject and I'd even bet some of their content is better than eCom Profit Snipers.
-Those pesky up-sells are an issue for me as well. I honestly feel like the training I got was purposely missing a few important pieces that those up-sells just might have, but it's too expensive to check that out. I don't mind programs dividing up their training, but with the $37 one having regular info on making Shopify pages that I could find for free, I see no good reason to buy the up-sells.
Final Rating: eCom Profit Sniper.

Yellow Flag
3 out of 10 stars. It's well organized training, but like I said, I see no reason to spend $37 when I can find this same content on YouTube and Google (which I can).
My final thoughts: Should you just look for this stuff on YouTube?
For this type of content sure, but I'd still recommend some sort of trusted program to help you make money. While I am for people getting free content on starting online businesses and making money online, there's a lot of paid and free sources out there which don't really have good info to share. You need to know which program delivers the best information and for a fair price, even free.
In this case, I don't think eCom Profit Sniper falls into that category, but I do have an alternative program which I personally have gone through and seen amazing results from, Wealthy Affiliate:

This is a program which does feature training on the same subject of making Shopify pages, BUT that's not it's main training. It's main training explains how to create profitable blog websites and I honestly feel that this approach is better to making money online, because I have experience with that and I've personally seen amazing results from this.
And in terms of credibility, this site isn't just free to try, it's also got years of good reputation from it's million+ members so that's an important thing to know about it. I know you'll get a lot more out of that program than eCom Sniper, and that's because I've been a member of both places. Also here's a few more advantage of Wealthy Affiliate:
Way better support! 

There's free tools, including websites given to you.

Way more content/training/resources to help you.
And that's just 3 of many more things (see more benefits). Anyway, thanks for checking out this review of eCom Profits Sniper!
eCom Profit Sniper
$37 + 2 upsells
Pros
Provided some good, but broad training.
Cons
The issue is that there is already free content on this material on YouTube and Google.
The training is limited for the price you pay and you have to pay more to go further, possibly a lot more.
I personally prefer affiliate marketing and blogging over making eStore websites and think my recommended program is better for that type of training.