Quick Report:
Name: My Home Success Plan by "April Matthews".
Price: $97, 1 optional up-sell for a $3.95 hosting a month.
Once you get into the members area, you can expect to be up sold more from their "coaches" and then they try to get you to buy traffic from what I can only assume is junk traffic, aka a waste of money.
Overall Rating:

0 out of 10 stars

.
There isn't a penny worth of value inside the members area in my opinion. In fact, I'll tell you all about it in just a moment and explain why it's worthless.
More than anything else, I assume this program is just trying to get you to buy it's up-sells where the program owner themselves makes commissions off. They also didn't give me an order ID, which made the refund process more difficult to do than needs be.
Recommended? No!
Legit alternatives? Yes: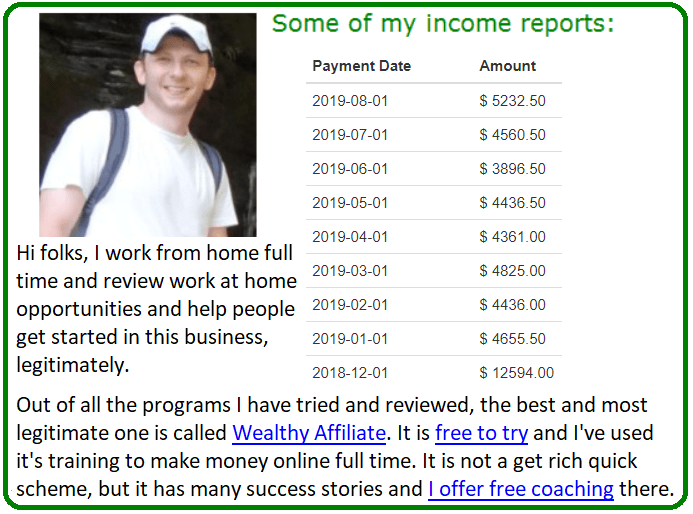 Now even though you already know about my alternative recommendation, I still want to show you why My Home Success Plan is a scam, so I will provide further information on this program in the remainder of the review:
Here's a quick summary of what My Home Success Plan is:
So you may have seen this site from a fake work at home site where you see a mom by the name of April Matthews.
She's likely not real because these types of websites typically use fake pictures and names and they are found in bundles on the internet, and I see them very often because I expose these scams quite often. Know that once you get inside the members area, April's name isn't mentioned once and that should say something, bad.
Anyway, once you enter, there are 4 sections of "training", which despite having videos and "training", amounts to very little in actual value because the level of that training is mediocre at best. While I will explain it in a bit more detail, what you need to know a few things:
Basically this program has you register with 3 affiliate networks: Clickbank which is good, JVZoo which I think is OK and Clickbetter which is often bad because it has many scams. Then they teach you to send traffic to things you are promoting on one of those 3 networks via paid traffic sites where you pay about a dollar or more and get like a thousand visits.
The idea is that by buying cheap traffic, you can send people to your promotions and get paid. They also teach you how to make a blog. But overall, this formula is far from good since the traffic is likely cheap, and worthless, aka junk and the training on site creation is minimal. So overall, this formula isn't exactly good.


Here's how My Home Success Plan tries to get more money out of you:
If you think the $97 or however much you pay for this program is the last charge you get, there's more and while ALL the purchases are optional, the problem is that the lack of training and steps basically make it hard to move forward unless you buy one or more of the extra things. Let me explain: 
First, this program is trying to get you to call a coach. That coach is likely going to be a sales person who attempts to get you to buy more stuff. 
Second, this program is trying to get you to buy these additional things:
Hosting, an auto responder and traffic packages from a site which I assume sells junk traffic. While I didn't try the traffic package site, seeing the claim that you can get mass traffic for like $1 is a red flag. Good traffic never costs this little, believe me.
Want to know what's inside My Home Success Plan? A lot of low quality info…
Like I said, there's 4 sections (well there's 5 if you include the welcome page):
First we have the home page:
There they tell you to call the coach as your first step. Next, they'll have you go over how to sign up for the 3 networks I mentioned before: Clickbank, JVZoo and Clickbetter. 
Out of these 3 networks, like I've said before, Clickbetter is the one most known for having the lowest quality products and it just so happens that My Home Success Plan is registered with them. What a coincidence…
Next we have the #1 business model section.
This is just a repeat of the welcome section where you're shown how to sign up for affiliate networks. 
Then we have the "#1 missing ingredient", aka, let us make you spend more…
This is traffic (visitors). It is true that any profitable site requires it, but the quality of traffic you get may as well be considered its own missing ingredient. In this case, the quality of traffic you get is in my opinion very low quality (cold traffic likely is what I would call it). Not only that, but you do need to buy it and I am certain the creator of My Home Success Plan is an affiliate for it.
And in regards to affiliate stuff, there are legitimate ways to do affiliate marketing online, and this is what I do, but the way it's done in this program, in my opinion is a shady way of doing it. 
Then we have the next section called "Advance Steps".
This is also known as Phase 2.
Here they talk about getting hosting for your site (the same up-sell I mentioned above for $3.95 a month) and they show you how to make a blog and get an auto responder. The auto responder is also a purchase you'll need to make in order to make this part of the training happen so yeah, like I said before, they are trying to get you to buy more and more…
And finally we have a "VIP section".
This is training on your website and various other training on other things like eBay selling, paid ad training. I would actually say this section is the one with the most value, but its honestly so vague that it's just a step above the already low quality training in the rest of the program and some of the videos are very outdated, and one more thing:
I swear I've seen this same training before, on another low quality program I reviewed long ago. In short, these videos will not help much…
In short, as you go through these steps, you will need to spend more to try them. The autoresponder, the paying costs for buying traffic, and the coaching (this one may or may not be an extra upsell), are all extra things to get and after seeing the low quality stuff on this site, I will not give away any extra penny to this program…
Final Rating: My Home Success Plan
0 stars 
Red Flag
0 out of 10 stars. $97 is too much to charge for this "info" and I wouldn't even call it that, I'd just call it a chain of marketing schemes to get you to buy more stuff, so yeah, I'd say its a scam.
The only areas with some level of useful training are in little amounts and so much so that if you try and put it together with the bad training, you just get a whole lot of confusion on how to build an online business. So that's why I believe it's hard if not impossible to make this program work…
My final thoughts:
Having done internet marketing for years and seeing the various ways to make money online, I know about how to see if the training in a particular program is legitimate or not. There are elements in My Home Success Plan which are legit, but unfortunately, but there's just so little of it that it makes the overall formula too difficult to pull off.

If you have experiences with My Home Success Plan, let me know. Now that I'm wrapping up this review, I do recall getting a comment on this site where a person did mention this exact same program and asked about how to refund it. Looking back, they were right and now I'll follow along with getting a refund for myself.
My Home Success Plan
$97 and other costs after.
Cons
Another program pitched by a fake news report site.
Very low quality training throughout the membership (see above).
More "services" are pitched in the members are to get you to spend more.
I 100% do not trust this program based on the personal experiences I had with it.