Quick report:
Name: Piggyback Payday.
Price: $27 for me.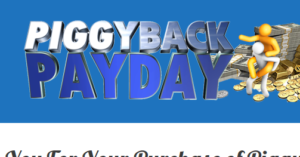 Overall Rating:

1 out of 10 stars

.
I was really looking forward to learning what this program taught. Unfortunately after purchasing the program, not receiving an email with my login and reaching out to the product creator to give it to me, and waiting for days without a response, I finally gave up and just got a refund for it.
The following review isn't just about that experience, but also what I learned about this program from other people who have supposedly reviewed it (I had to see if they were legit or not) and the fact that lack of good support is something I rate products low for.
In this business, good support is MANDATORY and this program just didn't have that.
So additionally, I will be recommending a truly good, workable program that has the BEST support I've had seen, 24-7 to help you make an online income:
Here's Proof I purchased Piggyback Payday:
So in this confirmation, I was told I'd get an email with the login. After waiting for about an hour (and checking my spam folder too as these log ins can sometimes go there), I didn't see any email from the owner.
So I reached out to him and left a message on his support page:
Now that support ticket was made on 8/4/18.
Today is 8/7/18 and not counting the weekend days (which he doesn't respond during), I've been waiting for 2 days and change for a response. 
Now I want to give this program the benefit of the doubt and say that perhaps this support ticket got lost and I don't think it's a scam. Bad support or a missed support question happens from time to time, but I can't wait anymore for this program to deliver, so I decided to get a refund.
But the problem is that the only way to do it is to contact the owner of the program AGAIN an try that, so that's where I'm at right now with it.

But I want to add more to this review, and here's what I discovered about the program:
The best reviews one can do is on a product or program he or she purchases and since I couldn't that here, the next best thing was to investigate what other people are saying about Piggyback Payday.
The only problem I had with that is the top reviews for this program I found were made by people who clearly were trying to promote it to me and generally they didn't really offer a critical or genuine review, but rather something broad.
I would generally encounter these types of reviews on Piggyback Payday:

That's really how most of the reviews I found on this program went and honestly, if you look at the details, the person/s who write this aren't really saying anything specific, they are just broadly explaining why the program is good.
Be careful with reviews like these and always look at others for cross referencing (which is what I did).
But I did find a little bit of specifics on this program. So here's the real info:
Despite the many positive and dare I say unspecific reviews I found, what I did deduce from them was that Piggyback Payday was basically a program which helps you sell Shopify products by contacting popular figures on Instagram.
This strategy is also known as influencer marketing.
For those who are new to this concept, Shopify is basically a program you install on a website to make an eCommerce store. Then the idea is that popular figures on Instagram will get paid by you or incentivized in other ways to promote your Shopify page to their followers.
This kind of idea can definitely work which is why despite the bad support experience I had, I still gave this program some stars but it is important to note that for this formula to work:
You actually have to reach out to a lot of people because I doubt most of them will say yes. Unless you pay the right price or you're good friends with the person you're seeking to ask to promote your page, not many will say yes. 
One other thing to consider is that you will probably want to have a Shopify page that promotes specific products and finds big name people on Instagram whose following would be interested in those products.
In regards to Shopify, there is a good program that teaches you about it and provides access to products that will let you sell it called Oberlo. But that's all eCommerce stuff, and in my option (with regards to Piggyback Payday that is):

An example of how Piggyback Payday's formula could work:
If you have a Shopify store that sells hiking equipment, you'll probably want to find people on Instagram who have channels related to hiking and then pay them to promote your store.
This in essence is what piggybacking is, you're basically using other people's popularity and reach to make sales for yourself.
Sounds like you have experience with this stuff Vitaliy. How do you know this?
Well firstly, I am an experienced marketer and second, I have friends with big followings on Instagram who have tagged me in their posts, so I know how this business works.
Although I am not big on Instagram marketing and do other things to make money online (affiliate marketing), I can tell you the blueprint is pretty much the same in that if you have a site on a particular and seek out people with big followings in the same topic, and get them to pitch you, it can lead to big sales, but it's not always that easy…
Final Rating: Piggyback Payday.

Red Flag.
1 out of 10 stars. To the owner of this program, PLEASE fix the support and I'd be happy to re-review this program.
Update: Another failed attempt at getting my login…
So as I went to send another message to get a refund for this program, I saw a post that had over 5k views where someone also mentioned not getting their login. I clicked on it, and it said that I could re-enter my email and get registration to it, which I did. After doing so, this is what I was hit with: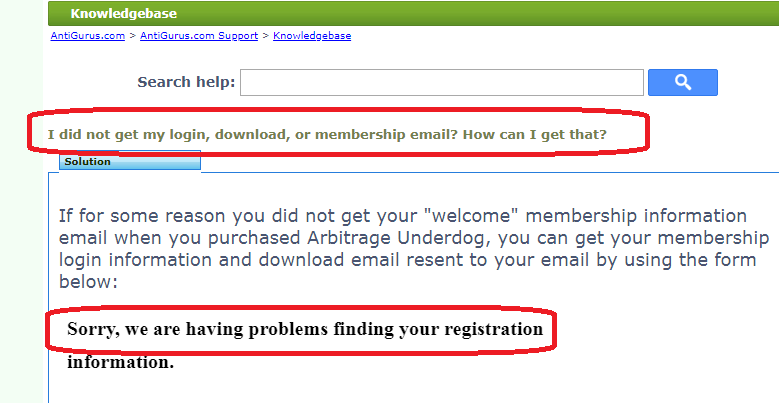 And right under that sorry message a support link to contact, which happens to be the same link I made my original ticket through, which you already know got no response…
Now I'm still hopeful that I'll get some sort of message to help me log in and in that case, I'll update this review, but as of now, this bad support is really turning me away from this program and really leaving me with no choice but to get a refund…
Support is a huge part of success online (where you can get good support):
This program may very well be completely legit and workable for people, but without the support, it's a HUGE loss in rating. Imagine being a beginner or even someone who did get access but having questions. 
With poor support, AT BEST you will get answers once a day, but this kind of LAG in response time really slows down people's progress which is why any program that teaches making money online that does NOT have a good support system is one I will NEVER recommend.
And it's very unfortunate for me to admit, but most programs I've come across just suck at support. They may answer one question, but if you have another, that'll take more time to answer and so on and so forth. And without these answers most people can't progress in taking action and this slows down and lowers their chances of success.
It's a big deal…
This is why if you seek success online, this is the program that'll do it:

Unlike certain programs (Piggyback Payday) which offer support on weekdays (and poorly in my experience) and skip out on weekends, this program I recommend gives excellent, FAST support. 24-7. No need to submit tickets and wait, they have a live chat that'll get you going ASAP.
And that's just one of the positive pillars of it. The other is the amazing, workable training that personally made me a successful online earner. So if you're stuck with Piggyback Payday or are considering a different program, now you know what you can rely on.