Greg Kononenko happens to be one of the few bloggers I endorse listening to, because he actually delivers the content and information he promises.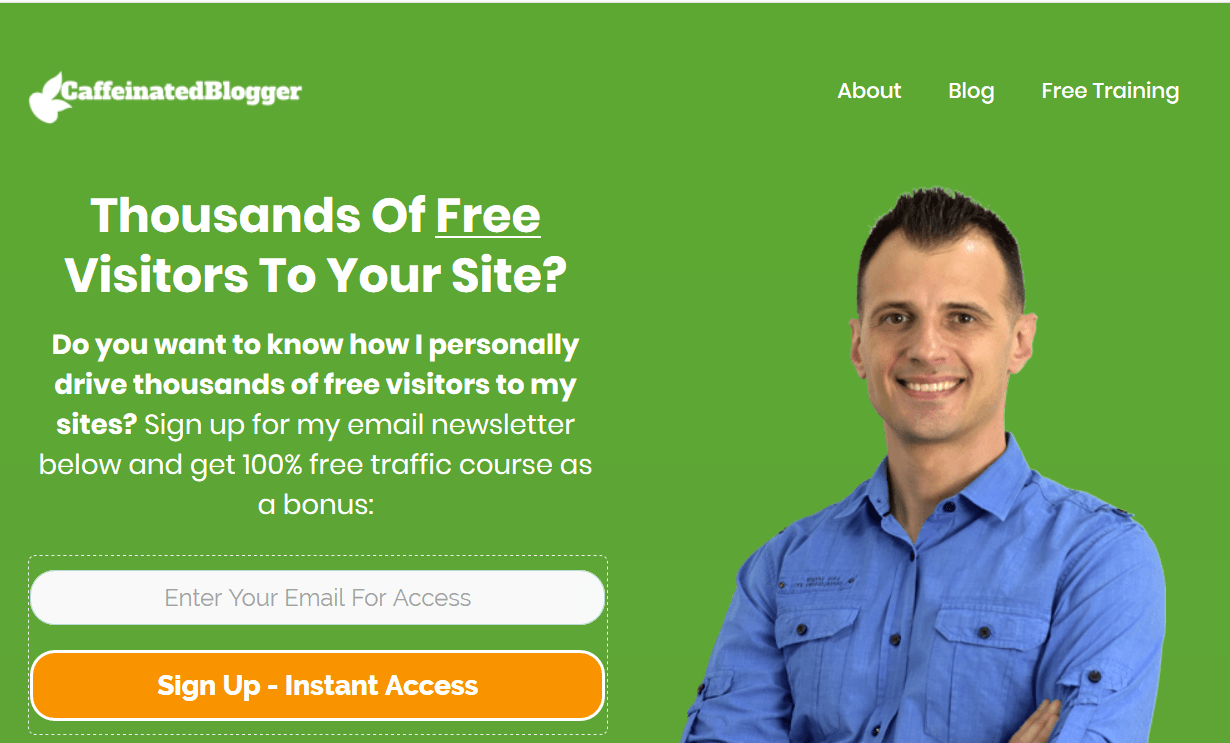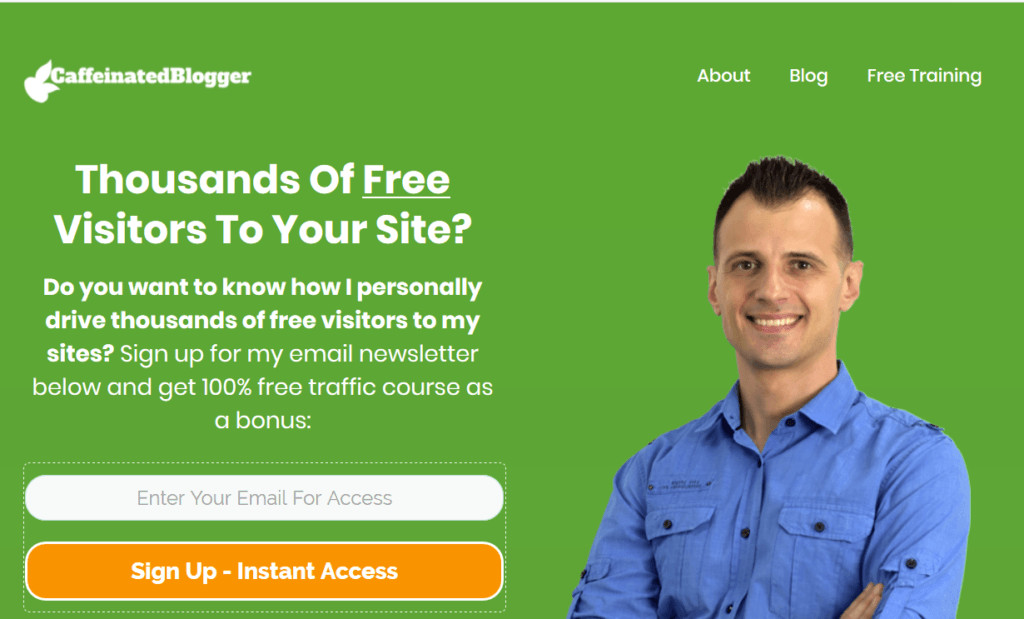 In this article, I'd like to cover my experiences with Greg, what he teaches, explain what has to offer, such as his free content and information about his program and site, the Caffeinated Blogger and more.
The good news is that he is 100% legitimate, but as a fellow internet marketer who also makes an income online, there are some areas where I'd offer different advise on getting started and succeeding online and I will be giving you the information both he and I provide, and you'll be free to decide whose info you wish to follow (even if it's both).
First, let me quickly cover who Greg Kononenko is…
He's an internet marketer, who I found out about after I purchased a few JVZoo products from someone named Stefan Ciancio. I believe they partner up and make IM products occasionally and I will link to some of them here (the reviews I did that is), but usually, I find that the training these guys produce is separate in terms of what each person teaches, just connected through the program sold, and it's usually Greg's side of the training where I usually get more value from. I have listed him as an IM guru you can trust.
From what I have found, Greg's MAIN thing is Pinterest marketing and he has a site called CaffeinatedBlogger.com where he divulges the ways to make money online through the Pinterest platform. From what I've seen the program is several $100, but if you go through that site I linked above, he gives you a special discount for about $200 instead.
He also has his own personal site here, where he gives out great content, as well as a YouTube channel here, where I also have gotten lots of value from.
Now this is where I'm going to get into discussing my experiences with the things I purchased from him (and Stefan), what I learned and the free, valuable content I've found from him that I'll also share…
My experiences with Greg Kononenko (GK)…
There are a number of them. I have purchased at least one of his own programs called Autopilot Commission Blueprint. That one teaches very basic, yet good stuff about email marketing.
Then there's the programs where he and Stefan Ciancio team up, such as Traffic Rebirth. With this program, a lot of Pinterest training is provided, as well as stuff from Stefan which also has good value.
There are a few others, but the remaining experience I have to share with you comes from Greg's YouTube channel, where I explored many of his Pinterest training videos (something I was studying to expand my online business into). Not only that, but he also covers ways to make money through affiliate marketing via methods like posting on specific websites and promoting Clickbank products. 
Overall, this dude will show you ways to make money as an affiliate through different methods, besides Pinterest, even though I think that's his main expertise area and even if you can't buy one of his programs, you can still get plenty of great information from his YouTube channel and blogs I linked to.
And since I mentioned his free content, let me once again say something I said in the beginning of this article, that Greg does deliver very well on the information he provides. For example, generally speaking, if I see a YouTube video or article of his where he uses Clickbait titles to explain how to make money and I actually do click it, MOST of the information he provides in just about every case is backed up through the content. And if not, it's still a very high quality video/article in general.
This is something that is very rare (sadly) to see from online marketers. I study and see videos/content from other marketers like Alex Becker and John Crestani and with regards to the content they produce, it's usually mixed.
Sometimes I'll find what they advertise on their YouTube videos for example, is sometimes not well backed up through the actual video,  so seeing Greg actually deliver is a great reason to subscribe to his channel and read his blog folks. And again, I've provided a link to his site, his Caffeinated Blogger website as well as his YouTube channel.
Should you get the Caffeinated Blogger program?
While Greg provides awesome, free info, the main blueprint of how he teaches you to build an online business will likely be found inside his Caffeinated Blogger program.
Now I didn't buy that program, but as an online marketer who has purchased other programs he produced, that I mentioned above and all the content I've seen from him, I will make a "blind recommendation" of his Caffeinated Blogger program and say it's legitimate if you wish to learn online business, specifically Pinterest stuff.
If there is an update on this where I do buy the program, I will be providing an in-depth review.
Does Greg's stuff work for beginners to online business? Absolutely.
I do like that he has a diverse range of training he provides, giving beginners options to get started with online business, but at it's core, he is teaching you affiliate marketing.
And it just so happens that affiliate marketing is my personal way of making an income online too. And I have my own personal get started tutorial for beginners to making money online, right here.
Note: I have 2 other marketers I would recommend taking advice from besides Greg:
First is Ivan Mana. His content is also great for affiliate marketers.
Second is Miles Beckler. He teaches a lot of affiliate marketing with Facebook Ads and his content is also good.
What GK and I both recommend for beginners to earn an income online: Wealthy Affiliate.
Wealthy Affiliate is one of my biggest promotions as an affiliate marketer, and that is because it trained me to get into and create this blog and other forms of online income. 
Greg also did a review of this program and rated it very well, so if you're a beginner and stuck on where to begin with online marketing, I would strongly recommend it be with Wealthy Affiliate, and you can see why here:
This is probably one of the best ways to start if you're just getting into affiliate marketing and online business, and besides having a guide to follow, you also get coaching help/advice from experienced marketers, like myself, for a great deal.
I am absolutely not discounting the Caffeinated Blogger program, but that is a recommendation for people with a few $100 and interest in Pinterest marketing in my opinion.
And Wealthy Affiliate's stuff is more of a broad approach to online business, through things like blogging, YouTube, Bing, social media and that sort of stuff, so there's more stuff encapsulated and taught there.
I want to finish by saying that I was very happy to write this article/review on Greg Kononenko and I do think he's a very ethical marketer, which is unfortunately a rare thing in this business, and after exploring many different names and brands, I will say, that he's one of the good dudes, who you can trust to help you make money online.