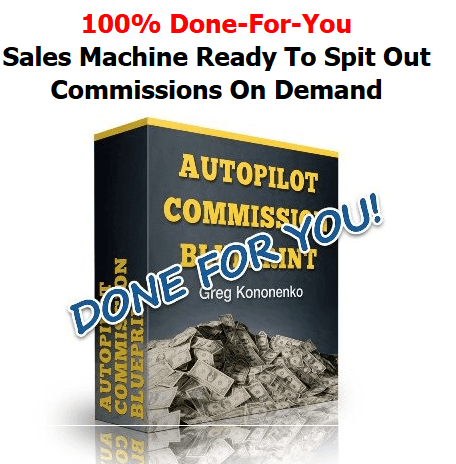 Autopilot Commission Blueprint was one of the first guides I purchased from Greg Kononenko and in this review will explain what's inside it and if it's a good purchase.
Quick Report:
Name: Autopilot Commissions Blueprint by Greg Kononenko.
Price: $7 plus 1 $11.95 up-sell.
Overall Rating:

5 stars out of 10.
Good program, but it could be much better.
Autopilot Commissions Blueprint is one of those programs which I though would be a scam, but for $7, I am actually happy with my purchase.
In addition, this is one of the only products where I've actually purchased their up-sell and I too am pretty satisfied with that.
Aside from those positives, there are some things that I am not overly happy about with this product which I will also get into.
Autopilot Commissions Blueprint in a nutshell:
In short, it's a guide on doing affiliate marketing via collecting emails and then selling to your email list. You learn from the very beginning the fundamentals of online business and there are a lot of good points. 
One thing I will say that I don't often do is that I purchased the up-sell for an extra $11.95. I felt there was value worth looking at there and surprisingly I wasn't disappointed. For the price they charged, I felt the materials were more than suitable. 
What you get from this product:
1. 83 page ebook: This is what you get for the $7 and it's really the most important part of the program. I'll briefly summarize what you learn:
Greg explains how to make money by targeting broad niches. He recommends weight loss or body building as they are what he calls evergreen which means they are always hot.
He does briefly explain other types of niches that exist, but the examples he used were very broad and competitive, which I though weren't a good idea, but reading further did alleviate my concerns (somewhat).
You then learn about buying domain names as well as how to set up your self and then find affiliate products to promote. The training then goes in-depth on getting autoresponders like Aweber. Now the purpose of all of this is the following:
Once you find your niche, you'll make a squeeze page and put an opt-in form from Aweber (or another autoresponder) to collect those emails. The more emails you collect, the more money you can make from sending out promotional offers. 
Now one thing I was concerned about was what Greg Kononenko was going to talk about when it comes to getting visitors. Because earlier I said I wasn't happy with him suggesting you target broad niches so by the time I got up to the traffic generation part, I was skeptical. 
Most of the free techniques Greg lists for generating visitors to your site (and getting a bigger email list) is to guest blog on popular websites (he provides links) and marketing yourself on forums. Aside from that, he also talks about doing Solo Ads and advertising on popular networks like Bing Ads. 
The idea is that by using these options, you can get visitors to your site, have them sign up to your email list and then overtime sell them products. 
The good news is that the booklet is very detailed on every part of this process, although there is no support email from what I saw. In addition to this booklet, there is also another ebook provided which summarizes steps you need to take. Basically they are assignments to help you better organize yourself and honestly, they do help. 
2. The up-sell. This is known as the Done For You Autopilot Commissions Blueprint. It basically serves as a supplement to help you make sure of the original booklet by offering you pre-built squeeze pages, as well as informational content you can send out to your email list.
You also get notepad documents with emails you can send out to your email list. This serves as a way to gain their trust so you can then sell them products down the road. 
The only downside to this up-sell is that you only get information and squeeze pages relating to body building and weight loss, and nothing else. The good thing however is that Greg does mention this on his sales page so I have no complaints about this. 
This is probably the only product I've ever purchased where I actually recommend the up-sell because it does help if you're planning on trying to make money within the specified niches I listed. Overall the up-sell does make life easier if you are going to implement the training. 
3. Bonus ebooks on list building. You actually have to sign up to 3 different sites to get them so it's not something I bothered getting into.
Pros:
Very transparent product. Greg does explain it all on his sales page.

This is the first time I've ever endorsed an up-sell.

The training in the program is pretty sound, though there are a few things I would have liked to have seen.

There is potential to succeed with the methods taught in this program.

Very detailed instructions in most of the training.
Cons:
Training doesn't go over building content rich websites, only squeeze pages. Most focus is on email marketing. 

Some methods require you pay for it (autoresponder/paid advertising).

Not much support from what I saw.
Final Rating: Autopilot Commissions Blueprint
Green Flag (Good program)
5 stars out of 10. Good program and I give it a thumbs up, but this program, Wealthy Affiliate beats it in pretty much every aspect.
My final thoughts: 
While I found the information in the booklet to be very good and the up-sells to be great even, I didn't see much information on SEO, with the exception of guest blogging and forum posting. While the training does cover paid advertising, it doesn't go into great detail on a lot of these things and I feel if you're new, you're going to have problems with this. 
Furthermore, I also believe that guest blogging isn't something you should do unless you already have good experience in writing and/or experience with the niche you chose. Yes Greg does list sites you can guest blog on that get a lot of visitors, but I'm fairly certain that they are picky about who they let write on their site. 
The other thing that I noticed was missing was support. An email was only provided in the main ebook, but absent that, I didn't see it anywhere else. In online business, especially if you're new, support is absolutely crucial! 
Other than that, I have to say the program is good as is the up-sell. It's not the only way to see success online and because it does show one approach is another reason why I recommend seeking other methods. This approach may not be suitable for everyone. For example, I have tried email marketing on several occasions, but my passion continues to be with paid advertising and SEO. 
This is why even though I still collect emails, I focus mainly on the other things, because it works better for me. This can also be the case for others. 
Finally the other thing I don't agree with is that Greg doesn't really provide an in-depth explanation on niches and gives broad examples. In my personal view, niches should be chosen based on what you love (here's 100 of them), not something that's profitable or evergreen. If you pursue a niche you love, it'll make growing your business a whole lot easier.