I purchased Traffic Rebirth because I generally like the stuff it's creator puts out. In this review, I'll be giving you an actual inside look of this program.
Quick report on Traffic Rebirth: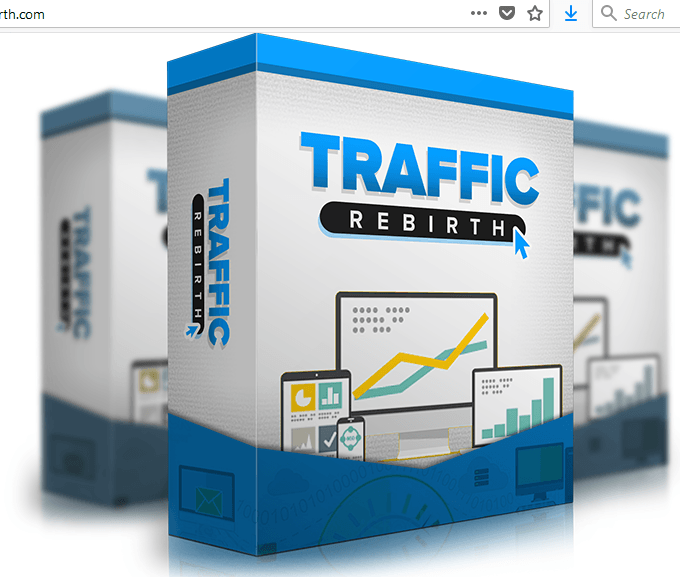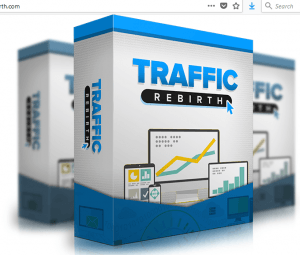 Creator: Traffic Rebirth by Stefan Ciancio.

Price: $17, then there are I believe 3 different upsells. I purchased none of them and preferred to just try the regular program.
Overall Rating:

5 out of 10 stars

.
I believe this is the second time I've ran across a product made by Stefan and I've got to say, so far, so good.
The guy delivers a lot great value and I learned a lot of great things. There are some cons I'll talk about, but overall, it's a good solid product whose training is good for beginners and higher ups to try and there is good potential to make money in the process.

What is Traffic Rebirth? Does the name match what the program teaches? 
I'd say 80% of this program is about showing you how to create a following on Pinterest (a social media branch of Google where people share pictures, kind of like on Instagram) and then funnel them to your WordPress website to provide different types of offers.
The rest of the program shows you stuff on SEO, FB ads and other miscellaneous sources of traffic, but the bulk is all about Pinterest basically. I believe I also saw a lot of this kind of training in another program made by Stefan, called Evergreen Traffic Academy. I'm letting you know in case you see it, to avoid buying the same kind of info, two times.
In a nutshell, the strategy they teach is as follows (7 steps by my count):
1) Create a website on a niche, then create a Pinterest account. 
2) Next you will find followers that are in the same niche market as you are, and follow them. This in turn will make a portion of those people follow you back.
3) You will build a following (the training suggest over 50 people).
4) Next you will find big names in Pinterest within the same niche market and attempt to join their community on Pinterest. The number of followers you have (what you did in the previous step) will basically give you credibility to join these big boards and names.
5) You will then create your own content, images and PIN those things to the big names on Pinterest that let you inside their "club". 
6) This will expose your content/images to the followers of those big names and funnel visitors to your site.
7) What you can do then is collect email lists, do affiliate marketing or other stuff related to gathering and monetizing those visitors that come to your page.
So if there were a way to describe the end goal of this strategy, it's essentially piggybacking off big name people and their boards on Pinterest. Certainly not a bad idea at all and the creators of this program did show their personal results doing this, you really can get a lot of visitors to your site following their strategy.
Pros:
1) Very organized training structure. There's 5 modules, all of them are set up in videos. Here's what it looks like: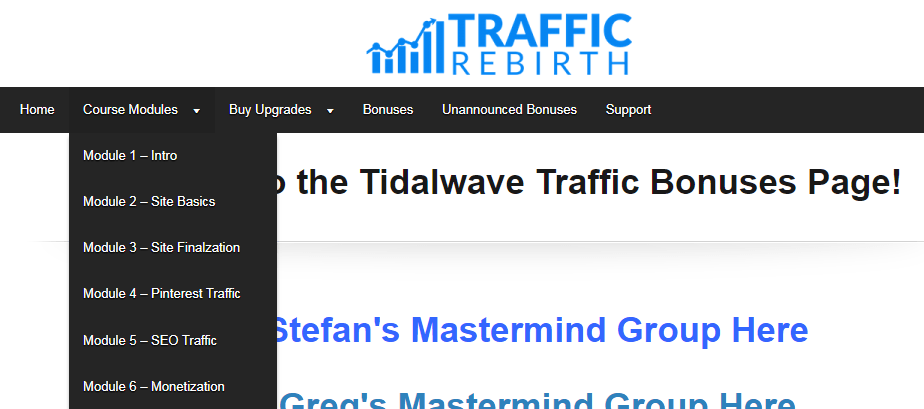 2) Proof is provided to show that their strategy works.
3) The steps are quite detailed. 
4) Early on, Stefan and the other person who designed this program make it clear it'll take several weeks to start seeing initial results. I respect programs that emphasize that they are not a get rich quick scheme. 
5) Additional training is provided in later modules to teach you extra ways to get traffic. In short, this means you get more value for the price you pay ($17).
6) The way they show to get traffic is free (at least until they start talking about FB, in which case you will have to spend money).
Cons:
1) No where on the members area did I see a place to comment or ask questions. A "Zendesk" type support is available (you make a ticket and wait for a response), but I would have preferred a comment system where under each module you can ask a question, because I actually did have a few.
2) I would have liked to have seen a PDF or some sort of written type of version of the training. It is provided in the videos, but sometimes I got lost in what they said or showed and had to rewind several times to understand it. Having a written step-by-step structure would have saved me some time.
Will Traffic Rebirth work for you (aka, make you money)?
I would say yes, there is a very solid foundation. I have personally and very briefly entered into Pinterest marketing in the past, but never took it seriously, even though I have reviewed several other programs which talk about this stuff.
However, Traffic Rebirth made me rethink this subject quite a bit. So much so that I actually decided to try their stuff out on a website that I haven't been very active with (it's a website on nature photography, and it is growing, partly through Pinterest, which I'm still exploring). We'll see how it goes…
There is more than enough evidence provided by Stefan and his partner to show that there are plenty of people (including themselves) making money through Pinterest and at stage, I trust their experience, it'll just take sometime for me to personally examine it on my own. If this works, I'll be more than happy to add an extra star or two and recommend it further. 
I will say that this program is quite extensive and hard to get through quickly, something I would not recommend. You will have to take your time with the training to let the modules set in. Too much, too soon will cause you to have massive information overload, which is something I encountered, and I'm an experienced marketer, so if happened for me, it can happen for you.
Final Rating: Traffic Rebirth.
Green light (Legit).
5 out of 10 stars. $17 is a no brainer for this program as far as I'm concerned (I offer no opinion on the upsells since I didn't get them). It's good to have this information just in case you want to experiment with new ways to get visitors. This program is totally and thankfully legit (not a scam at all!).
I do believe that the other program I mentioned by the same creator earlier (Evergreen Traffic Academy) is slightly better because there is more information provided, and like I said a lot of it is similar, BUT I would still rate that alternative as #2, with this being #1: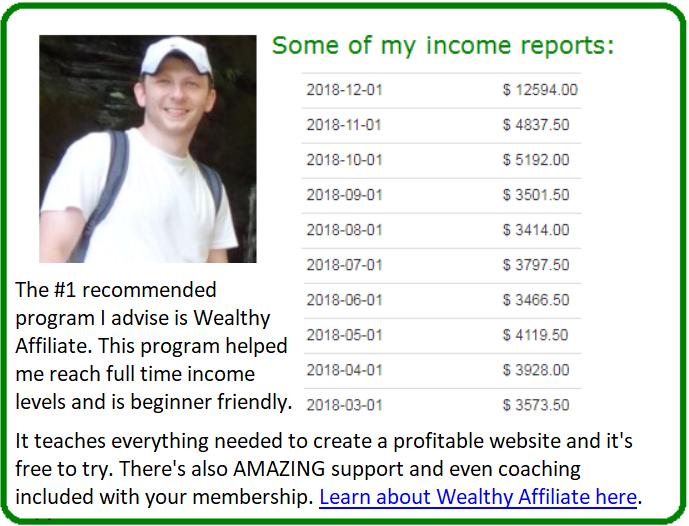 My final thoughts: Who this program would suite and who it may not suite:
If you're already someone who already has experience in making websites and getting visitors, I am sure the information you'll find within this program will further help your existing website traffic grow.
However if you're new, I would start from a more traditional base of getting traffic: SEO and while Traffic Rebirth has a section on SEO, it is nowhere near as comprehensive as I would like it to be. At least not as comprehensive as my #1 recommendation:

I have found that no matter how many new ways to get visitors have sprung (social media, Pinterest, Instagram, FB, ect…), good old SEO and ranking high on Google still remains on the best ways to make a living online and I happen to do that. 
The bottom line on Stefan's Traffic Rebirth program:
Overall, do I recommend it? Yes it's good, but for a more comprehensive, all around training, I would pick my #1 recommended program, Wealthy Affiliate over this, especially since it's free to try.
In the future, I will be looking more and more closely at any thins Stefan releases, because so far, I'm impressed by what he offers, but again, with the Wealthy Affiliate rogram I recommend, they have an all inclusive training platform (SEO mainly, PPC, social media marketing including Pinterest training) and any new stuff that comes out gets added to their existing training platform and you don't have to pay anything extra to try it, which is another huge, cost saving benefit.