If you heard about Affiliate Marketing Dude and are wondering if buying this service is worth the price, let me break down my personal opinion on it in this review and frankly, I do not think it is (but I will show you what is).
Quick report on Affiliate Marketing Dude:
Creator: Affiliate Marketing Dude by Marcus Campbell.



Price: Ok so there's several. For the custom website business website…
It's either $997 one time or 3 payments of $397 a month.

There is also a starter package (to try out the system) for $175. 
Overall Rating:

1 out of 10 stars

.
In my personal opinion. websites that cost this much to get made are not worth the price. I've also reviewed a product of Marcus's before and also had the same opinion.
Bottom line is, I will show you how you can produce your own online business website, for free, without having to risk this much money and I am proof this works.
Here's a quick spoiler (alternative):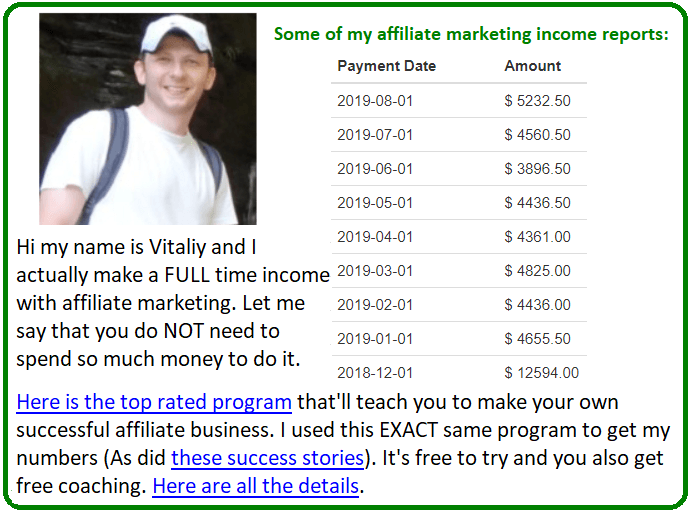 Let's discuss Affiliate Marketing Dude in depth. What is it?
It's a program and basically service created by Marcus Campbell where for a pretty large price in my opinion, him and his team will create you a website that supposedly targets high ticket niches.
High ticket niches are topics a specific group of people are interested in, where the products being sold to that group are very expensive. By promoting those expensive items, commissions are thus very high, meaning you can make a lot of money by promoting within said high ticket niches.
For example: If I set up a website and promote $5,000 cameras and one person buys it and I get a 10% commission, that would earn me $500. Multiplied many times over, this can really become a profitable venture.
Now as an added disclaimer: I've got to come clean about this.
I had not purchased Marcus's services, and the main reasons why aren't just the price, but because as I said earlier, I actually do affiliate marketing full time, for myself and help others with, so Marcus's program has no uses for me, but I can tell you that my approach to this business would 100% cost you FAR less and give you more in benefits.
I have and make websites that make money through affiliate marketing and my approach is very different than what Marcus offers. Here's some differences:
1) I suggest to people a great, free to try program where they can do the same, but for themselves.
2) I never suggest people get started in affiliate marketing by paying a high price there is charged in Marcus's program because the incentive is very different and the risk factor is high.
3) Many people, without the proper training and support end up buying highly expensive websites but not knowing what to do with them.
Buying Marcus's product is just the first step of the "adventure", but it's not like it's guaranteed to make you money for life afterwards, you'll have to work on it.
In fact, Marcus's own checkout page where he sells you his service says this:
I recommend you read that whole disclaimer, not just the parts I underlined, but the main point is that the price you initially pay doesn't guarantee success (nor should it, so he's being honest here). But you are taking a big risk paying so much.
You do get training post purchase, but let's face it, you still invested a lot by this time when what I will show you will literally be RISK FREE, because it won't cost anything. 
Let's analyze the price points + what you learn from Marcus vs what I will show you:
Ok so first off, I have to mention that there is a confusion I ran into when looking over Marcus's website and the prices he set for his services, training and bonuses. It seems like in many areas, he offers the same bonuses, but depending on what page you're viewing, the price estimate of it will be different.
So which is the real price and what's the truth? Let me show you what I mean:
Weird stuff right? For the screenshot on the left, this is Marcus's starter package and the price point there is $175, while the image on the right is for his other services which is either nearly $1,000 one time or 3 monthly payments of $397. I don't understand which is the better…they're both too expensive though.
But I do want to make a quick note:
I did mention I reviewed one of Marcus's products before.
In fact, it is called Simple Sites Big Profits, the very same image you see on the left in the screenshot above. And when I last looked at that program, it was not the current $175 price point it's at now, it was much more expensive.
Maybe he changed prices, maybe there's some misunderstanding, I don't know, but it is absolutely confusing to me and further pushes me away from ever recommending or buying his stuff.
Here's a quick comparison look at what Marcus offers vs what I offer:
Those are honestly some big prices and comparisons, but like I said, what I do for a living, I learned to do for the same free, optional prices I showed above:

Let me break down his bonuses and training and explain the better option more in-depth:
Basically he offers you a website creation service, plus content on it, targeting a specific niche for various, expensive price points ($175, $997, or broken down into 3 month payments of $397). 
What I am recommending is a free service that will create a website for you, but you will have to put content on it and pick your niche. This is better not just because it's risk free financially, but also because when you pick your own niche, you have better chances of making a website you love, vs one that is in theory popular, but on a topic you may not like.
Next, Marcus offers training. Let's break it down (on the surface) and I will explain why I still have the better option to offer you:
1) He offers a niche selection option and the price ranges from $227 to $1,227.
This is ABSURD, no one should have to pay to PICK a subject they want a website on. The price should be FREE, completely free and I will give that to you.
2) He is going to give you a website (domain) for $97 or the other price point of $297. 
Again, this is an absurdly large price. My alternative is again free. You can make a free domain through my recommended option and if you wish to upgrade, it's $13.99 a YEAR. 
3) An affiliate "offer", which I assume is training. The price: $77 or $277. 
And again, I call nonsense on this price tag. My alternative gives you free training and lessons.
4) A custom logo and blog theme for your site (sort of like a banner). Price: $127.
I honestly don't recommend people get custom blog themes until they are ready. You can start with perfectly good free ones and make money that way. Custom themes do indeed cost around $100 so this price point in that aspect is fair, but still, start with a free one. I've made websites with free themes that have made great money.
Heck, you can make your own logo very easily and for free these days. It's really not difficult and at best, spending about $10 on a custom one is probably how far I'd go for them. So $127 is ridiculous for a custom logo in my opinion…
5) He gives you "profitable plugins". Price: $77. 
Plugins are accessories you add to your website and I can tell you right now, there is no automatic plugin that will make you money, they simply add to your website's speed, organization and look.
At best, the ones I use are FREE as well, so again, my alternative is free plugins that work just fine. Again, I see no reason for this particular thing…
6) A custom look for your site. Price: $77.
I don't see why you need this unless your site becomes really profitable and you can afford to experiment with it, but for the most part, free blog themes look great as it is and you can always edit up certain parts of it through very basic customization, without having to pay anything. Again, what I am proposing is free.
7) He says he'll load your site up with content (4x was the mention).
I assume this means you'll get 4 pages worth of content? Ladies and gentlemen, here's where I have to call nonsense. 4 pages (if that's the case) is nowhere near the amount of pages you actually need to have in order to have a high traffic generating blog, it's more like 50. 
That's why I said you should do this yourself and not pay extravagant money…so again, the offer here is free but you have to work at it. But it's not like you get a ton for 4 pages. I can write up 4 pages in under an hour in my cases and if you like a niche topic, you can too, more likely in a few hours.
8) 3 months of coaching from him (90 days).
Coaching is always a good thing to have, especially from vets. I will assume Marcus is indeed that but in my case, I think my offer would be better and let me explain:
You can literally ask me questions on this site, as I am myself a vet at this here.
I literally provide my own, and free affiliate marketing coaching here. 
9) A traffic training guide (plan). $77.
They offer videos there, but so does my alternative and there's over 10,000 training tutorials and 1,000's of videos. I am going to ahead and say what I offer, provides more valuable content.
After looking over these deals Marcus offers, I have to say this:
My top rated program, Wealthy Affiliate with my coaching included with it, can get you this and more and you won't have to spend so much. 
Final Rating: Affiliate Marketing Dude

Red Flag
1 out of 10 stars. I just can't recommend this stuff for such prices. I wish he at least showed me some sample websites or happy customer reviews, I'd then be happy to add a star, but it still wouldn't justify a recommendation from me. I know that you can make it in affiliate marketing without spending so much, because I've done it.
My final thoughts: 
Within this whole review, I made it a point not to judge Marcus's program too negatively. I won't even call it a scam, but I've been around this business for so long, witnessed and tried a lot of different programs so I know a lot about how this stuff works.
I have to reiterate the same point again:
You can make an entire affiliate marketing business for WAY less than what Marcus is charging, that is an absolute guarantee on my end.
It absolutely will require you work hard on it (and even Marcus says the same thing on his page), but the price doesn't have to so big, which is why I am telling you guys again and again about Wealthy Affiliate alternative, because in the end, it was the ONE program that brought me to succeed in affiliate marketing and I know if you try it, and work hard, it'll do the same for you.
Affiliate Marketing Dude
$997