Imagine effortlessly having leads looking for houses, apartments and homes contacting you without you having to scramble for them like most real estate agents do.
This is very possible to do with a website that does that job for you and today I'll show you how to make one.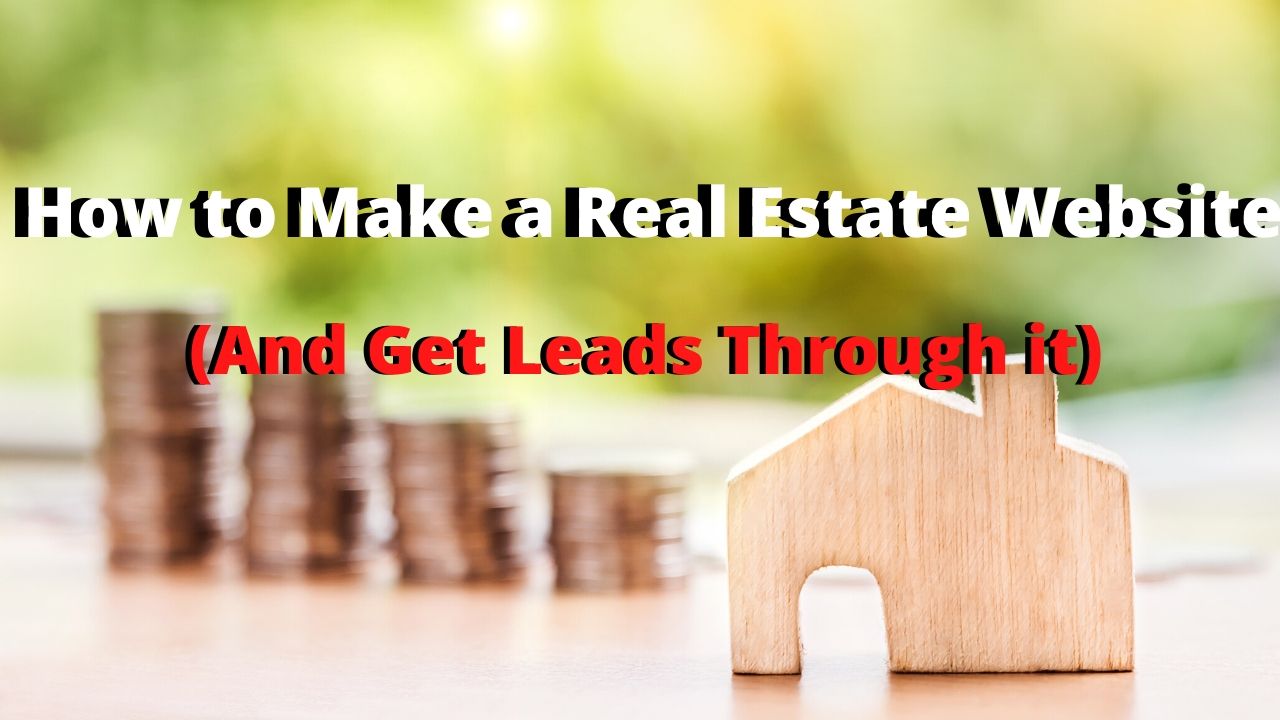 Here is how you make a website and get leads to it:
Start by creating a website through sources like WordPress (my choice), WiX or Squarespace.
Make sure your niche is local real estate (counties are fine).
Create several default pages on the website (your personal profitable, privacy policy, contact page, ect…).
Connect the website with services like Google Maps.
Use the website Whitespark.ca to have the website build you citations (this gets it organic leads).
I'll go over each step shortly, but first:
Why getting real estate leads "traditionally" sucks:
Although I have personally never been an agent, I am very knowledgeable on profitable niche markets and making websites and after looking for months for an apartment and going through various agents, agencies and basically the whole system of real estate, it became very apparent to me that:
This market is HIGHLY competitive.
Agents post listings on popular sites in an effort to find leads, connect with them and then follow up with them. Unfortunately most of these channels are basically nothing more than cold calling efforts, meaning that usually it's very hard for these channels to yield that many benefits (although they do work).
Commissions by the agent are made via a fee that is charged when the client signs a lease. Typically the commission is 10% of the yearly price of the home/apartment or consists of 1 month's rent to be paid in addition to other fees to the agent.
Despite there being always people looking for new homes (moving in, moving out, looking for people to rent their homes, ect…) depending on the market, prices and various other circumstances, most agents I know who go about the traditional way of finding leads are usually in short supply of clients and find themselves desperately looking to get more to make ends meet.
Why going online to find those real estate leads is the solution:
Most people today rely on Google search, and real estate sites to find a home and by planting yours before their eyes, you can easily get more views without having to deal with all traditional methods normal real estate agents use. More leads come your way that way, and as a result, you have a higher chance of landing that sale.
Now the steps I gave you above are summarized and if you want to learn more about creating your own real estate website that works, following these steps is more of an overall approach, and I would recommend programs like Wealthy Affiliate to help take you through the detailed steps of that process to make it happen. This article serves as a summarized blueprint of the process.
Step 1: Creating the real estate website.
Like I said above, there's 3 options:
WordPress.
WiX.
SquareSpace.
I've used WordPress for most of life in my career which is internet marketing and it is my top choice out of the 3.
Step 2: Target local real estate.
If I live in New York City, I'd want to make a site that targets people in the New York City area, not necessarily just a small county within it. I can later include different pages for different counties to narrow down my content, but targeting the greater NYC area for leads would be better.
Some people choose to target wider counties, states and even the whole country and I would encourage you not to go that route, because the wider you try to reach with your real estate site, the more competing websites in the same niche you'll encounter, so stick to local real estate because the ROI on getting 1-2 leads, even a month is substantial.
Step 3:

Create a website with the following pages:
An introduction page.
A bio page about you and your certification as a real estate agent.
A testimonials page.
A contact page so potential leads can connect with you (phone, social media, ect…).
A privacy policy.
Step 4: Connect the site with Google Maps. 
When you look for a business, like a restaurant, you probably use Google Maps for it. Well this is something you can have your website be listed under when people type in "real estate so and so location" and to do that, you'll want to use a service like Google my Business which will help in that regard.
Google is actually pretty awesome at helping businesses get listed on their search engine and this is one way you'll be able to get potential leads, even for pennies,
Step 5: Use WhiteSpark.ca to get yourself citations.
Whitespark.ca is a company that helps businesses get more organic exposure on websites like Yelp, Yellow Pages and other similar sites across the internet, which if people land on, and type in say "real estate", your website will pop up for. This can be a great way to get leads and this particular service is one of the best for it.
They can build your website 100's of citations, which are listings across the kinds of websites I was just talking about and intelligently help your site get planted in places where potential leads are available at.
My final thoughts:
Now you can also use the traditional websites like Apartments.com and so on to place leads, but having your own central site would be something that is far more lucrative for you in the long run as more and more leads, visits to your site and exposure online through none traditional means can help you beat your other real estate competition.
Considering the aggressive competition in the real estate market and how few people succeed at it, doing something like making your own website can really help you pull ahead and these 5 steps are a great starting point for doing that.
As I said before, programs like Wealthy Affiliate help people build these kinds of personal websites for business purposes and if you have questions on how to proceed further with real estate websites, let me know below.