I have a lot of experience with scaling an existing online business through different methods and in this article will show you 5 ways to do it.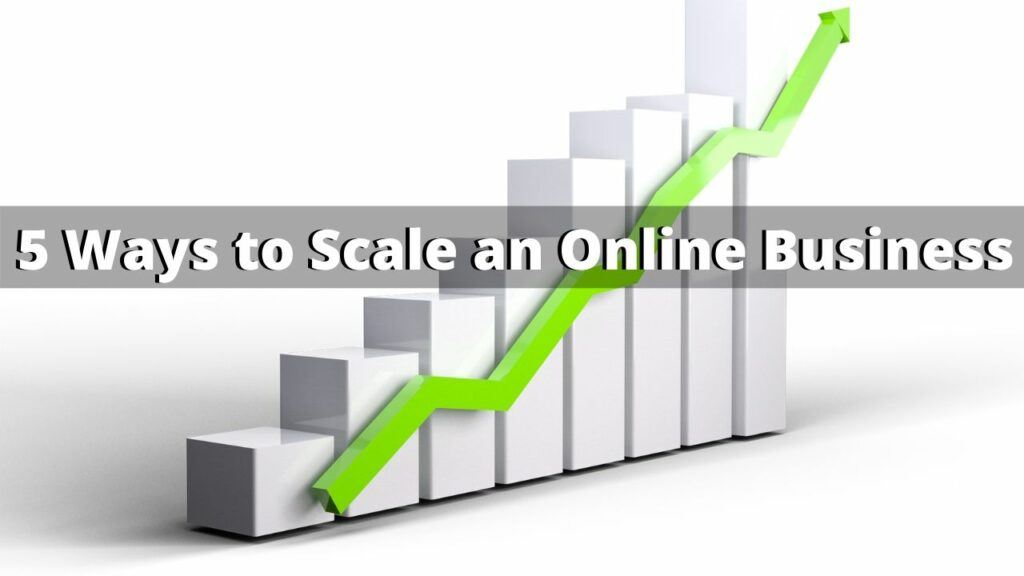 What does scaling an online business actually mean?
I have a subjective understanding of it:
To me, it means that you perform things to your business that make it grow, but at the same time are able to keep the performance proportionally high with the expansion, meaning as your business grows, the profits do as well. 
To some, the term is also described as "scalability". 
Here are the 5 ways to scale an online business:
Create more content to get more visitors.
Start doing paid ads.
Start an email list.
Create a social media following.
Start a second site, rinse and repeat.
I'll go over each method below and I've done every single one of these things in my own experiences to scale my business too.
5 examples of what a scaled online business looks like:
1) John has a website that gets 100 visitors a day organically. He starts doing paid ads, and gets an extra 100 visitors to it, making it 200 a day, and doubles his profits. His business has been scaled 2x.
2) Mary has a blog with 10 blog posts and gets 50 visitors a day. Mary finds out what to blog about to make money online and in within a month has 20 blog posts and starts getting 100 visitors a day. She too doubles her traffic and her profits in the process. So basically a 2x increase in business and proportionally, a 2x increase in profits.
3) Mark receives 1,000 visitors to his website daily, but decides to start collecting an email list to segment his business. Out of the 30,000 people who visit his site monthly (1,0000 x 30), he collects an email list of 1,000 subscribers (30% subscriber rate and if you think that's crazy, read how to collect an email list for a guide on how it's done).
Anyway, he now retains an extra 1,000 customers a month and markets to them and scales his business that way.
4) Amy runs a successful online business website that earns $10,000 a month and is unable to scale it directly. She has basically plateaued her profits, but knows how to create and grow a website from nothing, and so in order to scale the online business, she just starts a new niche website (want to see over 50 niche ideas to start online businesses on?) and grows it the same way she did her first.
Her second website also reaches $10,000 a month, and now she has 2 websites, both earning $10,000, for a total of $20,000 a month. She also doubled her profits. And again, the business has been scaled 2x.
5) Vitaliy creates a 1 page website and uses paid ads to get 1,000's of visitors to it to promote a single product. He ends up making six figures from it and scales his business over 100x.
And this last example is actually based off real experiences I had. Here is my six figure, one page case study.
The 5 ways of scaling your online business explained in detail:
1) Write more content, get more traffic.
Generally the more you blog on a website, the more organic traffic it'll receive, all of which will be free. If you know how to write quality content and specifically what to blog about so it isn't just garbage content, then you can do very well from this.
2) Upgrade to doing paid advertising.
Bing is your best bet here, but you may want to try Google Ads if they'll let you (they are much more difficult to work with than Bing).
Paid advertising, specifically on Bing carries a gigantic scaling opportunity, that being that you can get more traffic and more business while waiting less for something like Google to rank you high.
Just write an ad, put up a bid, rank high for it and get nearly instantaneous traffic in some cases. Again, you already know what more traffic equals…
3) Collect an email list. 
Email collectors rejoice! By gathering and "capturing" traffic coming to your site, the people who sign up can become future prospects for you to make more money through and possibly create future projects with which the people who are on your email list will gladly join. 
This can expand your website's profits drastically. But read these warnings about emai lists and don't make the common mistakes!
4) Start a social media following.
In this case, a fan page or a business page will do. And one thing you can do is ask your email sign ups to like the page and share it with their friends for greater exposure on the social media networks. Again ALL of this is about getting more traffic.
5) Invest money made from your 1st niche site into a second.
What better way to grow than to repeat the same success formula on a different site?
Getting help on scaling your business:
Everything I know about scaling and growing an online business from the ground comes from Wealthy Affiliate. This program provides training on getting the whole process started and getting into the later stages which involve the scaling process.
Worry about scaling later on down the line:
Your first priority with online businesses is to get them to make a stable income first. That's what the early stages of it should be focused on.
In an online business's life cycle, scaling should only be done in the latter stages as very often it involves having to invest new money into new techniques, resources and methods to actually make the scaling process happen (for example, paid ads).
And this is a far safer thing to do once the business is making the money to put into the scaling process and the investment it takes. Too often, people try to unintelligibly scale their businesses by taking unnecessary risks and getting involved with different methods they don't have enough understanding about or getting scammed by people who incorrectly say they'll help them do it.
I find the safest way to scale is to follow the Wealthy Affiliate blueprint so you can educate yourself on the proper building and scaling techniques of an online business and then you don't have to rely on an expensive serviceman to do it for you (considering they are legit).