Quick Report: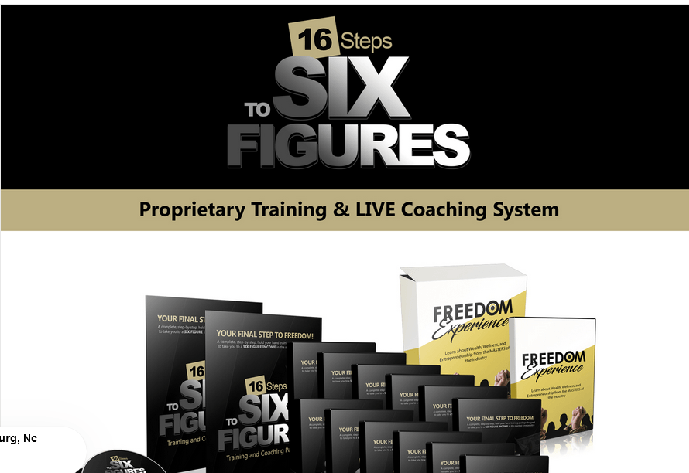 Name: 16 Steps to Six Figures by Jeff Lerner. Formerly known as the "Ultimate Laptop Lifestyle" and also "Jeff's 6 Figure Business System".
Price: $49 for an "application fee". What may follow afterwards is a high ticket up-sell ($1,000's). I say may because this formula is familiar to me as I've seen it before.
Overall Rating:

2 out of 10 stars

.
Based on my own experiences with programs like these + other reviews I hear which basically solidify my criticisms of this program, I feel this rating is appropriate.

A very important disclaimer about 16 Steps to Six figures:
So right off the bat, I have to admit 2 things:
1) I tried purchasing this program numerous times and was unsuccessful.
Even though I verified with my CC company that I authorized the charge…
I very much dislike reviewing any program that I can't buy because I have to go by speculation and every program deserves a fair criticism (Even though I've been burned financially MANY times with this way of thinking).
However…
2) You can consider me an expert in this realm.
I actually made six figures numerous times doing online work (My $1 million earnings history in this business) and based on my numerous years of experience in the field, I can usually predict (and 99% of the time, I'm right) what a program is going to sell you based right off the sales page. 
However, that 1% chance that I'm wrong is still there, so I am giving you this disclaimer right now. I hope you read my thoughts on this program entirely and make your own independent decision.
3) I have spotted on at least one occasion that there is an alias to this program: Ultimate Laptop Lifestyle, as I tried to visit that page once and it redirected to the 16 Steps sales page.
What I can guarantee you 100% in this review is the following:
No matter how good or bad 16 Steps to 6 Figures is, my #1 recommendation is still going to be better (and risk free too) because it'll cost you nothing to try and it will teach you ways to make money online that I have used in my business to also earn these big numbers:
So what exactly is 16 Steps to Six Figures? The expert's opinion explained:
A man named Jeff Lerner has "invented" a system in which you can make extremely high commissions with his automated system where you don't even need to have a website. Yet he doesn't really get into details about this stuff. 
To a newbie, there will likely be many question marks on what the system actually is, but to an expert who has seen this type of sales pitch numerous time, I can safely predict what it'll be.
So here's Jeff's claims (and my decoding of those claims):

Incredible stuff…it almost seems like a automated system which you buy, that makes for you magically.
Yet I know a lot about this stuff. And I'm here to tell you several things about this claim:
1) It's not as risk free as it's made to sound.
Guys, in all my years doing this, it's NEVER this easy. These types of systems that make their formula sound so hands free and simple typically mean the following:
2) You're going to get a website (used as a sales page) which will basically do the selling for you.
However, the work on your part will likely come from sending visitors to that sales page. Otherwise, no sales can be made. I've seen this systems so many times and it's a repeat formula. The name Jeff has given it may be unique, but the idea itself is not.
3) The initial price of this system is $49 but it WILL cost more.
This $49, is known as an "application fee" and whenever I see this, I know what's coming next: Big ticket up-sells. And upon viewing other reviews of this program on other sites, this suspicion appears to be confirmed. 
There's certain code words that give this stuff away: Application fees, coaching, easy systems, big ticket commissions, ect… it's almost always a big ticket system.
4) How much will it really cost?
I am going to predict thousands. Folks, every single system I've ever reviewed that has claimed you can make $1,000's in days, weeks and/or a short amount of time has turned out to be a big ticket item that you FIRST need to buy.
It's not like you pay $49 and whamo, you can start selling things and making $1,000's. Sorry, that's not how this works.
What typically happens is that you are offered to buy expensive big ticket items (that cost $1,000's) in ORDER to promote them.
This is how a big chunk of money is made from these companies.
And I have at least 2 case studies that show programs that operate like this, are looked upon as scams by organizations like the FTC. The first case study is regarding a now shut down company called MOBE and the other is Digital Altitude. 
So here's the expert's opinion on the system:
My position is that 16 steps to 6 figures is a high ticket program that after entering for $49, you will be pitched higher ticket items for $1,000's, which if you purchase, will allow you to promote them and make the $1,000's in commissions.
Estimates on how much you can make. Actual stats you need to see:
I don't like speculating, but like a doctor who can diagnose a problem based on symptoms, I'm 99% certain what I just said is what's really going on with this program. BUT, as an additional thing to add, I have a 5th point I need to make (and it's backed up by real stats):
My fifth point is this:
In these systems, it is not as easy as they say it is. If it were, then lots of people would be making money correct? Well I did some digging around and found the following stats to show this is not the case:

These are stats straight out of the site itself, so this is actual facts we're looking at. However, it is important to know that these stats do NOT show how much money people invested into the program. 
Was it $49? Was it $1,000's?
We don't know, but knowing that figure would greatly help understand who is really successful and who isn't. I am predicting though that most people do not break even, not because the program is bad, but, because in my experience, in just about every single program out there, that's just the way things work. It often times has to do with the person who buys the program not working hard enough (it's not always the system that's at fault).
What will this program teach you? The summary:
During the checkout phase of this system (which again, I have to say I wasn't able to purchase after multiple attempts), there is a preview of what you get. Simply looking at this list, I was able to decode what is going on and relay to you what you'll learn and I've got to say, I am not impressed…
So, here's a couple of things:
1) I know all of this terminology.
2) Most of it is fancy sounding words. 
3) In short, you get the same system you went through to buy this stuff.
In other words, if you went to the official 16 steps to six figures sales page, clicked on checkout, were given a coach, calls, emails, ect… and purchased the expensive stuff post $49 purchase, you're basically going to get the same thing to send your leads to.
They'll go through the same stuff and if they make a purchase/s, you'll get commissions, but as I said, the numbers are not favorable for success there (as indicated by the stats above).
Final Rating: 16 Steps to 6 Figures.

Red Flag
2 out of 10 stars. It's not difficult to decode this program. And I am certain they'll try to get you to purchase expensive up-sells. I'm against high ticket programs like this and this is why I give it a low rating.
My final thoughts:
Systems like these are VERY common to encounter. They used to do this kind of stuff with MLM programs (this is not an MLM by the way), but when the whole industry started to get a bad rep, many people switched over to high ticket programs and there's been a trend in the past few years to do the sort of marketing 16 steps to 6 figures does.
While the promise is "technically" true, a lot of what determines the success in these types of programs is:
1) How much you invest into it. The more you pay up front = the more potential to make higher commissions and thus more money. But that is a big risk.
2) You typically get an overpriced education for your cost, that's my opinion, because learning how to make money online should not be this pricey. Yet many programs take standard education on making money online, such as collecting leads and doing email marketing to them, charge $1,000's for it and say that if you make the sales, they'll pay you this much. It's basically inflated education costs, like college, and I'm against that stuff.
What I recommend as an alternative:
While I am NOT telling you to NOT buy 16 Steps to Six Figures, I feel it's important to tell you what you may be getting involved with and the financial risks associated with it. Personally, I will not be touching this program at all, nor recommending it. What you decide to do is your personal choice.
However, I believe everyone who gets involved with making money online has to start from cheaper, risk free programs and this is not one of them (because you already have to pay to try it out). 
What I recommend instead is a free to try program that made me an expert in this field. In other words, I learned how to become a six figure earner WITHOUT having to spend thousands on programs and I want to share that program with you today:
Like I said before, I can 100% guarantee you that you'll spend less, because that program doesn't cost a penny to try and even if you want to go further with it, it's price is extremely LOW (not high ticket nonsense). You'll learn to create a valuable business through a website and help people, and in the process learn to make a real income like I did.
That's my personal recommendation and like I said, it's totally up to you. I just know from my years doing this, what programs like 16 Steps to Six Figures involve in terms of risk and how much safer (financially) it is to try a program like Wealthy Affiliate.
The bottom line is: Regardless of what you hear, you can make an incredible, even six figure income, WITHOUT having to pay in for $1,000's. This is a common rumor that I've personally debunked with my own results.