Quick Report: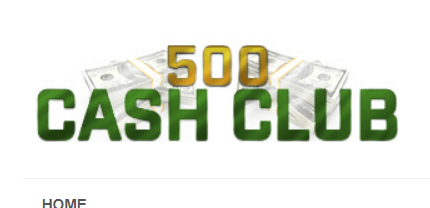 Name: 500 Cash Club.
Price: About $50 bucks and up to $60,000 in total price tags if you buy whatever else follow (yeah it's insane stuff, but I'll explain why that number is no joke).
Overall Rating:

1 out of 10 stars

.
I don't know how I keep stumbling onto these scams, but it happened again. This program isn't real, it's a fake site that REDIRECTS to another fake site and that one redirects you to a big, expensive program (where the charges can get as high as $60,000, if you go that far).

What is the 500 Cash Club? Why I feel like I'm repeating myself at this point…
Just yesterday, I did a review on a program called Extreme Home Paycheck, and proved it was a fake site because it redirected me to a program called Automatic Daily Income and that too was basically a "fake" because that just tried to get me into a high ticket program called MOBE, the TRUE program behind ALL of this stuff.
Now MOBE is a very expensive, high ticket program. And in case you don't know, high ticket programs are basically places where you enter for a small price (About $50 in this case), to learn about things like online business, then as you progress further and further, the prices to keep learning get higher and higher.
In the case of MOBE, it starts at $50, then goes to $2,000+ then rises all the way up to several $10,000's of dollars. And it's all for getting an "education" in online business, albeit it not a bad education at all, it's good, but just absurdly expensive…
Anyway, I said that Extreme Home Paycheck was just a fake site trying to get me into MOBE (which I did, but that was before I knew better).
So where does the 500 Cash Club come into play here?
If you replace every word above where I mentioned Extreme Home Paycheck and replace it with 500 Cash Club, you basically get what it is.
It is literally the same thing as that fake site (it's also fake), because it does nothing but redirect you into Automated Daily Income and as you already know, that redirects into MOBE.
It's just a form of secretive, back door, and in my opinion, deceptive marketing all to get you into that high ticket program and to possibly have you spending a ton of money, all while providing the creator of the fake sites a hefty commission. And a lot of people have jumped into that, including me, and I'm an experienced guy with these types of tactics too, so you'd think I'd know better, yet they got me too!

I honestly should have known better. As soon as I saw the number "500". Here's why it's special:
$500 is a "guarantee" that once existed (or perhaps still exists) by MOBE where if you don't make money within 30 days, they'll pay you that much for your efforts, but to qualify for this reward, you need to meet a few, important criteria:
1) You must sign up for MTTB, which is basically the first part of the MOBE program. That costs $49.
2) You must go through 21 steps within the MTTB program, where after step 6, you have to pay $2,000+ to move forward, so that already makes that guarantee (even if it still exists) already a loss even if you are eligible to get it.
3) Plus you also have to prove you did the 21 steps.
Now I can't blame the guys who made this guarantee (again, I don't know if it exists anymore) for making it hard to reach this compensation, but the idea that you would need to pay in for $2k first is just not right in my opinion. I really hope they changed their policy in this regard…
Now the point of this whole thing is that I review make money online programs (here's the best program) and numerous times whenever I saw a $500 figure or number, it was typically associated with MOBE. It's just been awhile since I've run into this program, so I guess I lost my memory. "Thankfully" this review and experience reminded me of the whole thing again.
Now, time and time again, I have to say this:
The 1 star rating and this review as a whole is on the 500 Cash Club site, and what you NEED to know is that MOBE in 2018 was shut down (details about the MOBE shutdown).
That is a whole separate thing and as a quick point on where I stand on this, I know it provides a lot of educational benefits, but it will never get my recommendation, for it's prices. In fact, here is one of the prices within the MOBE program to show that I wasn't kidding about the prices reaching $60k: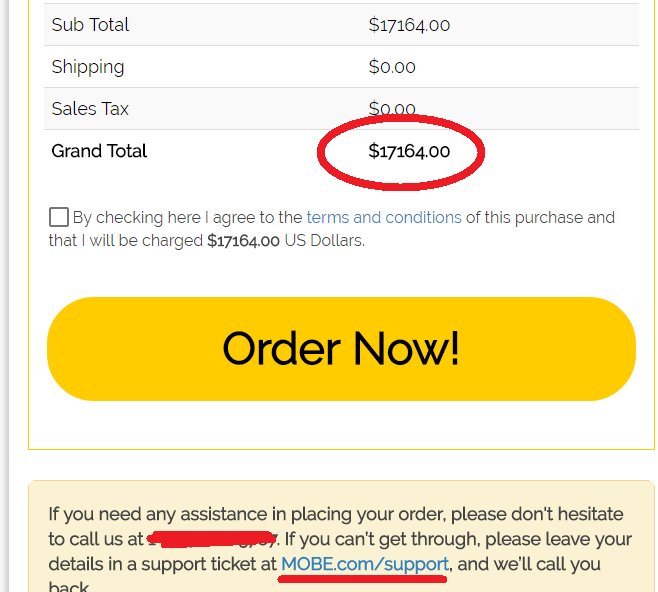 Yeah, that's really a price tag of over $17,000 and it's one of the big ones within the program.
And while it is important to mention that this is an OPTIONAL purchase and no one is ever forced to buy these, the catch is that if you do get this up-sell for example, that you can become an affiliate for it and earn $1,000's in commissions if you sell it per person.
But the point is, if you go through 500 Cash Club, and into MOBE, you will eventually see these offers being pitched. What you get besides the option to promote them, is a lot of education in online marketing.
I don't doubt the educational benefit of MOBE in general, but I do doubt that it should cost as much as it does…
Final Rating: 500 Cash Club.

Red Flag
1 out of 10 stars. The site itself is a scam, it offers nothing but a link into Automated Daily Income and that is a link into MOBE. Again, this rating is directed to 500 Cash Club, not MOBE as a whole. And most importantly, after June 2018, a MAJOR event took place regarding MOBE and here it is: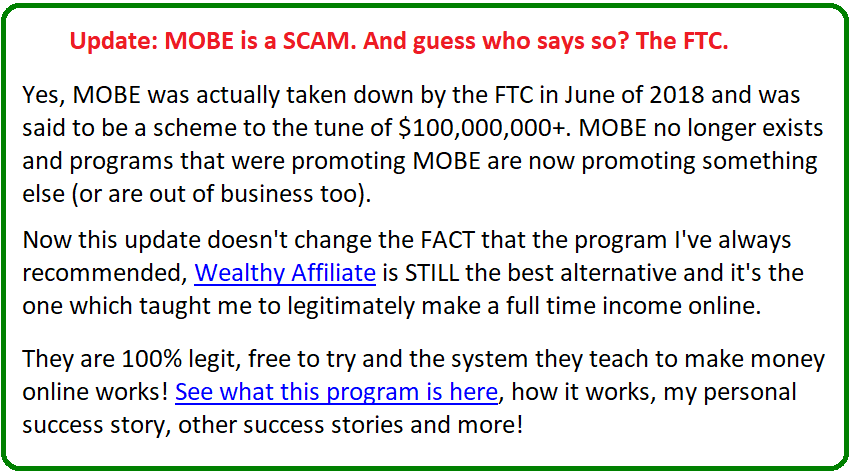 My final thoughts:
At this point, I wouldn't be surprised if I kept finding more and more backdoor sites like this. It's almost like a norm now for me. I'd say, with this recent review, it's like the 10th site I've stumbled on that tries to get me into MOBE. 
Whoever is in charge of these sites must be one successful affiliate for MOBE, but at the same time, I can never see myself being that kind of person because these tactics are not honorable in my opinion. I don't even care that he promotes MOBE, I care about HOW he or she promotes it and it's deceptive to the core…

As a marketer who knows the different types of products out there and which ones really teach you to make money online, I can tell you this:
There's few which offer good education. MOBE is one of them, but it is so expensive to find out the info inside it, that no matter how much it offers, in my opinion, it just isn't worth it, not for buying it, and not for promoting it and having people spend that much.
I know there's amazing programs such as the one I recommended above that will teach you this stuff for literally nothing and even if they cost anything, they'll cost VERY little and not hit your wallet like this…
And I know the program I recommended will not only cost you way less, but it'll teach you more than you can imagine to make a living from home and I say that because I managed to do that through them. 

Now that we've figured this whole 500 Cash Club out and what it really is, I want to ask that you guys tell me if you see any other programs (fake sites) like this now or in the future, so I can review them, thanks!