Having an SSL certificate on your website has become the norm for any website owner who has serious intent with their site or blog to make money, rank on search engines and earn trust from their visitors.
A few weeks ago, I made the switch and set up and SSL certificate on this website and now it has a pretty green lock, with https:// on it indicating that it is now secure.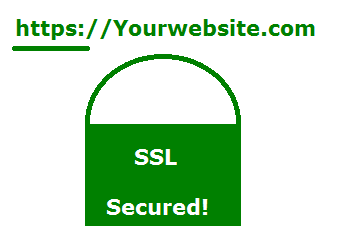 In this article, I'll tell you about an easy way to set up an SSL certificate on your website.
It used to be something that was difficult to do and would require a lot of extra money to be spent (on top of your domain and hosting expenses), but today, it can literally be done with 1 click if you know where to get SSL certificates from.
The company I'll be recommending you get that from is Wealthy Affiliate as they offer a $49 a month service which in addition to hosting 10 sites with awesome speeds and other features, also includes SSL certificates for up to 10 websites. You can check out the Wealthy Affiliate program info here, but I want to get into more details on the subject of SSL, so let's do that now:
What exactly is SSL?
SSL means Secure Sockets Layer and because no one can honestly remember the whole term, it just became known as SSL for short. Websites which have the SSL certificate are indicated to website visitors as green padlocks and if people click them, the mention that the site is "secure" is noted. 
3 reasons why having an SSL certificate is important for a website:
Generally speaking, having SSL improves the trust people and search engines have.
Next it prevents your website from getting flagged by search engines as having "malicious content or software like malware".
It also helps prevent hackers from accessing the site and if you sell anything on it and have a checkout cart present, or PayPal buttons set up, you'll be required to have an SSL certificate to actually be able to have that set up.
How SSL affect SEO (Google rankings):
Google themselves have indicated awhile back that one of it's ranking factors will be SSL meaning if you have it, your website gets extra ranking points for it.
I've included a screenshot of that article and here is a link to Google's post on SSL.
Basically in the article, Google started looking at SSL websites which are indicated by having an https:// on it, and added it as ranking metric nearly 3 years ago.
Although there were no mandatory recommendations for all websites to change to this, the fact is, it has been used and considered to be looked as a metric for ranking.
Plus I have heard from at least 3 people I personally trust with SEO that their traffic grew after switching their sites to an https:// format. 
Now while it is still anecdotal, I honestly do not see any reason to dismiss this is a testing period and truly believe that sooner or later, all sites that move to being secure will have a stronger influence within Google. But of course, it isn't the only thing and if you want to rank well on Google, follow the 5 main ranking factors Google uses to judge website rankings.
How does one set up an SSL certificate on their website?
Generally there are 3 options and the last is my preferred one since it's easiest:
You go to your domain and hosting provider and buy it for an extra amount, which is generally $50 per site.
You can buy it from the same source as option 1 but pay a programmer to install it since it can be annoying.
Or you can do something like join the Wealthy Affiliate program, use their premium membership which has hosting and SSL services included on it. From that program you can literally just click 1 simple button to activate the SSL certificate not just for 1, but 10 websites, so you save a ton of money. Here is a preview of that: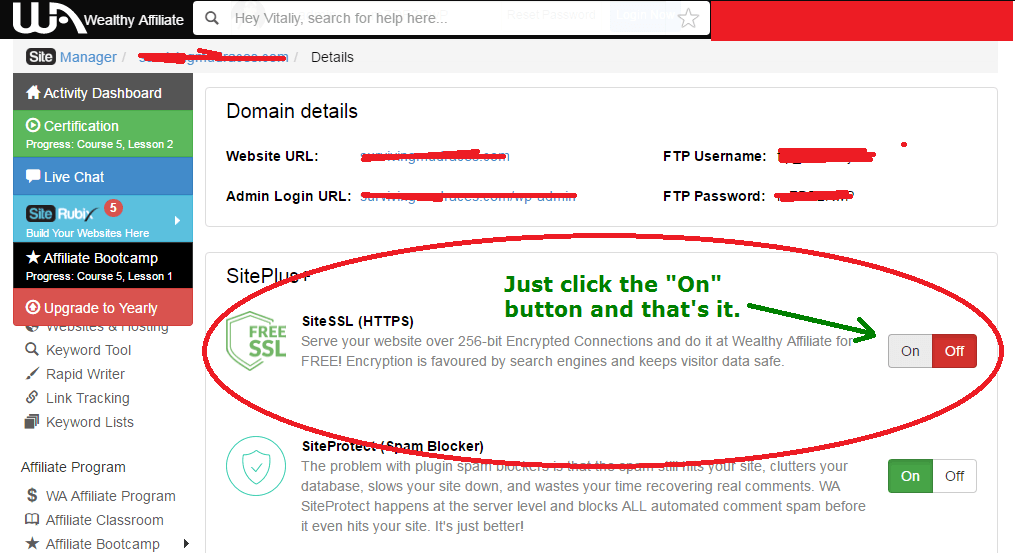 How can you tell if an SSL certificate has been successfully installed on a website?
By simply looking at the website from the outside and seeing if the green padlock or padlock icon is present.
For example, right now if you have a website, odds are if you type it's URL, you will likely see the following icon:

This grey "i" indicates that SSL is not activated (or present) and that the website is NOT secure.
But once SSL is activated (I used the Wealthy Affiliate program's 1 click option to do it), then this is what it will look like:

And this SSL feature inside Wealthy Affiliate is something I use across all my websites (It takes 1 click to set up):
For example, I set up a niche website on mud runs and in order for it to rank better on Google, simply having it get an SSL certificate helped and again, the same 1 click option with Wealthy Affiliate is what helped me do it. Here is the before and of what the site looks like when SSL is activated:
Ever since Wealthy Affiliate released that feature, it became the easiest way to set up SSL certificates (and for the best price too) and so I use it and personally recommend it.
Troubleshooting: Sometimes activating SSL certificates may not work. What to do then:
Certain programs that hand out SSL certificates and tell you to set it up yourselves don't make it easy so it's simple to screw up the process and in order for a website to be fully secure and have that green padlock, all areas of it must be secured.
If they're not and you can't do it yourself, hiring a programmer (option 2) would probably fix it, but this is where I have to boast about Wealthy Affiliate once more because none of this do it yourself is required. You just press the button to activate it and if for some rare reason something is unsecured, they'll fix it for you as part of your membership.
How to check if your site's SSL certificate is working:
You can visit a site like: Whynopadlock.com and check it there. 
My final thoughts: 
This is a topic that scared me when I first heard about it. Enabling SSL sounded like I was changing my whole website around but in reality, it's just adding another SAFE, layer over it.
Once again, I have to bring up the amazing deal for SSL from Wealthy Affiliate: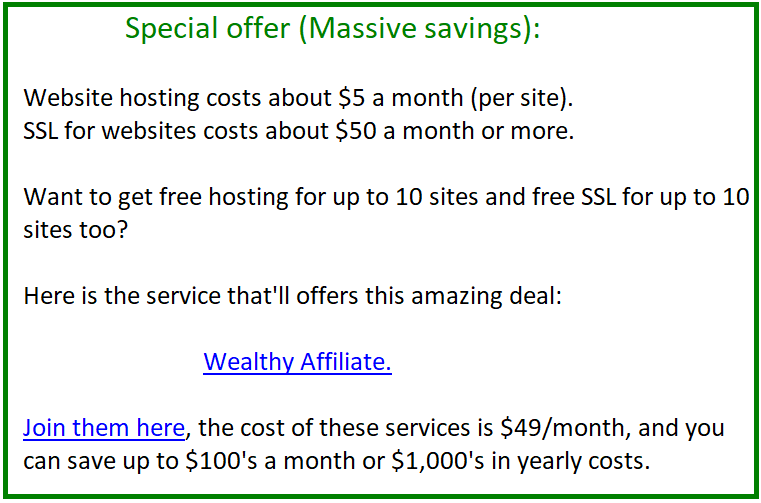 Either way, switching over to SSL can only benefit your site in the long run and it's something I'd do while it's still a fresh assumption that Google is looking at for ranking. 
But besides just the ranking thing, consider that people will also look upon your site from a more trusted view and that can only help your business/authority grow and if that happens, surely Google's trust will also follow it, so it's only going to help you!