As long as you have a website and PayPal account, setting up a donation button on that site is very simple and that's what I'll show you how to do it in this article.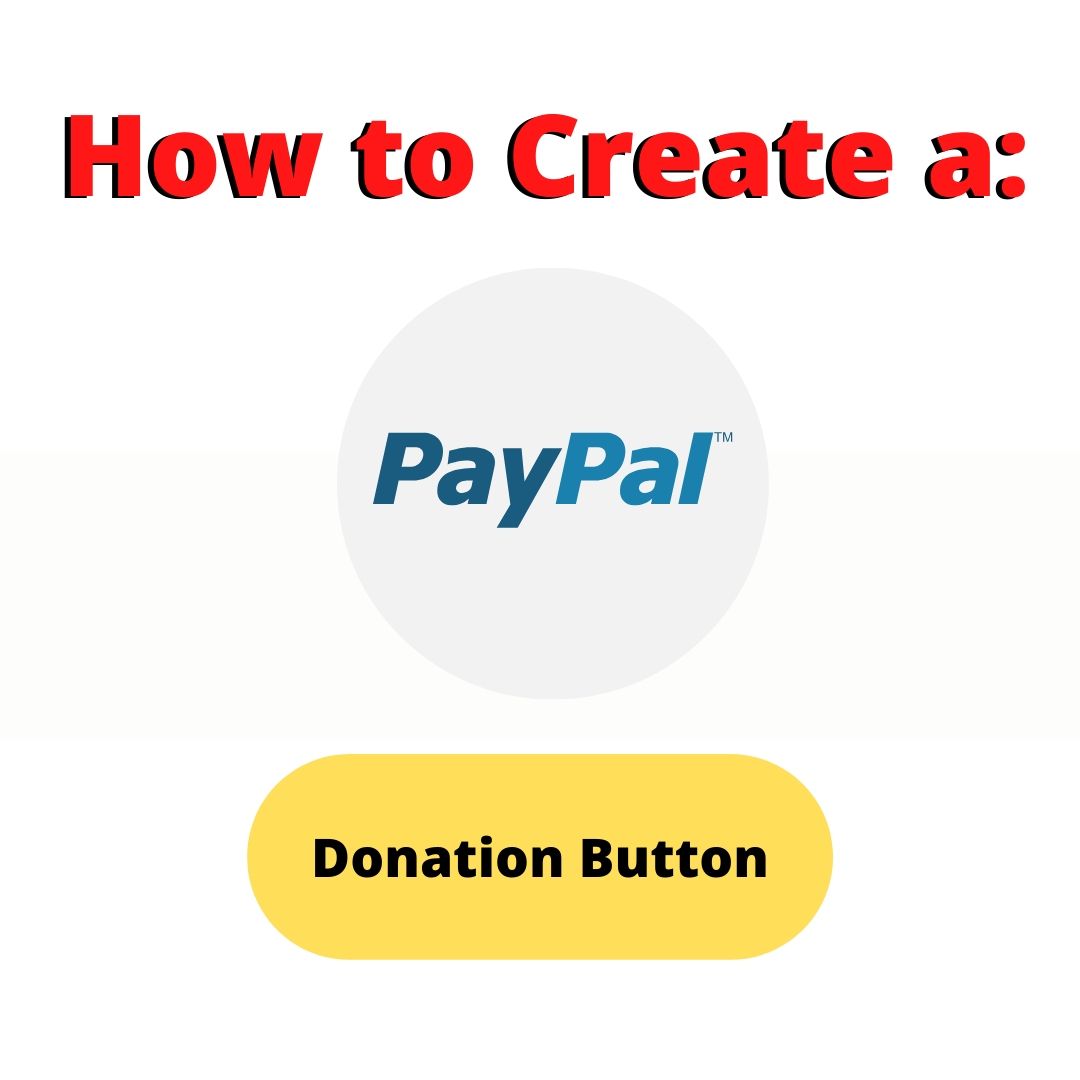 The fastest way to create a PayPal donation on your website summarized:
Sign up with PayPal.
Go to their donation button page.
Get an HTML code from PayPal.
Put the HTML code on your site.
The donation button will be loaded and if people click on it and donate, you will get money in your PayPal account.
Before I get into the step by step process to do this, let me ask you this:
Is having a website that monetizes through donations the best way to go?
Most of the people who ask me question about monetizing their sites are usually those who:
Have their own business and aim to sell a product or service.

People who do affiliate marketing (I've made a lot with this) and promote products through links on their pages. 
People who run ads on their pages (like Adsense) to monetize each time someone clicks on it.
It is usually these 3 groups of people who typically do not need to have a donation option because if their marketing strategy is making money, then to add a new layer of monetization may actually end up hurting profits. 
So for those who actually aim to sell something, stick to doing that. If not, then:
If you are in one of these 4 groups, setting up a donation button your site is a perfect fit:
Group 1: Those who have pages where they literally seek help and support from friends/family and outside sources. For this, not only is it good to have a page with a donation on it, but you may also want to consider the many different crowd funding/charity websites out there that help raise money to help you with this. 
Group 2: People who literally wish to do charity work through their page. Seeing as domains and hosting do cost money, it would benefit the owner of the page to get help with paying for this. Although costs are low for buying them, it still helps to get anything.
Group 3: People who make an informative page/s that just gives people great content and information they love to read and come back to. The most common niche topics I find people create pages on for this exact category is things like taking care of pets and just helping people deal with different problems that they can get free advice on from you vs paying to get it from someone else. 
Group 4: And finally, this is suitable for people who are actually trying to make money online, but can't find a reliable program they can do it through. Perhaps you're an affiliate marketer who aims to sell other people's things, but through your efforts, you just can't seem to find anything you can trust, or affiliate programs don't approve you, ect… In these cases, just aim to deliver good information on your, but accept donations. 
The 2 requirements to make a PayPal donation button:
Requirement 1: You will need to have a PayPal account. It is still one of the most trusted places to pay people and get money through.
Requirement 2: You will also need to have a website. If you're tight on money, you can explore some free ways to make a website here.
Follow these 8 steps to set up the donation button on your website:
Step 1: Considering you're logged into your PayPal account, visit this PayPal page where you can create a donation button.
Step 2: On that page there is an option to select what type of button you want. Select "Donation".
You will be asked to name the organization, you can honestly use your own name if you want or the name of your page.
Step 3: Followed by that is a customize button where you can change how the button looks. There aren't that many options, and typically I'd just go with the default one. In other words, you can actually skip step 3 if you don't wish to change anything.
Step 4: There will be some buttons asking about what currency you'd like to use, how donors can give you money as a few other, optional things to choose from. Considering that I live in the U.S, if the currency is selected to USD, and I allow my donors to pay me what they wish, I literally leave everything as is here. So basically, after step 2, everything is optional.
Step 5: Hit the create button option and you will get the code for the button you created. Now there will be 2 codes:
1) You will get a code to put on your website, save that one through the copy/paste option.
2) You will get a direct link (where it says email in the image above) which you also use on your pages, but it will not show the button.
However, you can use this direct link to email people, put it up on your social media page or anywhere else that doesn't involve having a button.
So basically I'd save both.
Step 6: Now begins the part where you put this code on your website. For the purposes of making this easy, I am using a WordPress website to show it. 
In Step 6, log into your website, and create a new page. We will call this the donation page. 
Step 7: And on that page, you will make a title that is relevant to the button you'll put in on such as "Support this site." or anything you can think of.
Then in the body of the page, select "Text". 
Step 8: Remember that code you were given from PayPal? Paste it in this place (the body of the article). Then hit "visual". Once you do that, that code will transform into the button you were making.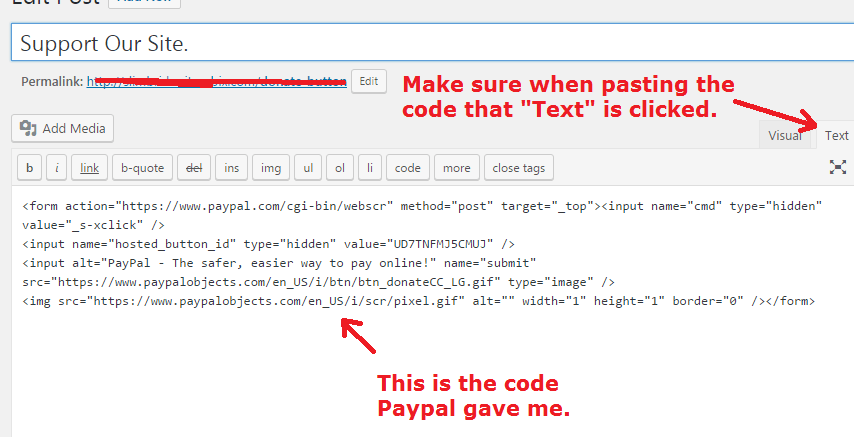 Step 9: All that's left to do is to click "Publish" for that button to become accessible to anyone who visit your site.
Here is how it looks on a random site I made:
I do recommend on the same page you put that button on to add some sort of short message thanking and/or politely telling people to donate if they like the page you made. Just having a single button with nothing else is pale and boring.
Now each time someone clicks on that button, it'll take them directly to a PayPal page where they can select an amount they wish to give and upon doing so, that money will be transferred to my account. Obviously, when you set this up, it'll be your account.
The donation button set up is easy, but how do you ensure you get as many donations as possible?
This is the big question I'd pose to anyone looking to do this. Setting up an option to get paid on your page is actually very simple and it shouldn't take more than a few minutes, but if no people see your site, what difference does it make if you have this set up or not?
To make any kind of money on the page, you need to get visitors. For that I want to put something into context so you can see how it can work well:
Imagine a person creates a niche website on taking care of reptiles. Or they make a food blog with tons of recipes they know or anything else that informs well. 
They create genuinely great content that visitors would find amazing. 
And on that website they install a donation button. Well that button will get clicked on and get the page owner lots of money if they can attract the right audience. 
That is the context I want you to think about. In order for YOU to personally have this success, you will need to have a page that is based on a niche topic you know (if you are seeking immediate charity/help, perhaps a better option would be to find a charity website and do this there). 
But if you are genuinely eager to make a page make money through donations, it needs to be on a niche site. If you can have that and write lots of great content (such as listing great recipes for example), you will get traffic from Google to your page and when they do, they will see the donate button available and considering your content is good enough for them to like and come back to, a good minority of people who come there will indeed give you money.
My final thoughts:
Use these categories above to help identify if a donation type website is suitable for you. Keep in mind that this doesn't mean charity.
People who do business through their site may not even have to sell anything, but through delivering information others love, they can get paid for it and that itself can be a good business model as well as fulfilling work.
Honestly, to me, that is one of the most gratifying ways to make a living, to give people something freely and have them give you something freely in return. At the same time, don't discount the power and ethics that comes from having a business website where you actually sell something, that itself can also be fulfilling and ethical.
If you have any questions making the button I showed you above, do not hesitate to ask me below!