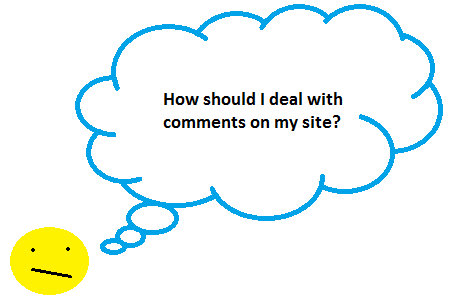 If you follow the right tips on building your online business, sooner or later as your traffic increases so will the amount of comments on your site.
Most will likely be positive (unless you are writing about a controversial subject), while some and even many will be negative.
I would like to address how I manage comments on my site, how I deal with negative ones, those wanting to leave links to their sites and various other situations everyone who is blogging is bound to run into sooner or later.
Keep in mind that this is my preference and there may be those who disagree with me on this, but that's completely fine. 
How to deal with comments (The positive ones):
My basic rule is this: Does the comment offer value? This is the stem from which I decide what to do. More info here.
If I have a comment from someone who says "Nice site!", or something along those lines, even though it is positive, I tend to not approve those because they don't really offer me any value and they don't offer my readers any value as I see it. 
Comments which are positive and have links pointing back to their site are situations where I go in 1 of 2 directions: 
I remove the link but approve the comment if and only if it offers value. I don't allow linking on my site. I am against this approach personally because there are a lot of people who purposely do this in order to get backlinks to their page so they'll go on different sites, leave a positive response not to add value, but to improve upon their site. This is shameless in my opinion.
Most of the time people who leave positive comments on my site just leave their name and email. These are the best types of comments in my mind. 
Dealing with negative comments: 
It's going to happen so be prepared when it does. Negative comments are things I rarely approve unless again they offer value.
You can absolutely expect to get negative comments especially when you review things that are popular. For example, a lot of people disagree with my positions on MLM programs. While some choose to have a discussion with me, there are those who like to point fingers and say I don't know anything, or much worse.  I am always for things like: 
Debating: If you do not agree with my position on something, by all means make your opinion known but in a polite way. If you make good points and comment to have a debate with me, I will approve the comment and respond to you as well. Always make sure that if this happens, that you are polite in your response and not putting the person down. People who see this will more likely also post their responses if they are you are friendly and respectful. 
However things that do often happen like: Swearing, name calling, threats (yes these happen too) and whatever else you can fit into this topic are things I will almost never approve. 
If we can't have an intelligent discussion on a topic, then we really can't have it at all. Besides when you plug in the value argument, there really isn't any. It just becomes a primitive finger pointing contest.
This can also work both ways. There have been rare times where I've approved a very negative comment because it was easy to refute the person. This shows you have a backbone and are ready to stand up for your beliefs which is also good for people who visit your site. It adds more trust and respect.
Plus think of it this way: There are always those with skepticism who read your content. Most won't bother commenting but the few that do may represent those people so by proving your point/s, you can actually turn those skeptics around. 
The point is that negative comments will happen. You will never have everyone agree with you. You will always have those that disagree just because that's who they are. The ones which are overly negative and even threaten you are ones you should ignore. 
What about if you're wrong?
You have to admit it. I've made a couple of mistakes on product reviews I've done before and it was through comments that pointed this out that I added/edited the content to make it accurate. I did admit my mistake and moved on. This is also good because:
It shows that you're not too stubborn to admit you're wrong.

By making the proper changes to your content, you improve it's quality, the reader's experience and more.
Don't be so stubborn that you delete comments that put you on the spot and prove you wrong. That's not a good way to do business. 
What about editing comments?
I never bother editing comments because I don't want to change what a person typed. There are times that you may get people who leave comments but are from another country and the language barrier makes it too difficult to understand. You may also get people who speak in a way that's too slang. Slang comments are usually things I don't approve.
The only times I'll approve the comments like these if they are readable enough and respond and in a way that clears up any confusion for other readers.
My final thoughts:
Don't be afraid of negative comments and don't be too quick to approve positive comments as well. Read them all, see if they offer your site and your readers value and base your decisions from that point of view. This is how I do it.
Always be welcoming and polite to your readers. Never talk back at them, at least not in a rude way. Make your points clear and easy to understand.
Now I'd like to hear from you! If you are a blogger and have dealt with both good and bad comments, what sort of policy do you follow in these situations?