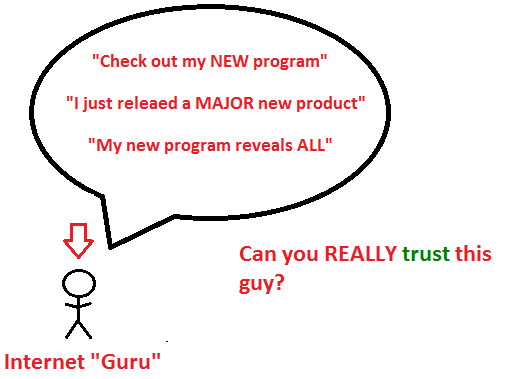 Have you ever encountered multiple programs on the internet that were created by the same person? I certainly have.
I've reviewed many products from the same person and this is a trend I have spotted with a number of marketers.
So the question I pose is whether or not you can trust these people and the answer depends on:
Who are they? What sort of reputation do they have? Are they known scam artists or not?
What products are they trying to deliver to you? In our case, we're talking about make money online products.
What is the quality of the product they are delivering? In my personal view, the quality of a product has to last and be updated to meet the ever changing world of internet marketing. 
You see I ask these questions because in many instances, I've spotted people who have released the same type of product, with the same hype, basically the same information and an almost identical type of sales letter. And after seeing this over and over again, the message isn't as loud as it was before, nor is the trust.
And to further explain this, I'm actually going to be 5 particular internet marketers who are known to release multiple products on the market and let you know whether or not based on the above criteria if I trust them or not. 
The 5 marketers in question:
1) Vick Strizheus:
I believe I've only reviewed 4 products of Vick's but neither of them ever received a good rating from me. But from what I've researched, the man has released more than that many products. The 4 I reviewed were:
While researching the 4, I noticed a common trend in the sales page in that you're told that you will learn the best ways to get visitors to your site and from what I also discovered, the vast majority if not all the methods listed were all involving paid advertising. 
When I dug deeper into Vick's history of product creations, I saw that he would release similar products with similar promises, sell it, promise new updates, move into a new product, try to get previous customers into the new one and continue a similar trend. 
Basically I felt that the he was promoting the same thing, but constantly creating new demand by offering new products on the market. I also felt that these products were basically using similar if not the same information his old products were and maybe offering some of those updates.
So what's wrong here?
Well the trust diminishes in my opinion with each new product he releases in my opinion, especially since it appears to be based on the same subject every time.
I can only bear seeing the same hype about learning the "secrets" to traffic generation from the same guy until it starts to get old. I don't doubt he has good information, but the process by which this is being marketed from one product to another is not right in my opinion.
2 and 3) Anthony & Adrian Morrison:
I've reviewed quite a few products from Anthony and his brother Adrian. Pretty much every single one was also promising similar things: Fast money, traffic generation, easy instructions. 
But after seeing this type of message over and over again, not to mention that I have never rated any of their programs/products favorably, every time I see a new product released by one of them, I don't approach the review feeling it'll be any different than before, not to mention a lot of their products I rated as scams. 
Here are some of the programs I've reviewed from both the Morrison brothers:
4) Joshua Zamora:
 I've purchased and reviewed 2 products from Joshua, one was a blueprint on making private blog networks and the other was an content spinner. At first I felt the guy was delivering decent information even though I never gave the programs a thumbs up. I even like the guy because he seems honest and aims to deliver good information.
It wasn't until I started getting email notifications about new products being released by him that I started to wonder if my original view was still right. One of the things I noticed when looking over his second product was how similar the members area was, including the up-sell pitch. Again, when I see the same type of marketing from the same person, it greatly diminishes their reputation in my eyes. Joshua is still a good guy in my opinion, but his products need to be updated. 
5) Mark Ling:
 This is one of the marketers whose program, Affilorama, I do trust (to an extent). Mark has created several programs which aren't necessarily the same as much as they try to compliment one another.
It's sort of like a puzzle built around several pieces. Each piece helps people make money online, but through the process of being used together can you get the most out of it. While it is optional to buy the extra programs, I did feel the marketing was done in a way to make you want to buy the rest. 
So why do these guys keep making new products?
Well it's really all the money in my opinion. Think about this for a second: 
Say I released a product on the market which wasn't very good and it received a lot of complaints/refunds. As it's creator, my reputation would probably be damaged for a long time if not forever so by making a new product, I can:
A) Get new customers into the picture who haven't heard about my previous one nor it's negative reviews. 
B) I can maybe salvage some of my old customers by claiming my new product is the real deal.
And in the end, all of this leads to more money being made. Now with some of the people I mentioned above, this formula of making product after product keeps working, but it also makes me feel as though:
A) Your original product wasn't good enough to begin with so why should I trust this new one? 
B) It makes me think you're getting desperate and by making more products, you're trying to get as much money as possible before hopping into a new one. There's basically no substance in my opinion with your original program and nothing to pride yourself on.
And what's worse is that a lot internet marketing product creators keep recycling the same idea over and over, but really just re-naming it. This is a scam in my opinion. 
So the next time you spot an internet marketing product, check to see if it's creator is known to make multiple products as well as what others are saying about them. 
Serial product creators I do trust:
I'm not trying to say the above people I mentioned are scammers, but there's very few people I trust in the make money online business and here are 5 legit internet marketing gurus I do trust.
One of them is Alex Becker, and there's only a few of his programs I'd recommend, including his 10 Pillars of Wealth eBook.
But above all else, the 2 people I trust most are Kyle and Carson from Wealthy Affiliate who have produced numerous products, but each act as branches to help people create online businesses.
They created an awesome keyword tool called Jaaxy.
They have an awesome site creation program called Site Rubix.
They deliver awesome hosting services.
And overall, the best product they have that links all of them together is Wealthy Affiliate.