Anthony Morrison has been making a lot of ads on YouTube recently regarding his program Partner With Anthony and in this review, I'll cover as unbiasedly as possible why I'm not a fan.
Quick Report on Partner With Anthony:
Creator: Anthony Morrison.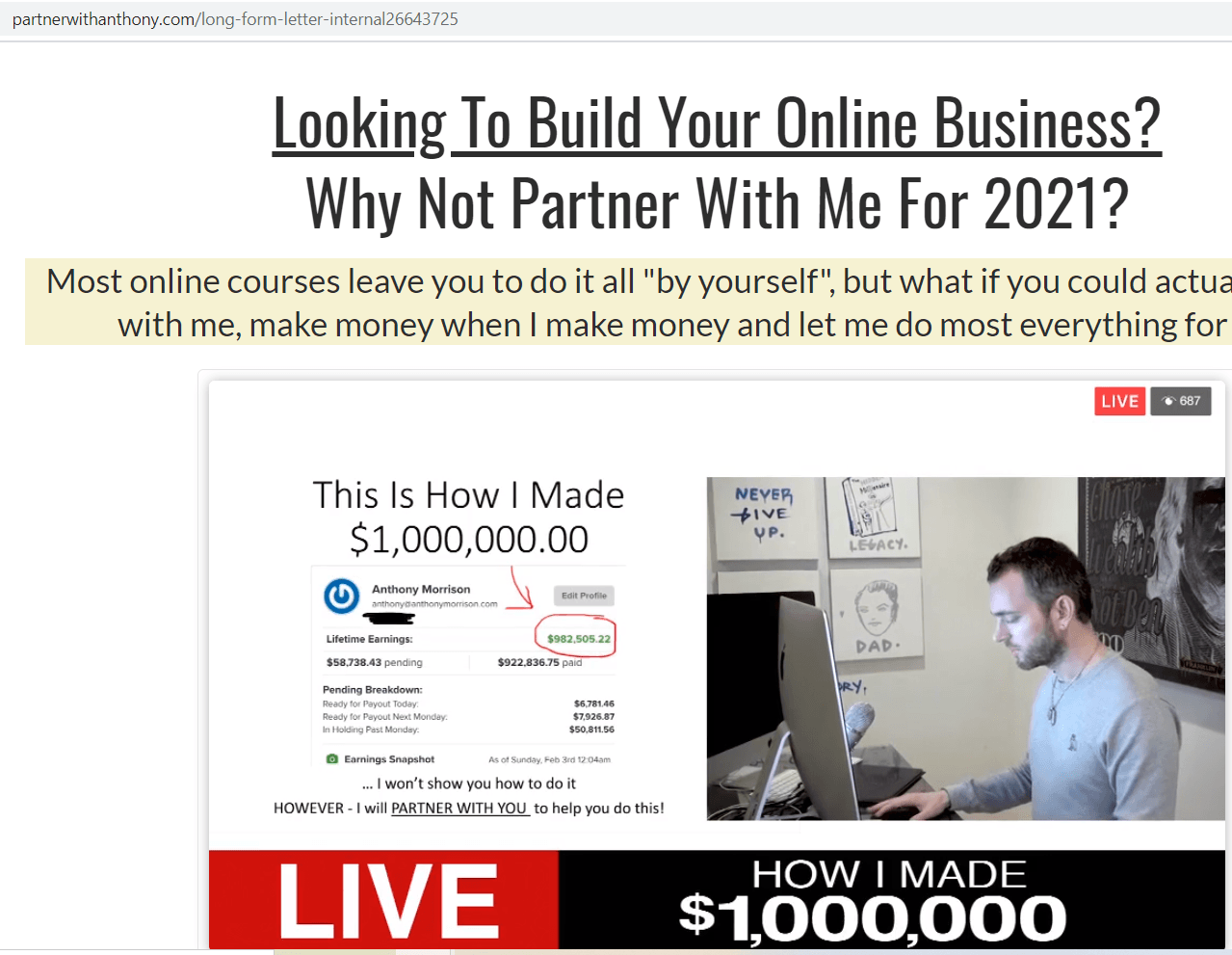 Price: $7 a month option or $97 one time.
Final Rating: 3 out of 10 stars (Yellow Flag. Proceed with caution)
Update: Partner With Anthony may have changed around a little bit so if there are any updates to this program, they will be added to this review in the future.
Quick intro to this review of Partner with Anthony:
Let me just say that I am not Anthony Morrison's biggest fan to say the least. He has several products he has released onto the internet marketing world and I have not given them high ratings due to the fact that I think there are better, and higher quality programs out there (which you will see in this review).
His most recent one, Partner with Anthony isn't half bad in my opinion and I would say it's much better than his previous programs, but that's not really a compliment and in addition to explaining what you will get from this product, I also want to tell you why I will not be recommending it. 
Partner with Anthony explained:
Basically it's an entire course on making money online through creating an email list and getting people to sign up, then you'll promote products to this list of people. Anthony even says in his sales page that the key to success is having an email list.
What is hyped is when he says he made so much money from the click of a button. This is exaggerated because to get a point where you make money from the click of a button requires you first have foundations in place. In this case:
A website.

An email list.

A product to promote to people.

An email set up to promote the product.
This process takes time and effort and doesn't always yield rewards so don't let anyone ever tell you, it's just a click and BOOM, you're making money. It's not that simple.
Inside the Partner With Anthony program:
The whole program of Partner with Anthony will help you create a website, an email list and show you how to get visitors to your site via things like Paid Solo Ads, Ad swaps and other methods of paid advertising where you can quickly get traffic to your page, accumulate an email list rather quickly and then promote that email list some sort of product. If they buy through your email, you make a commission.
For example: 
Let's say I build an email list of people interested in losing the most weight possible in say a month. I collect an email list of 1,000 people and then after awhile promote to them a diet program which pays me $20 for every person who buys it through me.
I send out an email with a link to the diet product which is my affiliate link meaning if someone clicks and buys through it, I earn the $20. If I send out an email to my email list saying how great the diet is and how much weight they can lose and say 50 people buy, I could make $1,000 ($20 x 50). 
That's essentially how email marketing works in this case, although there are other ways to utilize it. 
While some people claim that way of making money is the best, I disagree. I feel email marketing is not for newbies and there are better ways to get started if you're a beginner.
Why I can't recommend Partner With Anthony:
1) It's Anthony Morrison:
Yes I admit, I'm a bit biased towards him but I simply don't trust the guy. It's my personal opinion after reviewing his previous products and seeing how he markets himself which for the record I don't agree with.
The guy has more than several products that he has made and promotes to people. I tend to shy away from people who are known for making multiple products (Vick Strizheus or Four Percent Challenge is another example) because to me it shows inconsistency and that the previous products may not have been as good as they were made out to be. 
I believe in one solid program that continues to deliver no matter what the times are, like this one. Plus, in previous experiences, I am almost certain Anthony will probably have up-sells from within this program somewhere. From a business stand point it makes sense since he could make money of current buyers, but this is my personal opinion and I could be wrong.
I've also reviewed other programs like Academy of Online Success which is in many ways VERY similar to Partner with Anthony, but cheaper to try so if I had to choose between these 2 places, I'd choose the first one.
2) It's going to cost you extra money to use the techniques and products in the program.
The training itself goes over building a list utilizing paid solo ads and ad swaps which while they do have potential to bring in potential email subscribers quickly do cost money. 
If you're going to take action and do what this program tells you to do, you will have to pay money for the ads. So if you're already tight on money to begin with, I wouldn't recommend this. I say time and time again that paid advertising no matter how "full-proof" is always a gamble. You can do this if you're not ready to lose money.
I also believe you may be pitched to get Clickfunnels as well (Anthony shows off his 2 comma awards in his promos of this).
3) Better alternatives available:
Besides my #1 recommendation which is Wealthy Affiliate, there are also a number of sites (including this one) which go over email marketing, collecting an email list (using free tactics) and using paid advertising. 
I feel the information within Partner with Anthony, while "decent" is also limited and I would personally never recommend paying the current amount they charge for such a limited amount of information. Email marketing isn't for everyone. 
Pros:
Decent training (mostly video).

You can make money if you implement the techniques.
Cons:
You'll need to invest money into putting the techniques to work.

I simply don't trust Anthony Morrison.

There's better products on the market in my opinion.

If there's ANY up-sells, I'd recommend staying away from them.
Final Rating: Partner with Anthony

Yellow Flag (Caution)
3 out of 10 stars. It can definitely work, but there are much better places available to learn how to succeed online, especially if you're a beginner. Here is my #1 recommendation again which is Wealthy Affiliate.
My final thoughts:
I will yield that Anthony has been releasing better quality products as of late, but as I said before this is NOT a compliment. Compared to some of the other programs of his that I've reviewed (some of which I felt were scams), any improvement seems like a big deal. 
Even if he still keeps going higher, I just don't trust the guy due to my previous experiences reviewing his programs. I believe trust is something that you earn and there's only 1 place which is Wealthy Affiliate that I trust in all the years I've made money online.
So is Partner with Anthony a scam? No, although there is a lot of hype in my opinion.

Would I buy his program/recommend it? No.
What do you think? Do you think Anthony's program is the real deal? Leave your comment below!