When I joined Four Percent Challenge, I did so because I wanted to see if it was a scam and this review will explain what occurred and why inevitably, I left.
Quick report on Four Percent Challenge:
Creator: Vick Strizheus.

Price: $1 trial, then $49 a month for the most basic membership: Pro. This is what I am (was) part off.
There are up-sells, and individual products inside the members area whose prices range from $49 all the way up to $1,997 and possibly more (since more products are set to be released at the time of this review).
Overall Rating:

1 out of 10 stars.
There are several big reasons why I stopped being a member:
1) The program was made by Vick Strizheus. While I respect the guy for being a very "creative" entrepreneur, his past programs that I've reviewed (and his history prior to being an internet marketer) are not very good in rating. He has made a lot of money in this business, but often through very bad practices in my personal opinion. 
2) The $1 trial is really nothing as you only get 1 lesson opened up every 24 hours and there are pushes to get you into higher memberships, which require you purchase more expensive programs to be apart of and that can easy topple $1,000's. 
Update: This program has now evolved into "just" Four Percent. 
There is an update to Vick's program where he still sells many of the products I'll be reviewing from his original Four Percent Challenge in this review, and he currently has a promotion for this site and products known as ITA (Internet Traffic Academy) which I'll review, but I can almost surely tell you the review of that will be the same as this review of Four Percent Challenge.
Why? 
Because every program of Vick's that I review always has the same core problems:
Vick's history.

They are very high ticket and you can learn this material for less (alternatives coming up).

It starts with hype (and some of it is warranted) but basically turns into a funnel to buy a bunch of other high ticket products on different internet marketing related subjects.
I'll never endorse that. So:
Do I recommend this program? No! After seeing this program personally (and having reviewed a few other of Vick's programs), I decided to leave it and stick to my #1 recommendation instead:
Now that I've mentioned that alternative…
Here is what I'll explain in this review of the Four Percent Challenge:
First I will explain what the program is all about. Is it really a scam?

Then I will explain the products you get inside the program and how much they cost (it's a lot of money).

Then I will explain the 4 different membership levels of the program.

Then I will further explain why I left this program (And why I don't trust Vick).
So let's do this:
What is the Four Percent Challenge?
It is mainly a high ticket internet marketing program which contains a lot of different sub programs within it (I counted 10). Programs which show things like SEO marketing, list building, traffic generation, all that sort of stuff.
For the very basic membership (there are 5 in total), you get limited access to a few lessons, that are frustratingly released once every 24 hours. 
Based on what I saw within my purchased membership, it's really a teaser, not exactly good training in my opinion. It's just Vick hyping up ideas on making money online, talking about general stuff.
I don't want to use the term "scam", but man, there's not much I saw that was worth being on the membership I was in…
Now for some reason there are also programs within the members area that have nothing to do with internet marketing.
For example, there is a link to join a program called "World Ventures" and a health program/product called "Enagic", both of which may be MLM companies Vick is partnered with which you too can join and participate in the program. I have no idea what these are so my review will not reflect them, only the main 10 programs.
In any case, I believe Vick is attempting to make a giant empire of products/partnerships and gain a lot of affiliate marketers to promote his program to people.
The 10 programs within the Four Percent Challenge:
Ok so let me just say that there could be more than 10, but I got confused since there are different categories or products sold on the site. I just counted 10 that are internet marketing related:
So here's the quick breakdown of this list: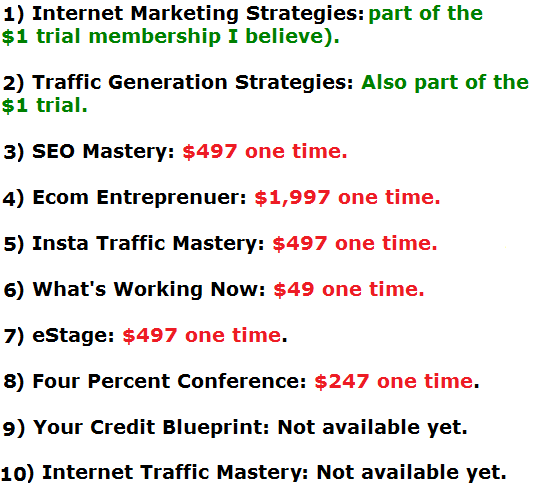 The green ones are from my understanding the training programs you get once you enter the site for the $1 trial and if you go further with the $49/month with it.
The red ones are the optional upsells, but as you'll find out, they are mandatory buys IF you wish to upgrade your membership (We'll talk about the memberships in a moment).
The ones that are black not yet released (they may have been since my initial review) or just not available. Their price is unknown, but I would imagine it is not cheap.

The 4 memberships of the Four Percent Challenge & what you need to know:
So one thing I am not surprised to see is Vick dividing up his program into different levels of membership, each of which costs more than the next, which really makes this whole thing a high ticket program (and I really don't like that).
Let me explain:
There are requirements to be a part of each level membership. One of the requirements is that you buy one or more of the above products I just mentioned. Let me go through each level and give you the estimated price should you decide to join and upgrade:
Level 1: Pro Monthly. 
This is where I was when I joined. It's a $1 trial, then as I said, you pay $49 a month. This gives you access to at least 2 of the training programs above I showed you as green. 
Pro Lifetime upgrade:
If you wish to join for the long run, this may be the membership to join. It's $497 one time. I assume it has the same perks as pro monthly. 
Level 2: Gold. 
Here you need to have the following programs and memberships purchased:
You need to be a Pro Lifetime member: $497.

You need to own eStage which is $497.

You need to have the Internet Traffic Mastery Course: The price is currently unknown. I assume it'll be a few $100 at least.
So at least for now, the cost of being a Gold member is close to $1,000.
Level 3: Platinum.
Currently it doesn't show what you need to be a member of this place but it is the next level so it's likely more expensive than gold.
Level 4: Diamond.
Diamond is also currently not showing the requirements to be a member there, but it's likely higher than being a platinum member since it is the next tier.
My prediction is that in total, being a diamond member is going to cost you several $1,000.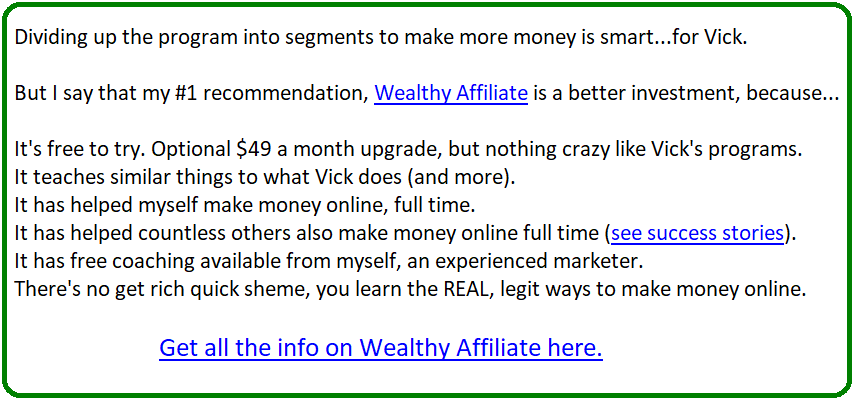 Why I decided to leave Four Percent Challenge:
The short story is that I don't trust Vick, at all.
You see, over the many years I have reviewed online marketing programs, I have actually come across some of Vick's previous ones (he has had a lot of programs). Here are some examples:
I have always rated them low because they sold the same type of expensive training that I see in the Four Percent Challenge. 
However, besides the big prices and the fact that I don't believe you need to pay them to make money online, the other bigger issue is Vick and his history.
There's a number of MAJOR issues that exist here as Vick had a lot of complaints about his previous programs. I don't want to get into too many details here, but it's a lot of questionable stuff (The Big Idea Mastermind link above will explain the specifics), and I haven't even mentioned his history before being an internet marketer (if you look it up, you'll see what I mean…).
The point is that over the years, from the moment I first heard about Vick, researched his program, than ran across his others, I have noticed a pattern of very questionable things and it is because of this questionable history that I am ultimately saying NO to Four Percent Challenge (besides the prices!).
Final Rating: Four Percent Challenge.

Red Flag
1 out of 10 stars. Because of Vick's history and the large prices in this program, I am not going further with it.
Something else I need to mention about Four Percent Challenge: 
So there is an affiliate program inside the members area. To promote the big products themselves, you need to sign up for their "partner program" and there's a $197 fee to be a part of it. As an affiliate marketer myself, I do not endorse the concept of buying into high ticket opportunities.
And by the way, with the new Internet Traffic Mastery program that's part of Four Percent, it is the core program that'll teach you to promote it and the other products within Vick's program. And yes, you can also use the training in other niches/promotions.
Here's the problem though:
Now I don't know if this fee covers the ability to promote ALL the products, but knowing high ticket programs as well as I do, they typically say that if you buy one of their expensive programs, that you can then get higher commissions as a result. I don't know if it's the case in the Four Percent Challenge but it is very possible. I will wait until I get more evidence to see this, but for now, there is at least a $197 fee to be a partner of the program (aka an affiliate)…
So here's what I believe is happening:
Given what I know from my past reviews of Vick and his programs, I assume he is trying to make as much money as possible.
I do believe he offers good programs for the prices he charges, but I don't believe in charging that much to begin with and with the added fee to promote the programs and mandates to pay more to be in higher tier memberships, I just think that there's way too much being asked to be part of the Four Percent Challenge. 
Can't invest into this program? Here's a far better one I recommend:
As an online marketer myself, I have said time and time again that people should not have to pay the kinds of money programs like Four Percent Challenge charge. With the initial fee, the partner fee and who knows what else, the spending adds up quick.
My alternative to this program is my #1 recommendation Wealthy Affiliate, here's why:

I had always known before joining Vick's program, even though it was brief that there would be big prices there. I am now convinced of it and happily left. I am also happy to continue being a member with the alternative program I am recommending and know people will be happier there too.