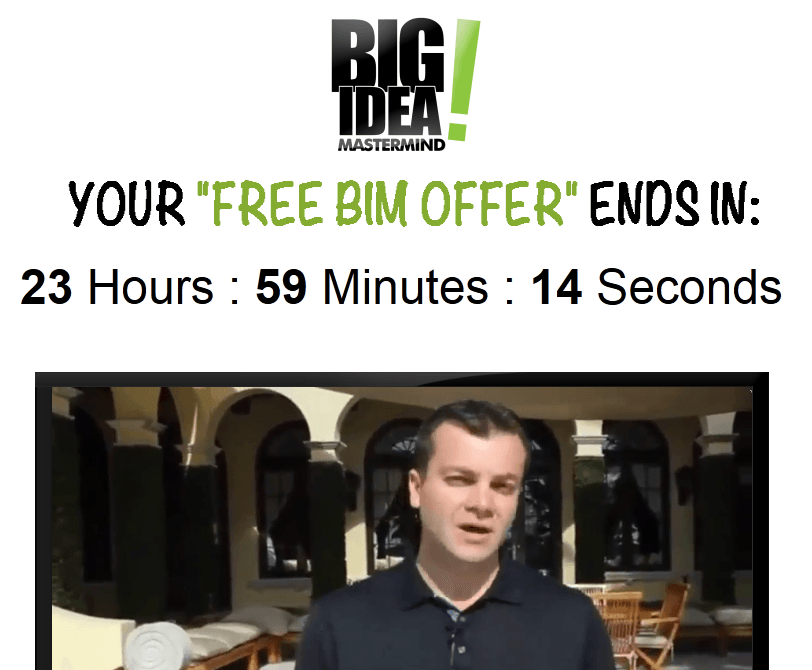 Vick Strizheus's Big Idea Mastermind (BIM) to some may seem like an incredible opportunity to earn money. But if you look beyond all the hype and promises, you'll likely come to the same conclusion I did: It is a downright scam.
Even worse is that it's connected to one of the worst pyramid schemes ever perpetrated online. Through this review, I'm going to explain why this is and take you through each lie of Vick's as well as facts on this program you absolutely need to know.
Note: There are MAJOR updates on this program, Vick and more you need to see below. A lot of things have changed and you need to be aware of the new scheme happening.
Big Idea Mastermind (BIM) in a nutshell:
This is really a referral program to Empower Network (EN), one of the biggest pyramid schemes I have ever reviewed. When you join BIM, you join Empower Network automatically and Vick earns a commission. I'll explain exactly how this works below.
The only difference between people who join Empower Network through BIM and those who don't is that you get training from BIM to supplement your membership as a BIM/EN member whereas members who join EN directly (no BIM) only get the regular training (which is also a scam by the way).
As much as I hate to say it, there is some decent training at BIM. You learn things such as:
Note: These links I included above are all pointing to my personal advice on these subjects. This is not part of BIM.
But back to the subject/review of BIM…
The overall idea is to use this training from BIM to also start to refer other people into both BIM & Empower Network. Although you can use the training to promote other affiliate type programs, a large majority of people who join BIM/Empower Network will wind up promoting those programs to other people and a major reason for that is because of the large amount of money they'll have to invest if they wish to get anywhere with the program as I'll explain in a bit. The fact of the matter is, you can get better training for much less from more legitimate programs, like this one.
Even though the business model can work (rarely) and you do get some decent training, those perks are greatly overshadowed by the massive scam that is both BIM/Empower Network. And this brings me to explaining why this is:
First off, BIM isn't really free:
Contrary what is said on Vick's sale's page and that you can get his $5,000+ valued training for free if you sign up before the clock runs out, this is absolute BS. This is because when you click to sign up to join BIM, you will be taken to this page: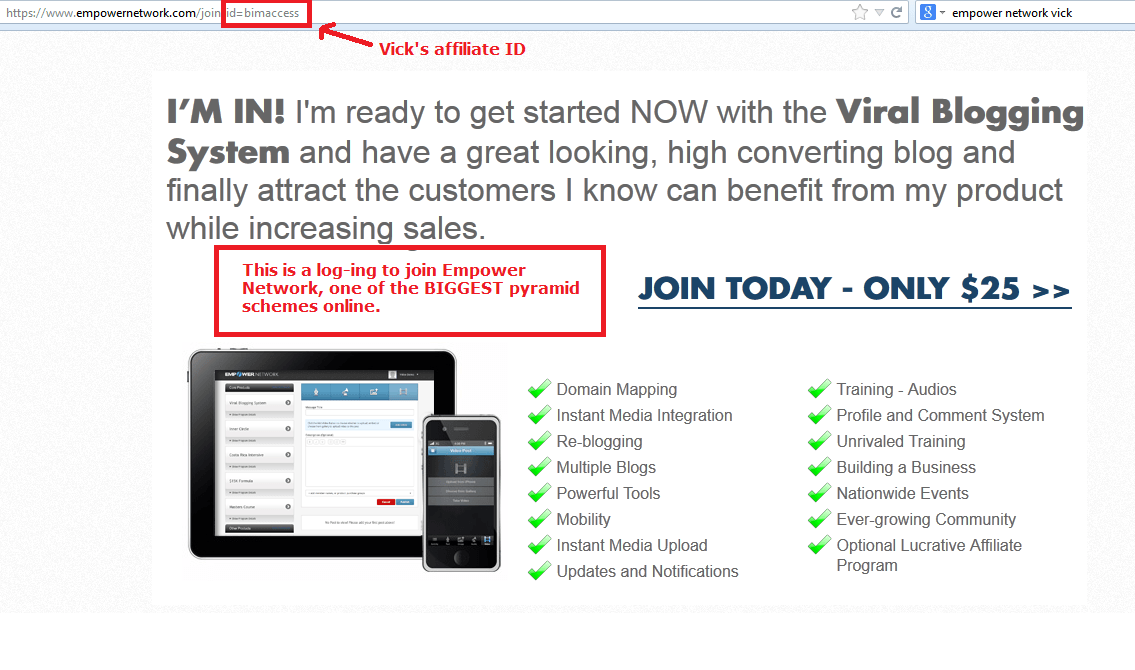 So free means I have to pay $25 now? Well that isn't free at all.
But if you sign up, this will automatically sign you up to Empower Network. The price of joining EN is also $25. Like I said before, Big Idea Mastermind is just 1 big connection (referral program) to Empower Network and you're about to find out why this is VERY bad:
Understanding why Empower Network is a massive scam:
I wrote up an entire review of this here, but if you're tight on time, I'll give you the short version:
EN is basically 1 massive pyramid scheme. They claim to give you full access to their system for $25, then once you join, you only get a blog and that's really it.
EN claims this blog gives you high rankings on search engines, but this is false and it doesn't even belong to you! Furthermore…
You are now going to be bombarded with up-sells from EN asking you to buy their higher priced packages which is basically nothing more than training to learn how to refer others into EN.
If you don't buy them, you are likely going to be either ignored, shunned "persuaded to", or even called names to do so. I'm not even kidding when I say this. It can even get personal.
If you purchase all of these up-sells, it will cost you about $5,000 + monthly membership fees.
You may be wondering how anyone can throw down so much money for this and the biggest way they hook you in is by saying you can basically make the money back from 1 sale…
EN offers it's affiliates 100% commissions but if you want to sell their high priced offers, the same ones which would total to over $5,000, you first have to buy them. And there's the hook. This gives people the impression that referring just 1 person is all it takes to break even and then it's simple. Yet I've uncovered that less than 1% of all it's affiliates actually turn a profit.

The report

.
Overall, EN is really just a ridiculously high priced training which you can get elsewhere and even for free. But aside from that you get nothing else which is why I say it's a complete pyramid scheme.
And most importantly, Empower Network as of 2019 is GONE (Thankfully!).
What's in it for Vick?
Now that you understand the basics of Empower Network, let me explain how Vick makes money through the Big Idea Mastermind. It's quite genius really, but not in an ethical way…
As I said earlier, BIM is nothing more than a massive referral network to Empower Network where Vick is the MAIN affiliate. If you are an affiliate for Empower Network, you can earn 100% commissions on nearly every referral you make. As a basic idea, here is how it would work:
Let's say I refer 10 people to EN. I would make 100% commissions for about 4-5 of them. And the rest?
They would get passed up to either someone who referred me or if I was never referred, the owners of the company will get that money. This is basically how the money flows upwards, very few make money (here's how the scheme breaks down) and why I say EN is a massive pyramid scheme. 
Now this is VERY important and here's why:
If you join BIM, you will automatically join EN. Now odds are 100% of your money that is invested which can be anywhere from $25-$5,000 will go to Vick. If not, it will go to the higher ups like I said before.
However let's say you start making commissions and referring people into EN. You will also have to pass up certain commissions, and they will go to none other than Vick himself! 
What this means:
Vick will make money through you when you join EN through BIM. 

Vick will make money through many of your referrals that you refer to BIM/EN. 
This is how the referral system of Empower Network works. So whether it's Vick, or anyone else referring people into EN, this is how the money flows. All that Vick has essentially done is created an incentive to join EN through himself (BIM). 
Now many people would consider this a genius plan and in many ways it is, but as I said before, EN is a MASSIVE pyramid scheme and even worse, Vick has some VERY questionable history you absolutely need to know about…

 Here's a "little" background on Vick Strizheus:
Where to begin…
Upon doing a little investigating, I uncovered some startling things about Vick. Firstly his name is/was Vitaliy Strizheus. Why did he change it? Because he was once convicted of insurance fraud and sentenced to jail. Here is a video of the news report:
I've seen tons of people jump to the rescue of Vick, Vitaliy, whatever… saying that people make mistakes, everyone deserves a second chance and that you can't let 1 past mistake decide your opinion of someone forever. In fact Vick actually did a video where he explained about those wrong doings.
Ok I'll give the naysayers that. But I'm also going to give you MORE evidence to prove that there're more shenanigans going on. Vick has been part of a number of different online marketing ventures in the past.
Here are some:
One thing that has been very common among those programs is that: There are a lot of complaints and that the MO is almost always the same:
Vick sells you the get rich quick idea.

You join his site.

The information there isn't complete, but is said to updated soon.

Meanwhile you are charged monthly.

You are sent emails from Vick saying "It's coming soon!"

Then the program shuts down and you are told an even better idea has arisen and that you should join it. The picture on the right (High Traffic Academy), is an example of this.
And guess what? Vick is leading people from the former programs into a new one. What is it? Why none other than the Big Idea Mastermind.
Let me ask you this: Why would someone keep going from product to product? I say it's because the others were a scam. But you be the judge. This can't simply be a coincidence…
That's at least 5 business ventures which I've looked at that I found to be scams. But is there anything else? Why yes!
More questionable things on Vick:
1. There has been controversy of stolen affiliate links in Vick's program.
What does this mean? It means that if I am promoting a product through a specific link which identifies and gives me a commission for each sale, it is changed/altered in order to give the vendor or someone else the commission. This is absolute theft. 
 2. I don't even believe his BIM sale's video is real. Not "his" car, nor "his" house.
Let me elaborate. If you look at his sale's video, you see him driving a very fancy car and showing off what is believed to be his house. I don't believe it. Firstly look at this picture. I could be speculating, but what kind of car has a white tag on it (I circled it on yellow)? Looks like a rental to me.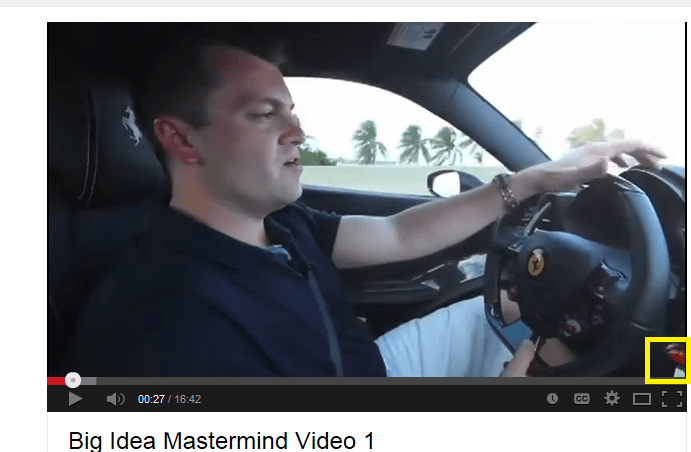 Then there's the question of the house. I've seen from another website that this house is actually up for rental and has been for quite awhile. I even saw an advertised page showing what I though to be the house from the sale's video which you can rent for over $10,000 a night.
Could I just be paranoid? Sure, but after all the other things I've seen from this guy, I can and absolutely will question everything and anything he claims. You should too.
Update: 4/23/14
Well, it appears Vick has released a "NEW" program to the IM world called Internet Traffic Formula. Like BIM before it, this program is also being marketed basically the same way BIM was: Learn traffic secrets, it promotes Empower Network and basically continues to follow along the same path as BIM & Vick's previous products did.
This cycle of creating products, marketing them the same way (saying how much traffic/success you'll get) is becoming less and less believable with each new program he releases. I for one, will not be buying it. 
Pros:
You do get some decent training on online marketing.

You can make money with this program, although it's not as simple as it seems.
Cons:
It's just a referral program to

Empower Network

, a major scam.

It's going to cost you A LOT of money to try EN.

Vick has some VERY questionable history.

Speculation of stolen affiliate links.

Bad support from his previous products.
Final Rating: Big Idea Mastermind
Red Flag
1 out of 10 stars. Referral to EN, also rated VERY low. I advise staying away from this BIM. See #1 recommendation.
 My Final Thoughts on Big Idea Mastermind:
Sure everyone makes mistakes in the past, but in Vick's case, there is an alarming amount of programs and business tactics that I've seen while looking at BIM, more than enough to question if this guy is the real deal. 
Vick's claims that he made so much money in so little time I actually do believe. When you have such a massive referral system in place getting people to join EN through which many throw down $1,000's much of which Vick gets, it's not that far fetched.
I can't ever see myself doing that with a clean conscience. I am also going to admit, his traffic generation tips are good, though not for everyone. You have to have money to implement a lot of his ideas. So I'm not doubting the techniques. I'm doubting Vick for reasons I mentioned above.
I would strongly advise staying far away from this guy's programs and Empower Network. Yes you can technically make money with it, but speaking from experience, just because they say it's easy doesn't mean that it is. Most people who join EN do NOT do well as I stated above, yet they decorate their income disclosures to give you the impression that everyone is making money. It's nothing but an illusion disguised in numbers. 
Though BIM's training is pretty decent and can help you promote EN, I would ask why would you ever want to promote such a scam to anyone? I would never promote anything that would cause damage to people. It ruins their life and my reputation. Plus it's also extremely unethical and immoral. 
Like I said before, you can get better/ethical online marketing training from legitimate places for less and even free. My #1 recommendation is one of those few places. 
If you've had prior experience with either BIM or one of Vick's previous companies, please share your story! 
Remember: Both BIM and EN are out of business.
The creators of both these programs have stopped working on these programs for quite a while and currently Vick is involved in his new program, Four Percent Challenge, which will it is not connected to Empower Network or other "schemy" programs has it's own cons.