I bought and read through the entire 10 Pillars of Wealth eBook by Alex Becker. In this review, I'll go over the summary of it and let you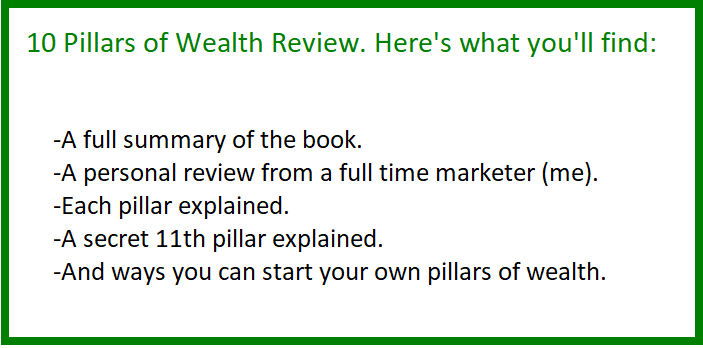 know if it's worth reading too.
What I will say is that it is an awesome read and even though I am an experienced entrepreneur, I managed to extract a ton of new information and incredible content out of this book that I know will help me with my business and even if you are someone who decides to read it and you don't have a business, it is still an important read to help you get started with it correctly.
And it doesn't matter if this business is online or offline.
First, let's cover the most basic things about this book:
Quick Report on 10 Pillars of Wealth:
Creator: Alex Becker.
Price: $6 to about $10 if you buy it on Amazon.
Overall Rating:

9 out of 10 stars

.
I may not agree with certain things Alex Becker recommends and promotes in his other businesses (I've tried some of his programs and will explain below), but I will say that he wrote an amazing book on making money and I 100% recommend it. 
10 Pillars of Wealth in a nutshell (the summary):
I would classify this as a self help book which shows some very wise lessons Alex Becker learned before and after become very successful. From what I know, he began with online marketing and SEO and then moved into bigger projects but this book basically compiles and lists the most important things he learned.
Now even though this book is written to ultimately help people, Alex is very serious. He gets right to the point, tells people not to make excuses or blame others, says things are unfair and can come off seeming rude to some, but frankly, I felt that this was the type of tone that was necessary to push people. 
And a lot of the book is based on behavioral changes people need to adopt as well as mental in addition to changing how they think about money, while other parts involve him pitching his SEO programs (I don't recommend them. I was a member of his Market Hero program and decided to leave due to issues.) and finally the last part of the book goes into specific things such as how to get started on business, where to move into when you make money and then another higher level of it where you invest in things that cost a lot but deliver long term profits such as investing in businesses. 
The lessons I learned from reading Alex's 10 Pillars of Wealth book:
Alex is an online multi millionaire businessman (here are other famous internet marketers who are also in the same business) and far more successful than I am, yet he really connected with me with the way he wrote about certain things in a few pillars which I totally agreed with.
Here are some examples and lessons I personally took from the book:
1) There's things in the book on such things as not listening to the advice of family or friends if they aren't successful and that they wrong.
2) Not listening to society and not being a part of what he calls the "Traffic Fighters" which are basically everyday workers that get nowhere.
3) A big point in his book is to show that most people who go through normal things in life, and think in terms of normal standards (financially) are limiting their potential and possibly even wasting their time and it was one of the things that he says helped him become successful.
4) Personally, I share this type of mindset when it comes to business and not listening to normal people, but due to my own laziness, I have not gone as far. And with the way Alex writes about why people don't do this. I think anyone would agree with him.
5) Now most books that deal with teaching people how to create wealth or improve any area of their life generally only talk about theory and in many cases neglect to really have the person reading it analyze their life and be responsible. 
They also don't really provide any kind of plan of action which makes the book quite worthless. In my opinion. any self help book needs to have:
A motivation aspect and then something the person can start doing. Most books have the first thing, but Alex's has both. 
In the case of his book, he provides a few examples of what one person can do if they want to become rich by:
Creating a product or business for a niche crowd (100%, he gets this right, I've made much of my money online using this principal, it's explained here). He used an excellent example of a product for Cross Fitters in a section of his book to show this.
6) He also talked about making money quickly, which I was skeptical about reading, but his whole thing regarding that point was to find clients that will pay you for a certain service you excel at.
7) He also talked about scaling in a business when you reach a point where you need to automate it and get other people to handle parts of it so you can relax, otherwise the business can be in trouble. 
Spoiler: It's aren't 10 Pillars. There's actually an 11th, secret pillar:
It is towards the end of the book in which Alex discusses how to specifically get started (besides linking to his site) where he talks about affiliate marketing, creating products on Clickbank and having that be your "CF" business which means "Cash Flow" that eventually can reach a point where you may not be able to make much more in which case you can expand and invest into investing in startups and then bigger businesses that can potentially bring, large stable profits. 
But while the second and third options which is basically investing are common sense for anyone who has enough saved up, it is the first option, the Cash Flow, which is very different because most people who are able to afford large scale investments aren't usually those who work stable jobs and don't own business, it is usually people who take risks and have been able to make much more than normal jobs can bring and what Alex has done is provide ideas to make your initial start into a rich lifestyle more possible by taking a smart risk initially, first by changing your thoughts on money and risk and then giving you a business ideas.
Can the cash flow ideas Alex puts up be the money makers that sustain your whole life?
Very possible and frankly, online marketing can do that, but what he has pointed to is what you will need to do to go from one business idea into profits and then how to scale those into multi millions by diversifying how you invest. 
Final Score: 10 Pillars of Wealth
Green Flag
9 out of 10 stars. Usually I devalue the mindset aspect of self help books and focus more on taking action, but this is the first book where I think that the mindset change is so well written and emphasized that it may be strong enough to trigger massive ambition.
It did in me and that itself takes a lot! There's another great book on business called Silent Sales Machine and I recommend it too.
But the mindset change is the first step, the next one is taking the action and again, this is where I suggest programs that are not made by Alex (It's ironic, but it's also not easy for me to say either, this has been my experience).
Like I said before: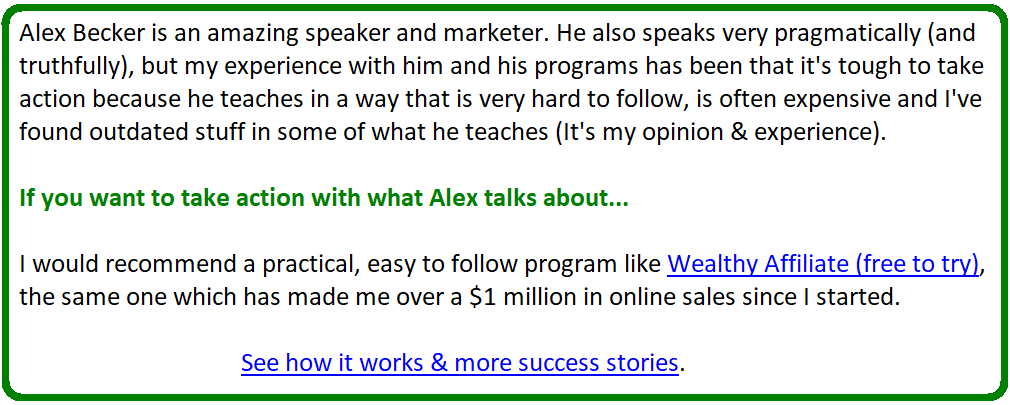 My final thoughts:
I personally feel much more ambitious after reading this book and it's really helped me become less lazy about my business. I also began watching stuff on YouTube Alex puts out and I like that too.
With the way Alex describes his lifestyle which I also have because I've experienced a portion of the success he has, I feel much more interested in expanding that. And I already have the program which does that for me: Wealthy Affiliate.
And now thanks to Alex, I'm just exerting myself more with that program, to make more through a my business which is affiliate marketing (And I have made over $1 million with affiliate marketing).
But I did say that I didn't agree with certain things that is specifically his past programs I've reviewed. This man knows how to sell, but in my opinion, certain things he has created haven't been as good as other things I have explored, particularly his advice on SEO.
I do recommend everyone read Alex's book, but if you decide to take action, specifically if you decide to do online marketing, then you have at least 1 great choice:
And that is Wealthy Affiliate. If you combine this programs teaching with the mindset change Alex talks about, it can really bring about that amazing cash flow business that can later on become a great nest to take from and invest in bigger things to bring in even more money.
And I say this as someone who has been able to do it. Wealthy Affiliate just offers a far more practical way of getting the things Alex teaches done (the online business stuff specifically).
Pros
Very eye opening book on entrepreneurship.
I agree with just about everything 10 Pillars of Wealth says.
Alex really does share some important insights on starting your own successful business.
Cons
I have tried Alex Becker's programs before and my experiences were mixed.
Generally Alex speaks and writes well, but his programs in my opinion are often outdated and hard to follow.