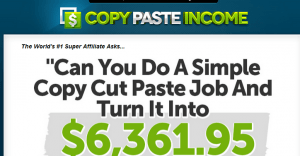 Copy Paste Income is a decent program made by Ewen Chia, but overall, I regret getting it. Read this review to see why.
Quick Report on Copy Paste Income:
Creator: Ewen Chia.
Price: $37 (cost me $40.28 with taxes) and LOADS of up-sells IF you go the wrong way!
Overall Rating:

3 out of 10 stars. 
Wow I can't believe I finally found a product from Ewen Chia that I can somewhat recommend! I'll explain what this program is and why you should or shouldn't buy it.
Every time I stumble onto a program created by Ewen Chia, I prepare myself to be disappointed, because with every previous program of his that I've reviewed (The most recent was called Autopilot Profits) were terrible, old and pretty useless.
This one however has some uses and you're going to find out what you can use from it. However as a whole, this program is not something I'd recommend for making money online, because a whole host of the "real" benefits of this programs are up-sells, and you could frankly get all that type of training from better programs, like this one:
Copy Paste Income in a nutshell:
Copy Paste Income is all about making "mini" ebooks, submitting them to websites and giving them away for free.
The money comes into the picture by placing affiliate links within the free eBooks so when someone looks at the eBook, reads it and clicks on the affiliate link and buys, you make the commission. 
That is the general picture, but specifically speaking, all of this is taught in 6 videos that in total span for a few hours. I've personally made money online before through this method (details on selling eBooks). 
The video training in Copy Paste Income summarized:
Video 1:
Talks about finding a niche where people have a problem, making a small eBook on it (rule of thumb is about 30 pages).
Let me just say that I provide a simple tutorial on this very subject, but instead of making an eBook to distribute, I find the option to make a website (online business) from this is WAY better. And the money you can make in 2019 from this vs Ewen's option is better in my opinion, learn more here. 
Video 2:
Helps you find an affiliate product on places like Clickbank.com, get your affiliate link and insert it into the eBook in places where people might click on it. And by the way, read about my Clickbank success story.
For example, if I write an eBook on how to get rid of acne and in the eBook provide affiliate links to maybe some sort of acne solution product, for which I will get paid when people buy through that link.
Video 3:
Talks about finding keywords for your eBook so you can plug them into the book itself. One thing I fail to understand in this video is how this is supposed to help you get ranked. I know that searching for specific terms online can trigger certain sites with eBooks to show up, but Ewen doesn't talk about tracking the competition of the keyword you're chasing, he just shows you brainstorming ideas. 
He uses keyword spy, a tool for this idea, but the general summary is: You find terms related to your mini eBook and more importantly niche and put those keyword into the eBook. 
But like I said before, without knowing the competition of your keywords, you may have difficulties making this work. I would recommend using this method to find exact competition. It's free and it's accurate. 
What I assume is being taught here is to just chase a highly searched keyword and not to worry about the competition because if you put it on the special sites I talked about, their high authority is what will work for you and make them appear.
Video 4:
This part shows you how to create the eBook. It's really not difficult:
Write a word document and turn it into a PDF. Make sure that ALL links within the eBook work because they will be imperative for the commissions to come in. 
Video 5:
Shows you how to promote the eBook. This is where you learn about a few sites that do this. Ewen mentions a list of these places. In the examples, he uses 2 sites (I'll mention them below) and just a way to research other sites like it.
Your goal is to upload your eBook on those sites, after which people will find them and hopefully take a look. The more you do this, the more chances of getting more sales.
Video 6:
Summarizes the 5 videos and mentions an extra marketing approach in which instead of providing affiliate links within the ebook/s, you include a link to an opt in form and collect an email list. 
Ideally this whole strategy can technically work if you have a lot of eBooks on popular niche topics and if you can successfully upload the eBooks to the sites mentioned. It can add up. 
Have I ever done this? Somewhat yes, but instead of using those sites, I just gave away an eBook I personally wrote which teaches making money online. I don't do that anymore, but I know it works.
The rest of the site is mostly upsells:
I'm going to first go over the places which offer you value and then explain where you'll find up-sells on the site. I've indicated that by putting in green rectangles and all the upsells in red rectangles. See for yourself how much value there is on the site vs how much stuff you're going to be sold…
First the value areas (green):
Welcome and introduction.
Just a video from Ewen introducing you to the site and where to go.
Complete coaching.
Goes over the 6 videos.
Copy paste ebooks:
There's some decent value here. You get 10 ebooks which are basically reports on the make money online niche you can use to upload to the sites. What's cool about these ebooks is that you can insert your affiliate link and when the book opens up for people, your link will be in all the places. 
The bad part about these ebooks is that a lot of them seem outdated and I personally wouldn't want to give this away even if it's free, if I feel the information isn't going to help people.
Additionally, if you pay an extra $27/month, you'll receive 10 extra ebooks every month to promote. These are basically done for you mini ebooks, but I think it's just PLR.
Special bonuses:
There's 2 things in this section. First, there is a link to a free site which makes ebook covers for you. You can create your own image and it'll upload it in a book cover type image so you can then use it if you make a website or need to make some fancy looking cover. I find this tool very helpful. 
The second is you get 10 more eBooks on making money online. These you can personally use to increase your knowledge of online marketing, but I feel that these too are outdated.
Earn Easy Cash:
Just an affiliate page to promote Copy Paste Income. You get emails to send out to people and this is only "valuable" if you have an email list.
And the rest is just up-sells…
Within these up-sells you're going to get tons of additional offers to Ewen's other products. As I've said earlier, I have reviewed some of his other products, but one which stood out of all of these was his promotion of a third party program called MTTB, which is a VERY bad program in my opinion connected to an even worse program called MOBE.
In fact, it is PROOF that it is a bad program because the FTC shut it all down. See details of the FTC shutdown of MOBE.
Those 2 warnings I mentioned:
Well here they are:
Warning 1: 
It's the up-sells. I wouldn't buy ANY of them. Also if you buy Copy Paste Income, make sure to click on the UPPER right link on the page after you buy the product, otherwise you're going to go through a HUGE series of up-sells that are going to go in circles. You'll won't get back to the original page with your link to the members area. I can't even believe I missed it, but my eyes were fixed on the up-sells. I guess that's "good" marketing for you.
Warning 2:
The sites mentioned where you put your eBooks work BUT be aware that their policies may prevent copied books from being stored there. I wouldn't be surprised. To play it safe, I would recommend you make your own eBooks (original copy) and put them there.
An add on to this warning is that I didn't see a "list" as described in the videos of these eBook submission sites. All I saw was:
Scribd, Docstoc, and using Google to find other sites like it to submit your eBook to. 
Pros:
Writing eBooks and giving them away is one of the ways to make money on the internet and through the strategies this program suggests, it can be profitable.
Cons:
There's more up-sells than actual value on the site. 

The concept of making money this place teaches isn't really new.

Ewen Chia products usually lack updates.

I can't guarantee the success of every method working such as every directory site accepting your eBook.
Final Rating: Copy Paste Income

Yellow Light
3 out of 10 stars. Workable program, but I feel you should take the parts which work and apply them in a different way than recommended.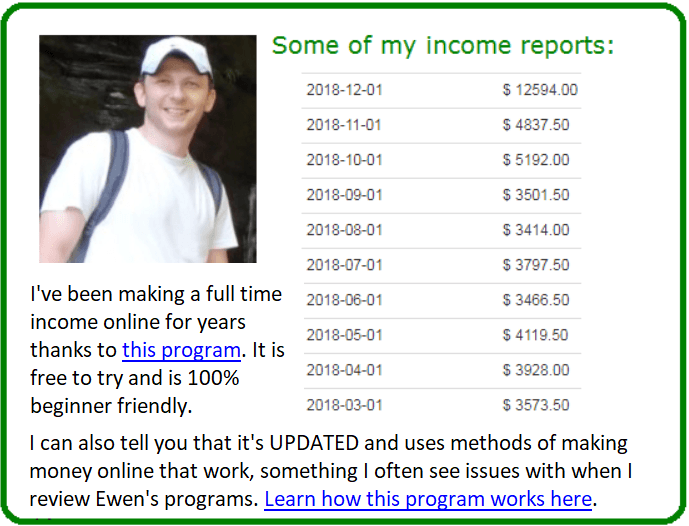 My final thoughts:
If you're confused by my conclusion of the program, let me explain what I meant to say:
The idea works, but there are better ways to use it. If it were me, I wouldn't even bother buying this program, would create an online business on a passion I have, write an eBook on that passion and then sell the eBook through that site. I would also possibly give it away for free, build an email list and sell from there. 
The hard part is creating the business. For that you need a great program like Wealthy Affiliate which teaches that. Once that's up, then you can utilize it and sell and/or give away any amount of eBooks you like. I always recommend you write your own instead of buying PLR content. 
Can you still utilize those directory sites, put up the eBooks for free and do affiliate marketing through that? You sure can, but I don't think there's a lot of potential there. I know there's a lot of these sites which don't like that sort of thing and wouldn't allow you to do it so your best bet would be to explore every directory and read their terms before proceeding.