I dislike reviewing Ewen Chia's programs but I needed to write this one to explain first hand the faults I see with programs like Autopilot Profits, which contrary to the name just doesn't work that simply.
You'll see why that is when you read this review.
Quick Report on Autopilot Profits:
Creator: Ewen Chia.
Price: $27 (No up-sells).
Overall Rating:

1 out of 10 stars.
I actually contemplated giving it 0 stars, but it does have a tiny bit of decent information, but a large majority is just garbage in my opinion and this is because I understand how things work when it comes to this business (read my bio).
Ewen Chia is an old name in the internet marketing world and I've reviewed a few of his programs before. One common issue I found (among many others) is that the products are extremely old and the methods taught just don't work anymore. I also find that a lot of his programs also aren't of high quality either.
Guess what the issue with Autopilot Profits is? Yep, it's the same and there's an even bigger problem I found which makes recommending this program even harder.
Let's just say you can't pay me enough to say it's worth purchasing! 
Autopilot Profits explained:
The program is just an eBook and a few videos talking about affiliate marketing. The information is not new, and most of the stuff you're taught is not only general, but it's just not going to work, period. I'll go over the specifics very shortly, but I honestly think following any of the methods this program teaches is going to set you up for failure. 
Um, where's the eBook?
So after I purchased the program, the first thing I was asked to do was download the Autopilot Profits eBook. When I tried to open the page in a new window, it gave me a 404 error.
When I downloaded it and tried opening it up (PDF), it said it can't open. 
I assumed I had the most updated version of adobe installed, but I downloaded it again just in case, tried downloading the eBook and again kept receiving the same problem.
Now these kinds of things happen rarely, but sometimes.:
Programs do have old eBooks which don't open.

Are missing or…

Just maybe not up to date.
Autopilot Profits has all 3 problems and I can't even figure out how to fix it because:
There is no link to support anywhere (seriously?):
Support is a huge tell of how good a program is.
There's support which people try to sell to you (the bad kind), the kind that doesn't exist (also bad) and finally one which actually answers questions (the only good kind) and while there a VERY few places that have it, Autopilot Profits doesn't have it AT ALL. This program, (Wealthy Affiliate) does though.
But regarding Autopilot Profits, I can't contact the merchant directly and there is NO support email to tell them the eBook doesn't open up.
So what am I to do? I guess requesting a refund is my only option. 
But how do you request a refund when you can't get in touch with Ewen? Well the good news is that this product is associated with Clickbank and I can contact them, so there's hope for my refund after all. And by the way if you ever run into a situation where you can't contact the merchant or get a direct refund, use this method to get your money back.
The only information you can get from Autopilot Profits is in the videos:
The eBook is missing, but the videos are still working and that's what I ended up having to look through to get any information on this program. There are 7: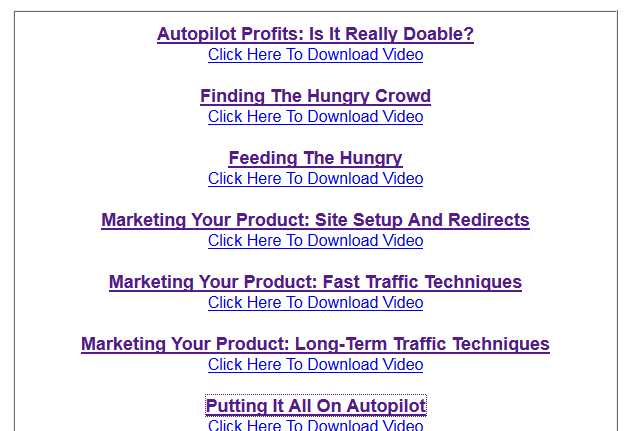 Video 1:
Is it really doable: It explains a summary of the program. You'll "learn" about affiliate marketing in general and what this program will teach you. I would say save the $27 and read my personal guide on affiliate marketing right here. 
Video 2:
Finding a hungry niche crowd. All you learn is general basics on niche marketing. And again, if you decide not to get Autopilot Profits, then I would recommend you read my free guide on hungry crowds, specifically laser targeted niches.
Video 3:
Feeding the hungry niche. This video is more general information on affiliate marketing and promoting a relevant product to your niche crowd. In other words, you learn to sell things like weight loss products to niche audiences within the weight loss topic.
Update: This particular summary isn't really a niche. I recommend checking out my article above on laser targeted niches instead.
Video 4:
Site setup and redirects. REALLY old information on making a website and doing unnecessary things. The better way to do all this is to follow the updated approach to building your own website which is updated.
Video 5:
Fast traffic techniques. They'll show you basic marketing techniques like pay per click and just give you some information on how to use it. And honestly, that information is just BAD. Remember when I said following this will set you up for failure? Well this training on PPC is one of those. Follow my personal guide to pay per click instead.
Video 6: Long term traffic techniques. It's ironic to call this "long term" because what it explains in this video is going to make your results SHORT term at best. They talk about:
But this part encompasses what I said about outdated training. None of this information is something I'd be able to make good money in today's internet marketing world. Why not just make a new program that's updated and have people learn that Ewen? 
Video 7:
Putting it all on Autopilot. Just a summary of the "potential" of using this system and now that you know what's inside based on my explanation of it, all you have is a bunch of useless info.
Now I have to say, Ewen isn't wrong here. I know about the potential of affiliate marketing and YES there is an autopilot aspect to it if you know how to do it. It's just that sadly, Ewen's program isn't where I'd recommend you get that information/training from. And again, Wealthy Affiliate is.
Pros:
Cons:
Bad, useless, outdated information.

You can't download the eBook.

No support email. 

More bad products added to the growing list Ewen releases. Here's an example: $5,000 From Scratch.
Final Rating: Autopilot Profits
Red Flag (Scam)
1 out of 10 stars. Bad program. Seriously, it's horrible. What's better than this? Well just about 99% of other programs I've reviewed including the bad ones, but Wealthy Affiliate is the legit and best one and it's the complete opposite of Autopilot Profits.
My final thoughts:
To say a program is a scam is something I am very careful about because in order to be called such a thing, the program or product has to really lead people in the wrong direction. Technically what this program teaches works, but only if you turn back the clock maybe 15 years. 
To stay outdated and keep promoting things that no longer work and making money doing so means fooling people and I can tell you that after reviewing other products from Ewen, the information is just about the same. So it's wrong to keep giving people this kind of stuff.

Seriously Ewen, update your information, for your own sake. 
Outdated information isn't the only problem. The other is that there's no real step-by-step approach. Maybe it's in the eBook, but remember, I couldn't open it. So not only do we have bad techniques, but people will also not have an exact road to take with this program.