If you're experiencing a 404 error/s on your site, there is a simple solution to correct them using what's known as the 301 redirect. If it's your first time hearing these phrases, don't let them scare you. I'll explain what they are and how to fix them.
What is a 404 error?
A 404 error is a default page that appears when a link on a website is broken and doesn't lead anywhere. It is basically a "broken link" that doesn't work.
Typically 404 errors occur when the owner of a website changes the URL of a page (called a permalink) or the general website and what the page once showed no longer appears. When landing on any page with a 404 error, typically this is what you'll see: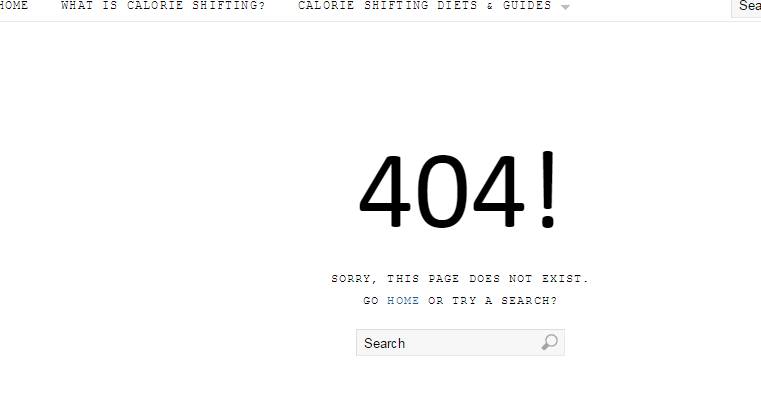 404 errors are usually spotted by Google and if you have a Webmaster Tools account, they'll let you know that 1 or more URLs were "not found". This basically means there is an error with the link.
When 404's occur:
Let's say that I have a website (Vitaliyssite.com) and on it, I put up an article called "About me". That page when combined with the main URL will look like this: Vitaliysite.com/about-me so if I were linking people to my about me page, that is the link I would use.
The "about-me" part is known as the "permalink". Then let's say I don't like the way the title looks so I either:
A) Change the title and the permalink. Ex: Instead of About me, I write About Vitaliy and change the permalink which then becomes: Vitaliyssite.com/About-Vitaliy and erase the previous about-me link.
B) Or I just change the title and try to edit the permalink, but make a mistake when doing it. So I'll change it the original (about-me) to say (about-vitali) and forget the y.
C) I just completely erase the page itself.
Google often sends spiders to websites and if they found the original about-me link, but then later head to the same page, but see that it moved or doesn't exist, that's when a 404 will appear meaning if Google or visitors head to original link but it isn't there, that error will show up.
How to spot 404 errors:
Usually you can keep track of any changes to URLs you make you site, but if you have one that has a lot of articles, it can get annoying to track them all. However if you sign up with Webmaster Tools and verify your website there, that service will be able to send you reports on which URLs are missing or have 404 errors so you'll be able to correct them there, help Google find the newly updated or moved URL and correct it.
Usually a report from Webmaster tools on missing pages or broken links will look like this:
On the current website in the screenshot, there are 4 errors which means Google spiders went to the site, saw that some links may have been updated and changed, but couldn't find them and thus an error occurred.
Usually errors aren't a big deal if you have an updated page with a new URL. Google will find it and rank it, BUT it is a big deal if your original page that changed links had a lot of visitors coming to it, suddenly changed and now people don't know where to go if they land on it.
In that case, you NEED to make the correction immediately to avoid any "traffic leakage". This is where there is a very simple solution…
How to correct any 404 error:
To fix any broken link on your site, you will need to use "301 redirects". These are tools that allow you to re-direct broken links to newly updated ones or other pages so a 404 does not appear, people land on the right page and Google doesn't show you errors for it.
Don't worry about the names, just know they mean the following:
404 error = broken link.

301 redirect = a fix for the broken link.
All you need to do is install one of the many plugins that does this (considering you have a WordPress website). I use the plugin called "Simple 301 Redirects" by Scott Nelle:

Just install that one.
How to create a 301 redirect:
Once you install the plugin I recommend, go to your WordPress dashboard, then settings, then 301 redirects. If you installed the plugin, that's where it'll show up (image on the right):
Now you will enter the plugin page where you can create the right re-directs, correct any errors WMT gives you and make sure there is no traffic going the wrong way.
Your first time doing redirects may be a confusing, but there are directions there to show you. But let me give you very simple instructions anyway: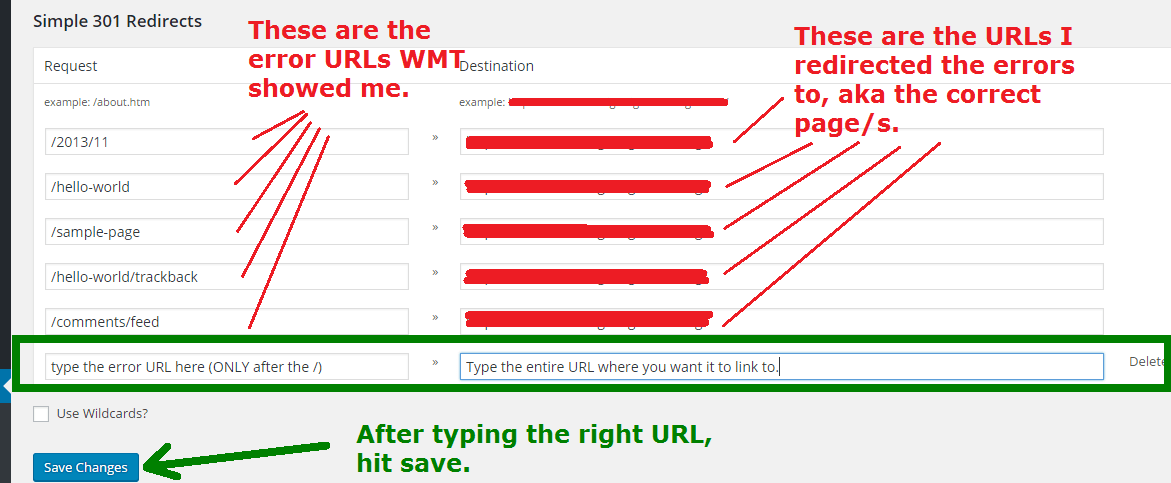 Just follow the format in the green rectangle. The boxes on the left are the places where you type the error pages (404 pages). But notice that they only show in this format: /errorpage. In other words, there is always a "/" (forward slash).
So if I know my error page's URL or Google WMT showed me it and it was for example:
Vitaliyssite.com/this-is-the-error-page I would take ONLY the /this-is-the-error-page and paste that on the left side of the Simple 301 Redirect plugin above. 
Then on the right box, I would paste the ENTIRE page I want it to redirect to (Say it's Vitaliyssite.com/correct-page) and put that entire URL on the right, then hit save.
You can do this for as many URL error pages as you want OR again if you made any changes to permalinks and/or WMT gives you new errors.
For WMT, each time a new error pops up, you can tell WMT that you corrected it, in which case the error will vanish. This tool is very easy to use.
Where should you normally redirect to?
Usually it's common sense: If you have an old outdated page which moved to a new page, redirect that there.
IF for example, WMT shows you some kind of confusing URL you never saw before as an error, you can either ignore it OR the way I do it is I redirect it to my homepage by default. 
Note: Normally, if you don't change any permalinks or erase posts/pages and re-paste them, you won't have to worry about any errors showing up on your site and thus won't even have to worry about this whole 404 topic.
But I know a lot of people who are new tend to try and make their online business or blog site "perfect", don't like the way a post/page is written, it's title is off or they just want to erase it then change their minds and start remaking new posts. 
But if you're on this post, chances are you've seen one or more of these errors and want to fix them. I hope this tutorial has helped you do that!