The term high quality backlink is tossed around a lot these days and frankly has been since the concept was introduced to Google and the world of SEO many years ago.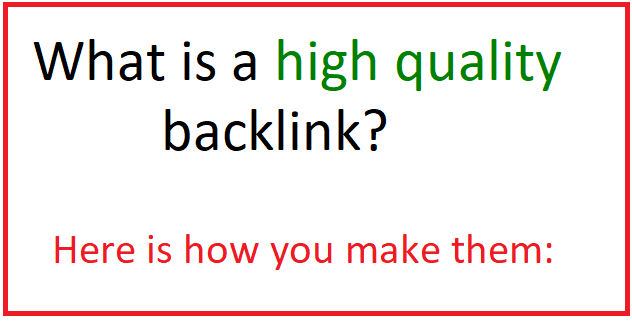 The problem is, people's understanding of this stuff is very broad and I will admit, for a long of period of time, even though I was generally on the right side of this topic, my understanding was also pretty broad, so in a way, I "guessed" correctly what the right way to approach this topic was, although I'll admit, it wasn't exactly guessing, it was actually due to real experts in Wealthy Affiliate telling me the right way to do it.
Let me give you 5 different scenarios with backlinks…
You tell me which ones are bad/good:
1) A person buys 1,000's of them from a service.
2) Same scenario, except now the person buys a 1,000 of them from a "reputable source" which says they are high quality.
3) A person either makes their own or buys a PBN service (basically backlinks hidden from Google).
4) A person shares his/her website link on social media.
5) A person shares their website on YouTube or a forum.
All of these are examples of backlinks. But I would bet that most of you get at least 2-3 of them wrong. I'm giving you these examples to showcase how misinformed people are on the subject and why it's so hard to tell them apart. A lot of people would classify all of these examples as the same thing, but they're really not. There's classes and tiers of this.
You probably have your own answers for these scenarios I listed, but let me break down how I see them:
1) This is an example of bad ones and it is the most common types of backlinks you should NEVER engage with. Anything regarding purchasing this stuff is a bad idea.
2) Contrary to the word "high quality" and "reputable" being used here, I'd also tell you to avoid services like these because as you'll find out, there's no real way to guarantee good links.
3) This is grey area stuff, but I would also suggest avoiding this approach. I firmly believe that PBN services are going to be exposed sooner or later as being the bad kind of services you don't want (although I have some friends that still get away with using this to this day).
4) This is actually a safe link to have, but it is not exactly high quality, not unless it brings in a lot of likes and traffic.
5) Same thing here. It's a safe option, but time will tell if it's good or not (how much views the video will bring in and how many clicks you will get out of it).
So as you can see, in these 5 scenarios, ALL of them are examples of technically the same thing, but they are NOT all the same. Honestly only 2 of them can be considered high quality and that's only IF they lead to a lot of traffic, clicks, likes and shares basically. 
So let's figure this out: What is a high quality backlink?
My definition of it is a bit subjective, but after doing SEO for years, I think this is a safe way to define it:
It's basically a link that points to your site BUT the thing which makes it high quality IS:
Does this lead to a lot of people liking it? Meaning if I share my URL on social media, does it get a lot of likes
Does this lead to people sharing it? This means that if I create content and share it on social media or YouTube or forums and such, will it lead to people not just liking it, but also sharing the content? 
Does this lead to a lot of click through's? Suppose I share my site on a popular forum or someone famous with a big following shares my page. Does this sharing aspect lead to people actually clicking on it?  
If you can answer yes in just ONE of these scenarios, then congratulations, you have a high quality backlink working for you. But these scenario/s are circumstantial meaning that you can't just share your site anywhere and get these desired results, there has to be something that makes this happen…
And this is key: Quality content is what leads to quality backlinks.
I really want to make it clear that if nothing else, that statement I just explained is the thesis of this whole article and frankly this whole subject. 
People still do not understand that content is where all of this good stuff comes from (how to make sure you're doing it). If I don't have good content to share and I don't have good places to share it through, there is no point of worrying about backlinks…
If I have bad content but share it in all the right places, it won't get good feedback from people because they will see it as bad content and even spam. 
Now if I have good content and share it in the right places, this will get good feedback. And also my experience has shown me that just having good content with a simple share button leads to people creating backlinks for me via sharing it on their own networks (with friends, on social media, through emails, ect…).
And I also still firmly believe in making YouTube videos and providing a URL in the description as being another good way of going about this stuff as I've gotten many shares, likes, and sales from doing this. 
But these are broad tips for this stuff, here's specific things I personally do which you can mimic on your sites.
My final thoughts:
If you don't have good content to offer people.

Or if you don't have a following of people that appreciate and share your content…
Then there's no point in going around, spreading your URLs everywhere or buying your way into it. Simply focus on writing great content and this is what will naturally lead to traffic and have that traffic share your stuff for you.
By doing the opposite (going around and spamming your URL or buying backlinks), you are essentially taking time away from producing good content that would lead to this desired result anyway.
Imagine this scenario for a moment…
You have a website where you create great content. You get 1,000's of visitors daily and this eventually grows into a following. Now each time you post new content and share it with your following, that following loves it, likes it and even goes around sharing it with their followers and that my friends would be an example of high quality backlinks happening, organically. 
This is what I would recommend you aim to do with your websites because it is this kind of process that not only leads to more shares of your website, it's what also leads to more traffic and more growth happening with your website. So focus on that! 

Now I want to conclude that I have friends who also do SEO and run some very successful websites who would say I'm being a bit too narrow minded on this subject and if you guys are of this opinion too, I'd love to know your position on this subject and if you could also provide your own examples and how it's worked for you below.