Quick Report: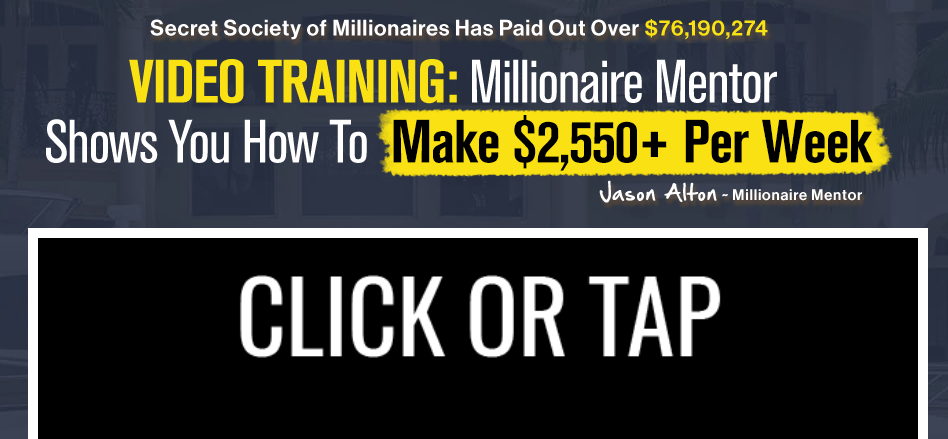 Name: Secret Society of Millionaires by Jason Alton.
Price: Around $50, but this is just a stepping stone into high cost up-sells ($30,000+ and more actually…). You are not forced to buy them, but you may be led to believe it's easy to make money once you spend the big bucks and this is something I personally tell people to be VERY careful about.
Overall Rating:

1 out of 10 stars

.
Once you're in, watch out, they will try to get you to spend A LOT of money and this is where I'm telling you guys to be careful because the results can never be guaranteed. 
Recommended? No!

Ok, so let me explain what Secret Society of Millionaires is…
The first thing you need to know is that this is really an affiliate of a program called MOBE (They promote them). You're not really entering a program called "Secret Society of Millionaires" upon signing up, you're actually entering MOBE.
Here is how you know this is the case (before buying):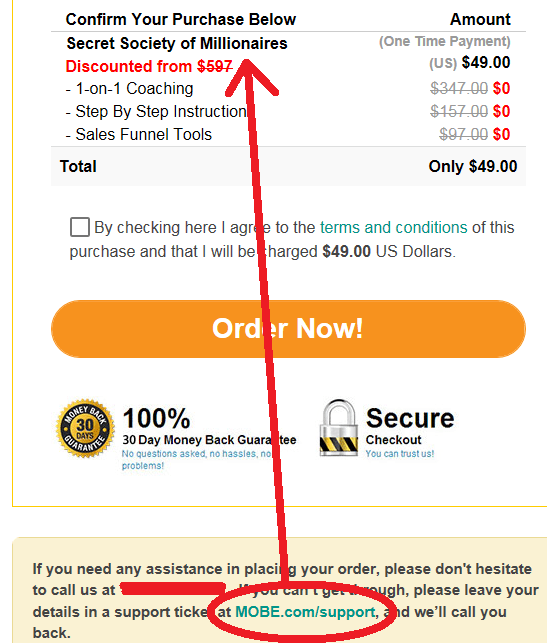 Now here's why this is important and even risky:
The MOBE program teaches online business and making money online (get started legitimately here, not through MOBE). They provide different level packages within their program, each ranging from $49, to some that are monthly memberships to other programs within that network and there's even packages which reach all the way up to $29,997+ (yes that is a 5 figure cost I just listed…).
Here is proof: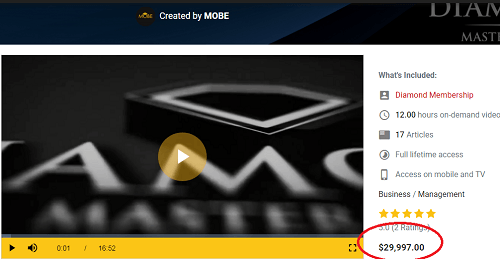 Now to be fair, while this is one of the more expensive packages, there's a wide range of them. In fact, since I last looked, they seem to have added more "micro priced" training guides, each with their own price and talking about different subjects, such as stock market tips.
But that's not the point, and it's straying away from the main review and what I want to get across:
Upon entering this program, you have to be ready and careful of the up-sells:
Because the creator of Secret Society of Millionaires is a promoter for MOBE, it is in their best interest to get you in there and have you buying up as much as possible.
As you already know, MOBE indeed HAD value, and there were a lot of choices, but they all cost something different (there's about 100+ programs in the main MOBE network that I saw). And many of them were high ticket, and if you read my article on high ticket schemes, you can see that MOBE has a lot of similarities to the bad kinds (that's one of the reasons they were shut down).
The way the sales funnel worked is that when you got in, initially, you were going to be going through coaching and training that is geared to try and get you to go higher within the program's package hierarchy.
In short: They would have tried to get you to buy more expensive things by explaining the benefits of doing it. The basic benefits were that you could also become a promoter and sell their packages for commissions that reach up to $5,000+. So if you're wondering why on the sales page of Secret Society of Millionaires it says you can make that much, this is the reason.
I've personally gone through a series of the training and stopped once they wanted to get $2,000 out of me (and it wasn't even that far into the program that this happened to me). 
What I don't like about Secret Society of Millionaires:
There's numerous things I want to list, but I want to say that I have encountered a lot of programs that also promote MOBE in the same type of manner Secret Society of Millionaires does and the issue I have is that they don't tell you the same things I just told you about those up-sells or the pricing. This can be considered a borderline scam if you don't tell people certain important things like, I don't know…the high PRICES!?
They talk about giving you special coaching, support and help, all they give you the impression (well this is my subjective impression anyway) that it's going to be easy, that once you put in the money and start using the coaching, that you'll be making $10,000+ a month or whatever they say you will. 
But you guys need to understand that no system can ever guarantee you money making results. The main goal of all these pitches is to get you to buy this stuff. You need to understand that this is how the marketing works. And I promise you, while it is optional, they will try to get you to go higher and pay more. This is because in doing so, the person will get higher and higher commissions, so why wouldn't they want to get you to buy it?

I've tried a plethora of money making systems out there…
And this is one of the main lessons I took from my experiences, as well as seeing that most of the systems out there are not good. The point is that it's marketing. I can give you the best system I know (this is it) but I still can't guarantee you easy money because no matter how good a system is, the other side of the coin is that YOU need to also work hard. 
And there's also that deception I see often in these programs…
Now there's also deceptive things being done such as the sales page "giving you" a $548 discount if you stick around and wait to check out. This is also stuff I've seen from other programs promoting MOBE and I really dislike it because it's not even a real discount. It was going to be the original price either way, but they slapped this imaginary "discount" to make you think you're getting a good deal.
Plus, I never saw a picture of Jason Alton while looking at the sales page. He also mentions "his" program being seen on different shows, but then when he shows "proof", it's not actually proof, it's just newscasters talking vaguely about working from home, and there is no direct mention of Jason's program. This is just one of the many reasons I don't trust him.
Now I can't speak for the coaching or help you'll get if you join (and I sincerely hope it's good if you do join), but I can speak for the prices that are inside the program you enter and that it's huge, plus I can also speak about the deceptive way Secret Society of Millionaires is pitched to you and in my experience, this typically does not mean good news once you enter and this is why my rating is low:
Final Rating: Secret Society of Millionaires.

Red Flag
1 out of 10 stars. I've personally been inside the MOBE program and while it had some good training, it WAS a scheme and this program that promoted it, is also a scheme by that logic.
My final thoughts:
I don't expect Secret Society of Millionaires to be the last program of it's kind to pitch MOBE or other high ticket schemes. This has become an unfortunate trend recently (it's the deceptive marketing I dislike) so I expect another similar program to arise sooner or later.
But you've read my review on this program (well it's an affiliate program) and know my main 2 issues are the deception in the marketing and the astronomical prices. The question is, do you really need to get into this to make money online? The answer is no:
And I also want to add 3 additional reasons why my choice is better: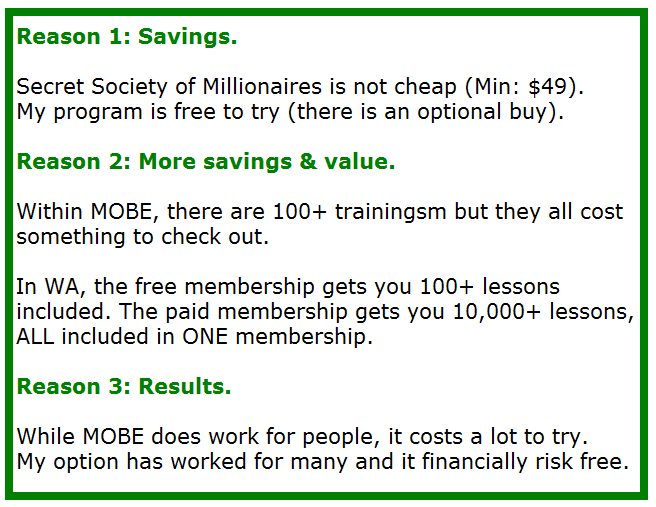 So those are my reasons and there are facts for these too. As someone who is exploring different programs and ways to make an online business, I feel it's fair to explain what's inside something like Secret Society of Millionaires as well as other programs I've tried, and which ones worked for me.