I started off loving Market Hero, specifically Hero Sales Academy, but then I saw more and more issues, so I've updated this review. It is not a scam, but see my experiences to understand why I eventually left the program (reluctantly).
I do have to say real quick that originally when I made this review, I had incorrectly thought that Hero Sales Academy was all that Market Hero had to offer, not taking into account until later than Market Hero is a combination of an advanced autoresponder and online sales training on making sales (the Academy part). 
So I reviewed the latter without covering the first part of the whole program. It was a huge mistake and I apologize to Alex Becker.
So I updated this review and it primarily discusses Hero Sales Academy, with which I had the issues. I did not buy the autoresponder program so I could not comment on it. 
Quick Report on Hero Sales Academy:
Creator: Alex Becker.
Price: Free 14 day trial, then $47 a month membership. 
Overall Rating:

4 out of 10 stars

.
There's good value, lots of great content, good training and the stuff is taught by Alex Becker, a guy who uses the exact same stuff he preaches.
However, the reason I took the original score (which was a 7 out of 10) to a substantially lower one (4 out of 10) is because as I got more and more immersed in Hero Sales Academy, I noticed much of the training was outdated and taught in a way that was very difficult to grasp and follow.
This not only made it more difficult for me to try and put it to use, but frankly, I just couldn't actually do it due to these issues. So after being a member for 7 months, I left.  
Is Hero Sales Academy Recommended?
Not anymore. Until the issues I asked to be corrected (I did let the support know) are fixed, I'm not going back to HSA or recommending it. 
As of this moment, it is ridiculously hard to use parts of the training, when it's outdated and hard to follow, especially if you're a beginner. So I'm still recommending this alternative: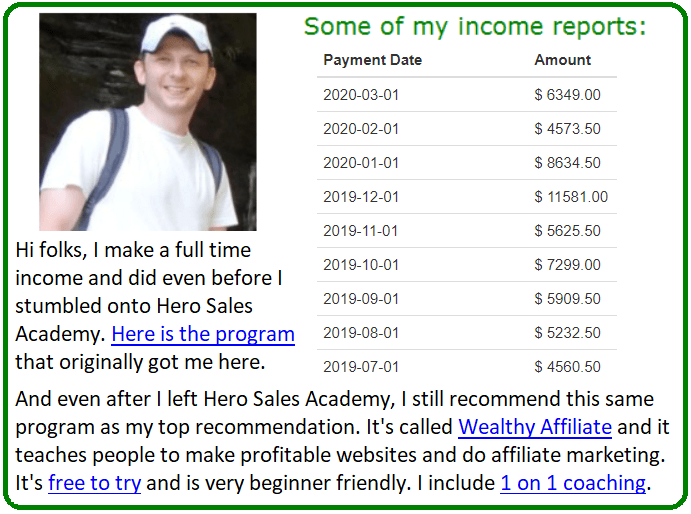 Update: This video shows the issues I had with Hero Sales Academy: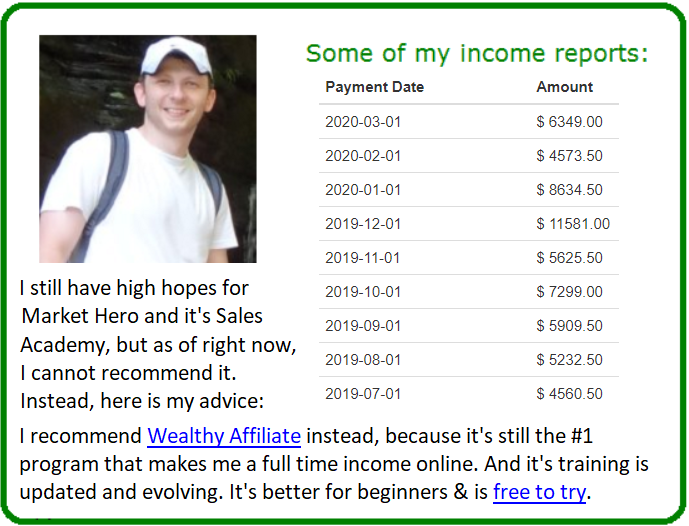 Now let me explain all the details (What Market Hero & Hero Sales Academy are):
Market Hero (MH) as a whole is comprised of 2 parts:
Part I:
The autoresponder program which is a plugin that helps you collect leads and includes tracking and optimization tools so basically help you convert leads better and track them better.
And to keep things honest, I didn't actually get this because until way later, I only realized it existed. I made a foolish mistake and I am not including any review of this autoresponder in this article. What I do know is that reviews of it are pretty good.
Part II:
The Hero Sales Academy. THIS is what I joined and stayed as a member of for 7 or so months. This part of MH gives you training on the following things:
And to be honest, the first time I saw all of this, I was floored and REALLY excited. Before joining this, I had been making money online through SEO and Bing PPC mainly and I had been seeing a lot of success with that (affiliate marketing is what I do) and this was actually thanks to the very same alternative program I now advise instead of MH, which is Wealthy Affiliate (WA).
But my reasoning for joining MH was that WA at the time did not have as much comprehensive training on the above bullet points I said Hero Sales Academy covers, so I felt I could improve upon my online marketing education that way and make more money.
And after all, Alex Becker is amazing at convincing people like me to join.
Now when you put both parts of the whole MH system together (even though you don't have to use both things), you use the autoresponder to collect leads, and then implement the above traffic training to get the leads.
Another thing that is taught inside HSA (if you don't want to use the autoresponder) is to create membership pages on Facebook and funnel people into them and have them pay you for that.
And finally, one thing I forgot to mention is that there is also email marketing training in Hero Sales Academy, which I still think is one of the best parts of the program. I used some of it's tips to get these kinds of results with list building for people opting into a niche site I tested.
A quick look into Hero Sales Academy, aka HSA (the members area):
In case you were wondering what it looks like inside this program, here's a quick tour:
So there's 5 sections in this page, each section having it's own set of training and/or case studies.
But despite there only being 5 sections, make no mistake, some of them have a PLETHORA of training (but some of them have issues as I'll explain soon).
Let me summarize each of the 5 sections of Hero Sales Academy:
1) Hero MCS:
This area features numerous case studies where Becker speaks about YouTube advertising and getting more clicks, more conversions, and basically showing how and why his strategies work.
2) VMA Program (Video Market Accelerator): 
This has a plethora of training on YouTube ads, getting free traffic by having your own channel using tactics like the piggyback technique I mentioned above and setting up ads for more conversions.
3) Hero Overdrive:
Feature a combination of FB ad training, case studies and YouTube ad marketing.
4) Hero Sales Academy: 
This is the section of the members area which covers pretty much everything else on this list of 5 things and the training on all the things I mentioned above (membership sites, opt in training, PPC networks and more).
If you ever decide to join, this is where everything is "organized" to give you the most immersive experience with HSA as a whole.
5) H-Com Lite.
Features a combination of email marketing case studies and training as well as training on Shopify store set ups and making money through them.
So Vitaliy, what are the specific issues with Market Hero's Sales Academy?
Again, 2 things: 
Outdated training.

Alex Becker is hard to follow because he talks too fast and it's hard to keep track of his guidance.
These are the biggest standout cons I found with Hero Sales Academy and I pointed them in the video above where I showed my experience inside the program before leaving.
Now you may wonder, why I would stay for 7 months if I saw these issues and the TRUTH is that for a large portion of my time there, I was too busy on building my business with the other methods that had already been working for me through the Wealthy Affiliate program and that required my attention.
By the time I was free to learn the stuff from HSA, I was very tired from working, that I could not process the training, so I kept putting it off, while also believing that HSA and the training were awesome and that I could learn it anytime. 
But eventually, I did force myself to devote time to learning everything I could find within HSA's training. I even went through the things I didn't need to learn such as create membership sites on Facebook. My goal was to fully make up for lost time and go through the entire system.
And it was during this process, that I began noticing the above 2 issues I mentioned.
1) For starters, when I say outdated training, it applies to 2 things specifically:
The Facebook ads training and the YouTube Ads training which happened to be the 2 core things I wanted to learn.
As I said in the video review above (if you watched it), the FB ads training is not actually run by Alex, but by another dude, and even though I liked his teaching style, he was providing the lessons on the Facebook ads that existed YEARS ago.
And the problem there is that I DID try to adjust and run some ads on FB using this outdated training, but it looked so different that I couldn't risk it in the end and waste money.
2) And when I say that Alex Becker is hard to follow, it specifically applies to his YouTube Ads training.
Yes he gives some great advice and I did learn good things, but like the FB ads training, this stuff was also outdated, because in order to use YouTube Ads, you need to sign up with Google Ads. I had my account suspended there long ago, but reinstated for the sole purpose of trying to put Becker's stuff to use.
But with the updates that happened while I was gone (or when Alex recorded his YouTube Ads training), the options, menus and many other things changed, so I couldn't follow along.
PLUS the HUGE issue I have is how fast Alex talks. It's even faster than my video above (I wasn't a newbie YouTube video creator at the time, give me a break).
He clicks so quickly in his tutorials and improvises his teaching techniques and talk, such that you have to listen multiple times and even though I'm not a beginner, taking into consideration how tough it already is to follow with it being outdated made it nearly impossible for me to use it.
This was very frustrating for me because like I said, I like Alex and I wanted this to work, but how he does his regular YouTube videos and speaks pragmatically, and how he teaches this stuff when it comes to specifics are 2 different things and I can't follow the latter.
And thus I left HSA because I couldn't put the training to use:
Because the 2 main traffic training's were outdated and I couldn't use them, I felt I had no reason to stay with HSA or Market Hero. I left support a message before leaving, telling them about these issues, before cancelling but never got a response.
I will give them credit though in that when I was a member, and asked them questions, they did respond. 
Final Rating: Hero Sales Academy.

Yellow Flag
4 out of 10 stars. Again, this is a score that went down 3 stars because of the issues I mentioned. That's a big deal, but again, if I can't use the training, what's the point? I sincerely hope that Alex fixes these 2 issues, because in my opinion, they are HUGE roadblocks. 
Furthermore, I honestly believe much of the training, even the good parts of HSA are too advanced. I strongly advise beginners start with Wealthy Affiliate and I'll get to the details of why I think it's far better in a moment. 
The bottom line is that HSA is not a scam, but these 2 issues which can easily be fixed are preventing me from returning as a member again and promoting it too. I would love to change that position and come back to this program.
My final thoughts: 5 reasons I'm sticking to Wealthy Affiliate (And recommending it).
One more thing I want to say is that when I first joined HSA, and thought it was absolutely amazing (before getting into the details and seeing the issues), I still recommended WA as an alternative for beginners, but I did also promote HSA as well.
And by the way, when I say WA is better for beginners, I don't mean that the training is somehow "inferior" to HSA.
It just means it's easier, updated and financially safer in my opinion to put to use than what I found with HSA and with all the sales I made thanks to WA, it works.
The first time I wrote this review of HSA, I did include affiliate links to it, but I have taken them down HSA since I saw the issues.
Once again, I TRULY hope that I can come back there and learn the things I wanted to originally, but I have a feeling that by the time they (hopefully) update HSA's training, WA will have already added that to their list of training.