Update: I used to use Call Fire for my business, but eventually stopped because I just had no use for it. However, it is still a very legitimate business I do recommend, so this review is very relevant to it.
It's just that depending on who you are and what your online business is aiming to do, determines if you need this service or not.
Quick Report on Call Fire: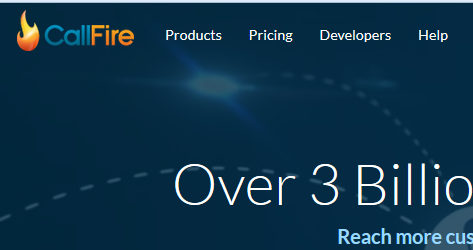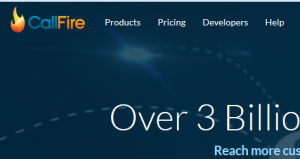 Name: Call Fire (CF)
Price: $3 (5 cents a minute) to $599/month.
Overall Rating:

8 out of 10 stars

.
While I personally only used this service for a few features and I liked it, they offer a wide variety that many businesses can capitalize on. 
Call Fire explained (what it is):
This is a online phone program which allows you:
Set up a call forwarding feature. 

Monitor and record calls.

Set up text messaging updates to send to clients. 

And more.
In my opinion, this service is necessary for online marketers, especially those who do local marketing. And if you do things like online consultations, Call Fire would greatly benefit you in that regard as well.
How I found out about this service and how I started using it:
Note: This part of the review is based on the timeline when I first used Call Fire:
I am an online marketer. I do not own a physical business but I do connect with many different people/networks and help them increase their business and one thing I've really been exploring is local marketing. In other words, I help local businesses get more clients and leads through the internet. 
I can do that by setting up a website for them and then helping that website get visitors. I can also set up my own website and promote that business as an affiliate. These options all have different benefits.
In the case of CF, I first discovered it through a friend who also does local marketing. I was/am doing business with a company, but I set up my own website and decided to send visitors there. For each lead sent that signs up to receive their services, I get paid.
However in order to monitor how many people go there and which leads sign up to the company, I had to set up a call forwarding service and put that on my site. CF allowed me to do this by buying a number for a small fee ($3) and setting it up so when people who land on my website call it, they would be directed to the business, but I would get the credit for the call.
Call Fire's pricing explained:
The one I am using is the cheapest (pay as you go). I paid $3 for a number and then get charged 5 cents for each call made on the number I purchased. This plan is the one which I think will suit someone who either owns a single business and needs an "professional" number or someone like me who does local marketing and has 1 client for whom they'll need someway to monitor sales for. 
Now there are A LOT of numbers you can choose from when accessing the Call Fire database. I chose the one which I though had the easiest area code and numbers to remember. 
After I purchased it, I was taken to my set up page:

Now I only use this service JUST for call forwarding, but I will briefly go over the other menu items and features once you get into this area:
Create: This is basically the whole control panel page for your account. 
Broadcasts: This is divided into Voice, IVR and Text. If you have a large phone database or email list of clients which gave you their number, you can send out messages to them through these 3 different options. Maybe you have some sort of sale going on or there's an important message than needs to be relayed to them. This is where the broadcast would be important.
Phone numbers: This is where you will see the list/s of numbers you purchased. I only have one, but on this page in addition to the number showing, if you're forwarding it, you will also see where it's going as well as the stats on how many people called it:
As of now I only had 2 calls through the number and 1 get transferred. There is also a sub menu where you can do port requests which I don't fully understand or even use.
Keywords: Now this feature has nothing to do with SEO keywords people use to get sites ranked on Google (that's what I originally thought it was).
It has to do with text messaging which is another great feature of CF where you can have people opt in to your product or service (or if you're promoting them) by sending a text message.
The actual keyword can be text message they have to type to receive information or get confirmation of a subscription. For example you can tell people to text "join" or " text 1″ and have them receive access that way. The keywords there would be "join" and "text 1". 
Contact lists: Here you can upload a list of contacts which I think you can then use to broadcast messages to using the earlier menu item we went over.
Call center: This is an extra feature which I did not buy, but this area I think helps you track calls if you have maybe several numbers that you have clients calling you through.
Additionally important feature of CF: The credit system. 

There is a credit system available in Call Fire, or at least for the plan I purchased where I must have credits available in order to use the services. When I purchased my number, I was given 30 default credits, but once they run out, I will have to re-buy them to use them. 
This applies to the 5 cents a call rule they have for my plan, but to use them, I have to basically pre-pay for them.
For each call that's made, it counts as 1 credit. 
How is the customer service at Call Fire?
Honestly, I think its a 10/10.
Although the services are convenient, a lot of the help I needed to set up my number and understand how the system works was thanks for their agents. 
Every time I called, they picked up and one time when I accidentally called them and hung up, they called back to ask if I needed assistance. Every agent I spoke to was very patient, friendly and most of all helpful.
This kind of customer service reminds me of Wealthy Affiliate which is equally as good, although that is a different type of program.
Final Rating: Call Fire

Green light
8 out of 10 stars. For the types of services they offer and for their prices as well as the customer service, I am very happy with this company. 
My final thoughts:
This is the first product I've reviewed that doesn't really deal with online marketing but does apply to it and my grade for it came from that position. I think it's a fantastic service to use if you're into local online marketing and I am going to be using this program for a long time. 
If you are an online marketer, haven't really dived into the local part of it, try to learn about it from a program like Wealthy Affiliate which offers great webinars on local marketing, then use something like Call Fire to help your business expand. 
If you are a physical business owner and want a legitimate way to cover up your number for a good price, this service is also very good!