Yes, I do think that Financial Independence Academy is a scam and I'm going to give you great reasons as to why.
Quick Report on Financial Independence Academy:
Creator: Financial Independence Academy by "A.B Anderson".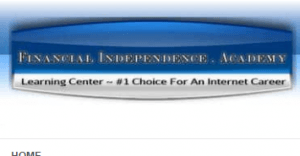 Price: $97, but that's most likely just the beginning (yeah it can get crazy with up-sells).
Overall Rating:

0 out of 10 stars

.

When I first reviewed Financial Independence Academy, I found out it was pitching a program that today, in 2019 is not in business.

Here's what happened which basically summarizes why I gave it 0 stars:
What is Financial Independence Academy? 
Well to start things off, this isn't even a real program, it's just a site, with (at this stage in time) a made up name of a program that leads you 2 other possible programs:
A) Either you enter 1 program which is based on drop shipping or:
B) You enter a more expensive, high ticket program. And this is the same program I said got taken down by the FTC above. Either way, I would not recommend either.
You see, when I looked for Financial Independence Academy's official site, I only found sites linking to it, and the only seemingly authentic one linked me to a sign up form, which I completed. That led nowhere since I didn't get an email. Here is what it looked like: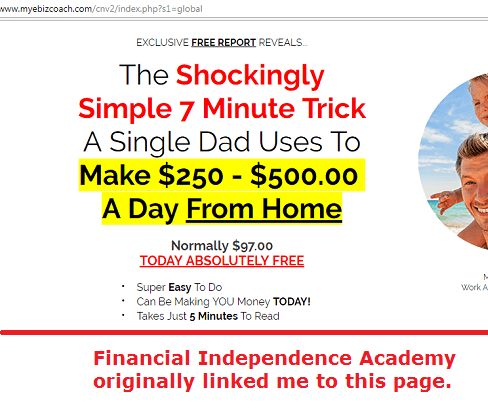 Then right after that sign up, I entered another website, which ALSO asked me to enter my email in a sign up form. Well, OK, I did that too.
I was then greeted with a sales video that I am quite certain I've seen before on a scam program I've reviewed, but I couldn't remember the exact name (there's just so many of them that I often don't remember every name). What I can say is that many scam programs do indeed use duplicate sales videos, but then pitch their own program.
The 2 possible programs you will actually get, their details and

risks

:
Program 1:
So Financial Independence Academy, at least it's logo (and the person who supposedly made it) look absolutely identical to another program I once reviewed a long time ago: Learn How to Link Academy.
Have a look:

But logos aren't exactly something I can use as real evidence, but it just so happens a few days ago, I reviewed another program called Home Wealth Remedy and it too was made by a A.B Anderson.
Now this is relevant because all 3 programs are made by the same person, carry the same logo and my experience has shown me that there are many low quality/scam programs promoted online which keep recycling logos, the same creator name, but the only thing that gets changed is the program name.
So in this case, we have 3 programs, carrying similar/identical logos and the same name:
A) Learn How to Link Academy.
B) Home Wealth Remedy.
C) Financial Independence Academy (FIA).
And again, all are made by a A.B Anderson. See a link here? I do. And considering I purchased the first program a long time ago and actually read through it, determining it to be a none recommended program (it was low quality info on creating a drop shipping business), this is at least one big reason not to recommend Financial Independence Academy.
Program 2:
The next possible program this can lead you into is MOBE which is technically a FAR riskier investment, and this is actually a more likely scenario because:
I was led into an opt in page that led to a sales page.
That sales page led me to a $500 discount, with "only" a price of $97.
I've already purchased more than one program from this exact same type of sales funnel and after doing so, I found out it was a sales funnel into the MOBE program.
As of right now, every single time I see a cheap sales page, get rich quick promises and a check out cart with ANYTHING related to $500, making it, saving it or being "guaranteed it", I am absolutely sure it is related to MOBE. Here is the screenshot: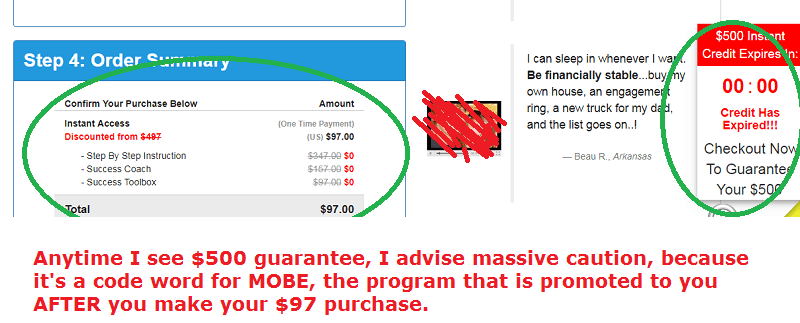 And my evidence is that so far every time I have seen that $500 guarantee, 100% of the time, it's led me into MOBE. I literally just have no doubt anymore, so I absolutely believe that as of March 2018, Financial Independence Academy is a promotion for MOBE. 

How is it possible that one program can lead into 2 possible ones? The short explanation:
Financial Independence Formula may have actually been a real program at one point, but now, all that it appears to have turned into is a middleman for another program. 
This is actually quite common practice with numerous programs on the internet. When it was still a program, it may be likely that it struggled with sales, and/or had issues with bad customer feedback, so to avoid destruction, it may be possible that the program switched from being a program to just promoting another, better one, in this case MOBE.
In the process, since MOBE is so expensive, Financial Independence Academy's creator could just make more money per person and this would ensure his business stays alive. Here's a quick rundown:
-If A.B Anderson is real and promotes the original program (Financial Independence Formula), he could make $97. 
-Or if he promotes MOBE instead, he could charge $97, then send them into MOBE and potentially make $1,000's. 
Obviously, given this simple comparison, it's easy to see which opportunity is more alluring…
Reading it from that context, you can't blame the person for switching (if that's really the case), but as I've said before and will always continue to say, this approach to marketing is beyond deceptive.
People aren't being told the truth about MOBE and it's prices, they are being LURED into it thinking it's a get rich quick scheme, at least by the current sales funnel Financial Independence Academy is running and it's this lack of honesty that is making it hard, no, impossible to recommend. 
Final Rating: Financial Independence Academy.
0 stars. 
Red Flag!
0 out of 10 stars. Whether it's one program or another that you get from this place, one option is very low quality, and the other is extremely expensive. Add onto this all the sleazy marketing going on and you will understand why this was given such a low rating.
My final thoughts, and the safe option to pursue. 
I honestly think I could have made this review a lot shorter, but I always try to provide as much evidence as possible to make my points. Had I been a program creator and was trying to make sales, I'd want reviewers to give me an honest look.
Anyway, I've provided several links to a better program throughout this review, but if you reached this point in your reading, let me provide more explanation on what I am recommending instead of Financial Independence Academy…
Basically, you have a goal and I assume that goal is to make money online. The question is, what is the best way to go about it? 
Well if you're looking to spend a lot of money, maybe MOBE might be the answer, but I did say safe option, and that is not MOBE in my opinion, you are risking a lot of funds with this program, so that's not safe. 
And neither is the other possibility where you get a really bad program on drop shipping.
What is good however, is my #1 recommendation, Wealthy Affiliate (WA).
That is the program which is both authentic in it's name, and unlike these other programs we talked about in this review, is free to explore. That is safe.
Add to it the fact that I've recommended this program for years, have made money using it's system for years and no matter how many other programs I've reviewed, determined that they don't compare to it, that is another safe bet.
I could provide more info, but I'd rather you just check it out and see how it works for yourself. This program doesn't use dirty tactics (like some others…) and it works very well if you work hard with it.