To say I am critical of the online survey industry is an understatement. I've reviewed a whole bunch of them over my years researching this opportunity. 
But even in an industry like this where it's tough to find good options, I actually have. I've filtered through all the garbage survey sites and found some you can actually get something out of. 

Therefore, this article will show you 5 of the best paid online survey websites I've personally found. But I did include the word "warning" in the title and that's because this industry may not be what you think it is. That's what I learned when I first entered this survey world (full story). 
But while my experiences covered mostly the bad surveys, these ones are legit in how they payout and "can" work to an extent.
Here is a list of the best paid online survey sites I've come across:
Let's begin with #5:
5) SwagBucks. 
This program has been around for years. Although it is more of a rewards program than a survey program, you still earn points that get transferred into gift cards and other benefits. I would say Swagbucks offers some of the easiest ways to earn points that you can redeem for cash/gift card bonuses. Learn more about Swagbucks.
4) Survey Club.
They have strict guidelines to make sure they pick the right candidates to answer the questionnaires they send out, but they do pay out. The only real problem you may have with this place is that it'll likely be awhile before you reach some decent monetary compensation. 
Although this is an issue you'll find on pretty much ANY site like this, the good news is that you will get legitimate offers and legitimate compensation, albeit little. Learn more about Survey Club here.
3) Paid Viewpoint. 
This is one of the good guys in my experience. I actually started reviewing this program with a bit of bias against it at first because I had seen so many bad programs from this industry before that I figured this would be the same. But it wasn't. 
In fact, Paid Viewpoint is the one survey site that changed my viewpoint (no pun intended) on the industry and showed me there's good ones out there. This program works very simple: Sign up, complete the questionnaires offered to you, get rewarded for it and then make money in the process.
You also get a $25 bonus for referring people and usually I will NOT endorse the practice, but in Paid Viewpoints case, since it is legitimate, I suppose it makes it OK. 
As much as I like this program, there are certain limits and things I'd be careful of before you start. Here they are.
2) Survey Junkie.
While it has a cheap looking name, I found this place to be as good as Paid Viewpoint. Like the #3 option, they do have a strict filtration process to see who gets to see the best offers/questionnaires, but that is a necessary thing to do in this type of industry. I really like this place and Paid Viewpoint and rated them the same. Learn more about Survey Junkie.
1) Focus Groups.
A very long time ago, when I had my first taste of paid online survey industry and was very disappointed, there was one thing I noted about which had "hope", that being focus groups.
If there is one major problem in this whole business, it's that even the most legitimate programs pay very little. Focus groups on the other hand, which you can sign up for THROUGH survey sites pay a decent amount, depending on the type of offer provided and of course considering if you get chosen.
Here's how it works:
You sign up with various official sites that host focus groups in your area.

You go through a list of questions, including some pretty personal ones to see how eligible you are.

You get calls/email offers if you get chosen to participate with other focus groups in your area.

Payments for these things in my experience (since I got several calls in my time) average to about $100+. 

In some cases you may be asked to take/test products. 
How can you get started with Focus Groups?
You can either Google focus groups in your area (picking a city is generally the best option, not state or province), or you can join an official site that encapsulates most of the offers you'll fine online.
It is called Focusgroups.org. That site is great for that, but if your city isn't on the list, your next best option is to do a Google search.
If you're going to do a Google search, remember, the search query should be: Your city area + the word "focus group".
Since I live in NY, obviously my options are limited to NYC, but because it is such a popular state and very crowded, the focus group offers I have there are a lot more flexible.
Here's what my area is showing in terms of opportunities:
As you can see there's quite a number of options that range across different subjects and the pay is quite substantial in certain parts ($1,300 is the biggest while $25 is the smallest).
Now keep in mind that even the most lucrative offers, may not always:
1) Pick you.
2) Be easy. You may have to devote some good time to testing and doing what the focus group asks you to before you get paid for your time. 
But if you live in a pretty big metropolitan city like I do, you may find enough opportunities from these focus groups to make a little extra.
Remember in some cases you may have to try certain things like new experimental products that you may not exactly be happy about.
Don't always think of the money, look at the offer beforehand and determine if you're ready to do it.
Focus groups do pay "well" all things considered but not all their offers might be for you.
My final thoughts and about that "

warning

" on paid surveys…
I would say in this list of 5 places, the first 4 are more along the lines of good survey websites. The 5th is actually a bit of a different topic, but I purposely put it in because:
The BIGGEST problem with all these online survey sites is that they pay extremely little so the long hours you'll put in answering them aren't going to be worth it. And this is the single biggest reason why no matter how good the survey site, it'll always suck in terms of cost/time efficiency.
With a focus group option, you at least have a chance to make SOMETHING.
OK, now about that warning:
I'm going to be honest. Despite this list I've provided, I am always going to advise that if you're looking for an OK or decent secondary income, that you might want to consider something else.
There's 5 major issues I have with these places (not with the focus groups) and it's something you should be aware off because if you know this, you're going to know where not to look for these opportunities and where to look.
Now don't get me wrong, the list of places I've given you are legitimate, but they generally don't pay well and that's honestly the best you can hope for with online survey sites unfortunately.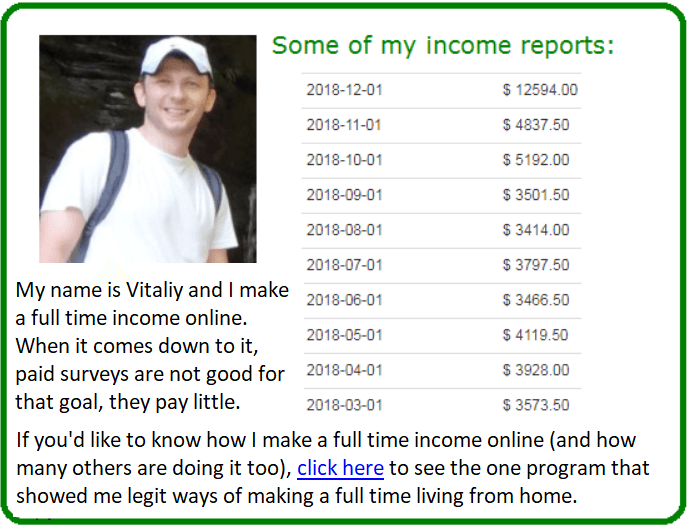 At the very least I can assure you that you're going to save a lot of time looking at the options I've given you above, because there are a plethora of bad look alike programs out there, many of which I've tried, so I know what to expect at worst and what to expect at best, and these options are the best, but not in the way you may think.
They will pay you, but it will take awhile, so again, I offer my alternative to paid online surveys that can really make you good money.