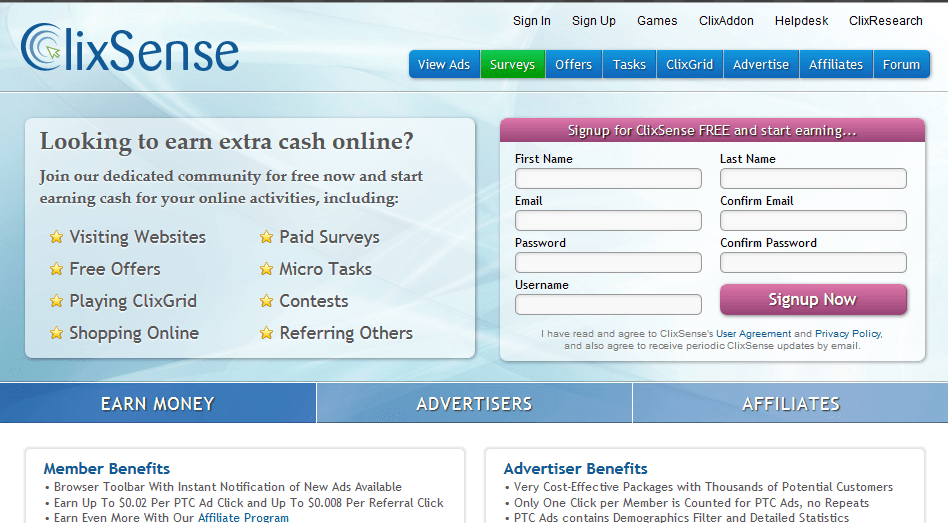 The main issue with Clixsense is that it takes way too long to make anything good. That's not a scam, but it is a waste of time as I'll explain in this review.
Quick Report on Clixsense:
Price: Free to join (no actual up-sells), $17 premium membership (per year).
Overall Rating:

1 out of 10 stars. 
You make too little for it to even matter in my opinion, so I believe it is a waste of time). From time to time, I run into rewards programs that all talk about making a nice side income from home and that anyone can do it.
But every single time I review these places, the same conclusion is made:
You spend too much time going through all their loops and make very little as a result. With Clixsense, I saw these things right away and I feel spending too much time for literally pennies is not for me. 
Is Clixsense really just a scam? How it works:
No the program is not a scam. Some of their claims are a bit out there in my view.
If you want to talk potential no matter how difficult it's going to be to reach, technically it is possible to make a "decent" income with Clixsense. By decent I mean a few hundred a month and at the price of spending countless hours clicking, answering surveys and various other things.
And if you look at how much you're making an hour, again it's really pennies. Ask yourself if that's worth it.
Ways to make "money" with Clixsense explained:
As for details on the program itself, it's just a rewards program (Inbox Dollars is another example). You can sign up for free through their standard membership or upgrade to a premium I'll talk about in a moment. You get awarded points, pennies and sometimes dollars for doing things like clicking ads, signing up to other rewards network sites like Neobux (very similar looking sites by the way) and other things. 
Some of the clicks I saw pay about $0.02 and that's just for clicking. Others will require you sign up elsewhere to other sites to receive your "compensation". Signing up in other places may take you several minutes. There's also games you can play on the site and daily tasks to complete. 
What this program also has like the others I've reviewed before is a referral program which pays you for getting people to sign up and actually rewards you for clicks they make. I don't really know the exact guidelines and steps, but there's a system to it and if you consider getting at least a few people to sign up, that's really where you can make some sort of good money. 
As an affiliate marketer who promotes programs online for a living, let me tell you that I personally would never bother with this sort of referral program. I can get paid at least 10x as much for a single sale than if I were to refer someone there.
And remember, I said at least. 
A premium membership to Clixsense also available:
For $17 a month you can upgrade to Clixsense's premium membership and enjoy various benefits which in a nutshell just mean getting more ads to complete, getting paid more per referral and other things. Here is a screenshot I took of their site:
In some instances, you're looking at 2x more benefits. Given all of this, for $17 a year, it's actually a good deal in my opinion.
But still we're looking at pennies multiplied by pennies. Some dollars here and there too, so overall you're looking at total profits increasing at least 2 times, but even at that rate, I still wouldn't do it. 
Oh and remember, some benefits don't reward you just pennies. You actually get fractions of pennies.
Yes, we're talking $0.0001 or $0.001 at times. The screenshot above even shows this and that part of the site in my opinion is a scam. 
Let's imagine an optimistic scenario with Clixsense for a moment (pros and cons):
Say you purchased the yearly membership. You're now down $17.
To make that up, you can now take advantage of the extra bonus offers and extra rewards you'd get. You can complete more offers on a daily basis and get extra pennies for each. You can also complete the other things and get even more stuff awarded to you.
I can't really be exact here, but considering you earn mostly pennies for most offers, you're looking at maybe a few dollars a day. I'd say less than $5. This is my personal view but I feel it's in the right frame. 
So you'd need 3 days and change to break even. And considering you can continue at the same pace, maybe, you'd make a $100 in a month. 
But what we must also take into account is the pessimistic point of view which unfortunately I feel overshadows the optimistic side:
1) How many hours a day would you need to actually make the few extra dollars? Many hours probably.
2) Your daily ads for which you can easily make pennies for aren't going to be around endlessly. They are limited to you per day.
3) How much time can you actually invest into doing this on a daily basis? If you work for a living or have other things that keep you occupied, that's only going to lessen your results with Clixsense. 
These are really the pros and cons.
Final Rating: Clixsense
Red Flag
1 star out of 10. Another rewards site that doesn't do much in terms of compensation in my opinion.
My final thoughts:
While I believe it's a waste of time, I can't really blame this program for anything either. Most paid online survey or rewards sites, and other pay so little, that it's really insignificant to make a huge difference for people's incomes, but at the same time, because you're required to do so little per task, it makes sense to get paid so little.
The only thing I can't stand is that it requires so much effort and time (when compiled together) to get anywhere and that's where I have issues with programs like these.
If it were up to me, I'd make more of an incentive to keep working and maybe offer bonus percentages or more payments for more work completed so people can expect more to be paid overtime per offer instead of the same amounts. At least then, people would know their work could drip into something overtime. But I'm not the boss here and this is just how things work.