Inbox Dollars is one of the first rewards site I ever came across, but what I discovered isn't good. Let me explain if it's a scam or not in this review and it's updated for 2021.
Quick Report on Inbox Dollars:
Price: Free to join.
Final Rating: 2 out of 10 stars
Red flag. The effort isn't worth the amount you're paid. I've heard a lot about Inbox Dollars and like I said, I decided to explore it. I wasn't really surprised by what I found.
On whether or not it's a scam, the answer is in the grey area. On one hand you do get paid and there is "opportunity" to make money. But before you click out and go to the official page of Inbox Dollars, let's flip and see the other side.
On the other hand, the amount of time you'll spend earning anything worthwhile isn't just going to take you a LONG time, but you're also going to have to spend money in several cases to actually be eligible to receive it from this place, something I am NOT happy about.
But rather than clump everything together, let me break down if Inbox Dollars is worth your time or not.
What is Inbox Dollars?
It is a site which is affiliated with multiple programs/sites and services and allows it's members to join for free and earn money by completing online surveys (I gulp whenever I read that, here's why I don't like paid online surveys), answering emails, online auctions, completing trial offers as well as trying products and services.
Based on what you see on the front page, they make it sound like you can make decent money doing pretty mundane things and the fact that it's free to sign up is certainly a plus, but once I did that, I was taken to the next page and this is where my exploration made me to come the initial conclusion: That for me personally, it's a waste of time.
Here is a screenshot: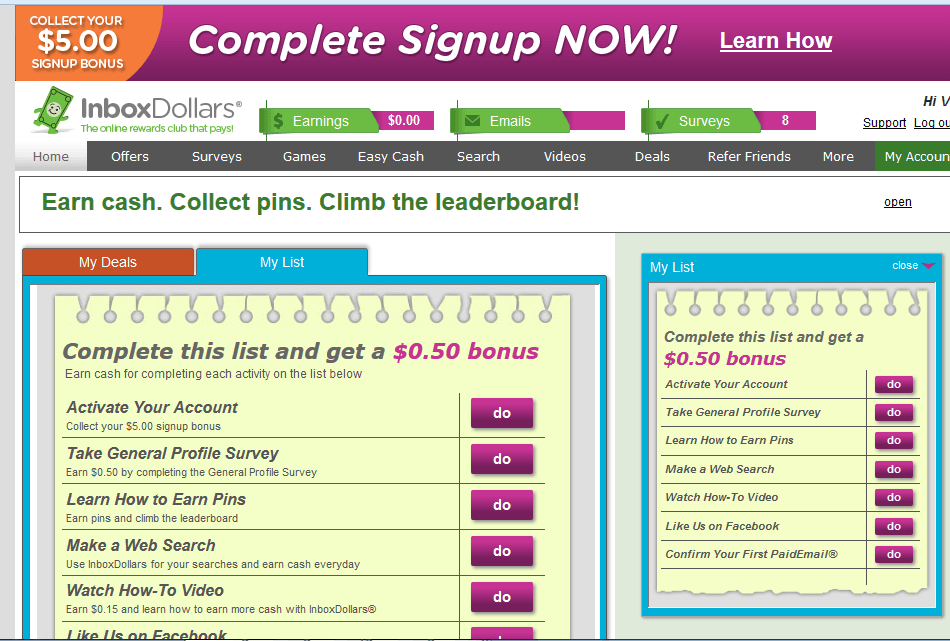 Certainly it looks very colorful and there's a lot of things to do with which you can earn money, but looking into this stuff, I came to the conclusion that the amount you get paid to do all of these things simply isn't worth it.
Payouts happen every $30, but as you're about to find out, getting to that point may be more time consuming than you think.
Here's a few examples showing why it's so hard to make good money with Inbox Dollars:
1) Notice in the "My list" tab to the right, there are 7 things to do. Completing that would take me about 5-10 minutes for which I would earn $0.50. Not really worth it in my opinion.
2) Then in terms of reading emails, yes you can get paid for that, but you have to read emails that are sent to you by Inbox Dollars and many of them are trial offers and/or surveys you have to complete. You get paid up to 10 cents (1 cent is the least) for reading each email.
3) The most money you can make with Inbox Dollars comes from trying out specific things like trial offers. You can find them in your members area or via the emails you are sent from which you can directly sign up to some of these offers.
Now with some of these offers, you actually have to pay to become a member of. The question one may ask here is "Why would anyone pay to sign up?". Well because if you do, you will be eligible to receive the money Inbox Dollars said you'd get. In order words, there's a catch and this is where my biggest issue with this program comes about. 
I didn't look through all of their trial offers, but some I found to be pretty shady. One was a Penny Auction website which was showing me a news report on how people are buying products through cheap penny auctions, but the report never said the site I was on was legitimate nor even mentioned it's name.
I've had experiences in the past where I've reviewed known scam sites which used the same method of advertising where they put up a news report to give people a false connection to the site (I call them work at home special report sites), when in reality the news report was never directly related to them. It's a sneaky marketing tactic and unless you're experienced in spotting them, you can very likely get scammed.
Now I'm not sure if the Penny Auction website nor the other places I checked out were a scam, but because with some of these places I have to sign up to and pay to then actually be eligible to receive an even smaller amount from Inbox Dollars is a waste of time/money as far as I'm concerned.
Furthermore, there are also surveys you can take to make money. I didn't try any of them, but I have had experience in the past before with many paid online surveys. It was a very BAD experience and in that scenario, I came to the same conclusion as I did with Inbox Dollars: The amount you get paid is not worth the time investment.
Rewards sites and paid online surveys sites are pretty much the same in their results: A waste of time.
Pros: 
It's free to join.

You can get paid to read emails and various other things.
Cons:
Very hyped as far as I'm concerned. No way could you make a living doing this. 

Some ways to make money involve you signing up and paying to try things which cost more than you'll get rewarded.

Some programs look shady to me and I personally wouldn't trust them.

Making money with this program simply takes too much time.
Final Rating: Inbox Dollars

Red Flag (Avoid)
2 out of 10 stars. It's as close to a scam as can be in my opinion. I wouldn't recommend it. If you want a real opportunity at making money online, here is my #1 recommendation, Wealthy Affiliate.
My final thoughts: 
I've reviewed other rewards programs before and after this one which were very similar to Inbox Dollars. In pretty much every instance, I found it to be a waste of time.
No rewards type website is ever going to offer you an amount you could make decent money on and I'm not talking about a full time income. I'm talking about measly amounts like $20. Good luck making that with Inbox Dollars or others like it such as Instant Rewards Network.
You'll spend a ton of time working for literally pennies in most cases. Is that really what you want? 
I certainly wouldn't, but are there ANY good rewards sites around? Based on what I've seen, I'd say no. The ONLY one I've thus far rated as legitimate was Swagbucks which in spite of earning you very little doesn't involve you in anything shady like the other places I've seen. You literally can earn points for doing the most mundane things on the internet.
The last word:
If you have absolutely NOTHING to do with your time, and want to make loose change, you can try one of these sites.
If you are looking to make an extra income or perhaps do what I do full time which is make money online, then places like Inbox Dollars are not recommended from my point of view. Instead, I recommend this: Wealthy Affiliate.
Now I'd like to hear from you. What do you think of Inbox Dollars? Have you tried it? If so, what were you results? Do you agree/disagree with my review of it? Let me know!