I have several things to share in this post of Simple System Access, how it works and why there's cheaper alternatives that are not only that but also less risky.
Quick report on Simple System Access: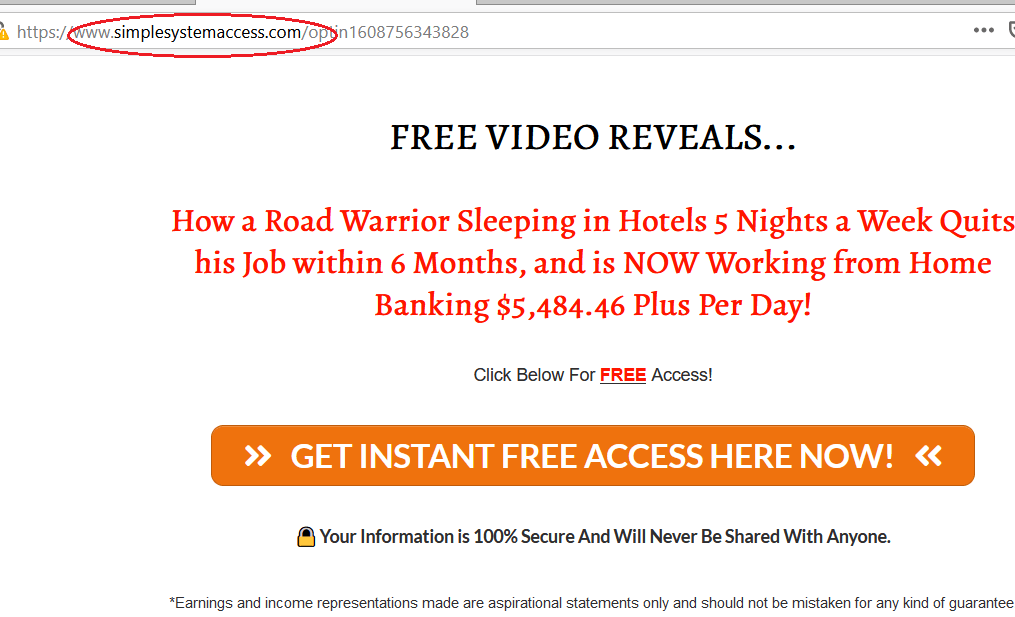 Creator: Might be the same Josh Snyder who made Digital Veteran Blueprint.
Price: Initial entry is free, but then the funnel in this program leads you down a high ticket funnel that can reach up to $10,000+ to be involved with (yeah, that much).
How does this work? Simple System Access is just a funnel page into Digital Veteran Blueprint, which then funnels you to a high ticket sales program (the one that costs up to $10,000+). If you join, you become a referrer for that program and I have explored a bit of it to know that I do not want to get involved in anyway with it (or recommend it either).
Overall Rating:

3 out of 10 stars
Recommended?
There's been a very questionable program circulating online in the past few months and sites like Simple System Access (among others) are sprouting around it to promote it. In the end, it all leads down the same central funnel into a program whose name I can't even say, because it's not even revealed.
Alternatives:
Simple System Access explained:
It's just an email collection page to get people through to the next stage of the funnel which goes like this:
1) Once you enter your email on Simple System Access, you get taken to a sales page on a program called Digital Veteran Blueprint.
2) Digital Veteran Blueprint originally promoted a high ticket program called OPM Wealth (which I also do not endorse).
3) In this case, strangely, Simple System Access led me to Digital Veteran Blueprint's pitch page, but not OPM Wealth. Instead it led me to another program whose name I don't even know that is related to another suspicious sales funnel called The Prosperity Warrior.
In short, whether it's Simple System Access, Digital Veteran Blueprint or The Prosperity Warrior, here is what's going on:
All of these sources seem to be leading you into one or more high ticket programs and it could either be:
OPM Wealth which is super questionable.
Or the other program that The Prosperity Warrior and Simple System Access lead you to which is even more suspect because there's no name attached to it.
And here's an update: I found another look alike program called Checks on Repeat.
And keep in mind, we are talking about high ticket programs that are up to $10,000 or more in these cases. There's literally duplicate sales videos promoting one or the other high ticket program and that itself is very questionable.
The many questions on Simple System Access:
Let's be clear: Simple System Access is an affiliate page steering you in one way or another into spending a lot of money with high ticket programs on the other end, and again, I don't even know the name of one of them.
In the marketing world, we call these types of set ups funnels and I also believe that Simple System Access isn't the first type of funnel website into these programs we'll see.
But because I've seen this funnel in at least 2 cases (Digital Veteran Blueprint and The Prosperity Warrior) and I've reviewed those 2 programs, I know ahead of time where it's going and if you'd like to see reviews of these programs, you can find the links to them in this review of Simple System Access for details (although I already explained the general idea behind them).
Final Rating: Simple System Access
3 stars
Red Flag
3 out of 10 stars. I am personally not going to be joining a program like this and because of what it leads to. High ticket costs to join programs through this type of funneling method are not things I am comfortable with.
I personally believe potential customers need to know everything about what they are buying and if they have questions, especially with make money online opportunities, there needs to be more than one way to get in touch with the owner/promoter to ask them that.
With this, other than email, I don't know of any other option available (among the other questions). As contrary examples, if you have questions about me, or the programs I don't recommend (or recommend) on this website, you are welcome to ask me in multiple ways and this type of example is what I consider good for transparency and helping people become comfortable and educated on what they need in order to succeed online.
But besides that, regarding Simple System Access, if you know anything I don't already know or mentioned about this opportunity, let me know below.
My final thoughts:
For alternatives, Wealthy Affiliate is where I'd recommend starting. For starters:
It's the most upfront program I know.
There's no high ticket funnels.
And there's a lot of transparency with it.
Basically whatever questions Simple System Access would bring about for me, Wealthy Affiliate gives you all the info from the start to see how good and legitimate it is so you don't have to worry about that stuff.
Finally, assuming the best possible scenario, let's say that Simple System Access is totally legitimate. Even then, I'd still recommend Wealthy Affiliate, for 2 reasons:
Price (free to give it a shot).
The training and support (I am very confident in this part of WA as compared to any other program I've seen and reviewed, it has the best quality stuff for these 2 things).
But like I said before, I am promoting it, and you can try it free to see if my words about this program ring true when you try it and I am very confident they will once you give them a shot (no risk).