Digital Veteran Blueprint is a very new program I stumbled upon while looking at "what's new" in the make money online world and I found this one on a site I frequently visit that reviews online money making programs.
For those who don't know, I do these reviews to help people find REAL opportunities and avoid bad ones since I am someone who makes money online full time (I'll explain more below).
Based on what I have seen so far with Digital Veteran Blueprint, I cannot say it's a scam, but I can tell you that it is connected to a very expensive program (OPM Wealth) and that program's operations make me very cautious in recommending it and in this review I'll explain what I found out.
Quick Report on Digital Veteran Blueprint:
Creator: Joshua Snyder and Mark Wilson.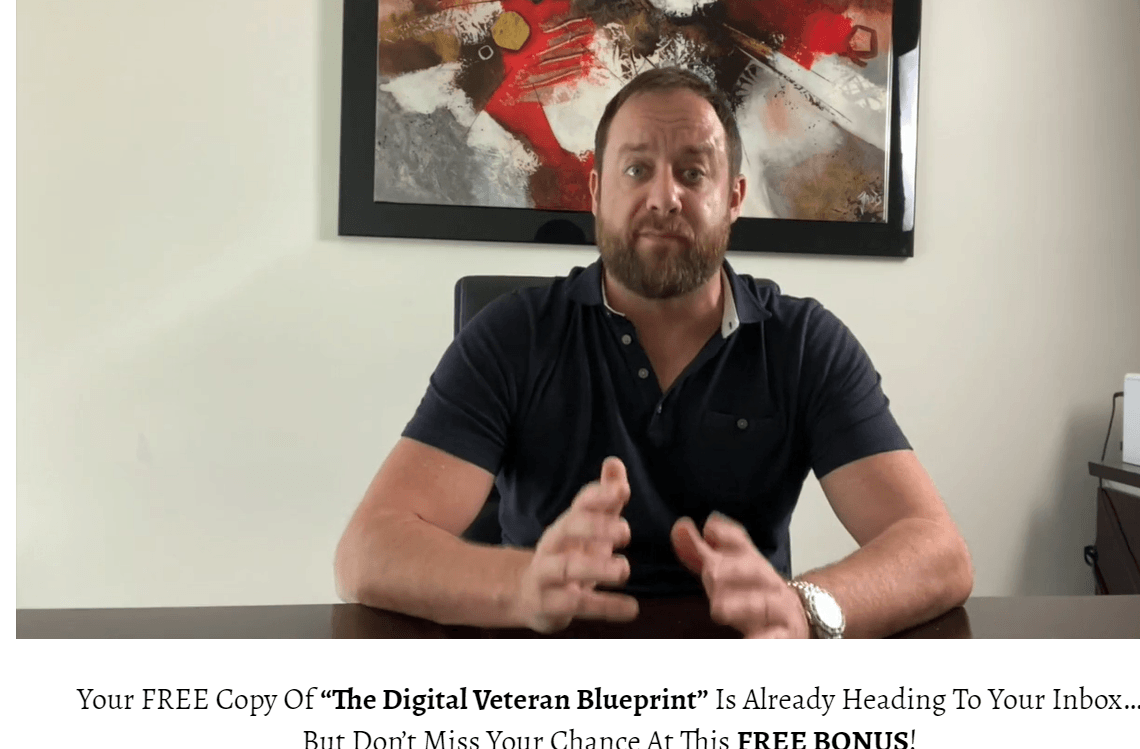 Price: $0 but can lead to price tags anywhere from $2,000 to over $15,000 (based on one of the sites I saw which reviewed this program).
How does it work? This program refers you to a program called OPM Wealth and that program has you go through some free content before having you schedule a call with a supposed success story of OPM Wealth and that is where I suspect the selling starts.
From what I have seen, this is a program that teaches you things like direct selling, high ticket selling and probably training on promoting the OPM Wealth program itself, which would explain why the creators of Digital Veteran Blueprint are doing it.
They are basically OPM Wealth's affiliates.
There's nothing wrong with that and I am also an affiliate marketer, but I promote things differently. What I do have a problem with is the prices of this program, and that is why the rating is low.
Overall rating:

3 out of 10 stars
Recommended? No, it's too expensive.
I decided to go deep enough into the program to avoid paying the high prices, because by that point (from previous experience), I pretty much knew what was next.
To make money online and find a legitimate business model, does not require you pay so much and considering how little I got out of the free content from OPM Wealth as well as Digital Veteran Blueprint, I didn't trust it enough to go further.
The big point:
One of the reasons why this article of Digital Veteran Blueprint and subsequently OPM Wealth is so vague is because the whole sales funnel of both these programs is extremely vague as well.
You barely get ANY clues on what is going on, and that lack of transparency is what gives me worry about stepping deeper into the program. Any "opportunity" that is very vague or even secret is one to worry about in my experience.
So here is an alternative which offers also offers opportunity (this is my top recommendation and I am a promoter of it):
5 issues I have with Digital Veteran Blueprint:
These 5 reasons ultimately pushed me away from recommending OPM Wealth (which is what this program leads you into). Here they are:
1) I never really got the blueprint:
First: I visited the home site of Digital Veteran Blueprint and was asked to enter an email (this is normal for these programs). I did.
Second: This took me to a sales page from one of the owners and testimonials about how much money it's supposed members are making. I have some suspicions about actors being in these videos, but I can't say that for certain. One of the people showing off their check did say Mark Wilson, so I'm going to give it the benefit of the doubt
Third: I never got an email from Joshua (one of the owners). What happened was that after the sales video, I was taken into a registration to sign up with OPM Wealth to get a free account. So I did, but I also checked my inbox, and never got anything from Joshua (I tried twice).
So the only thing I got from Digital Veteran Blueprint is a very hyped sales page and an entrance into OPM Wealth. Let's move on:
2) The OPM Wealth site itself (lots of questions).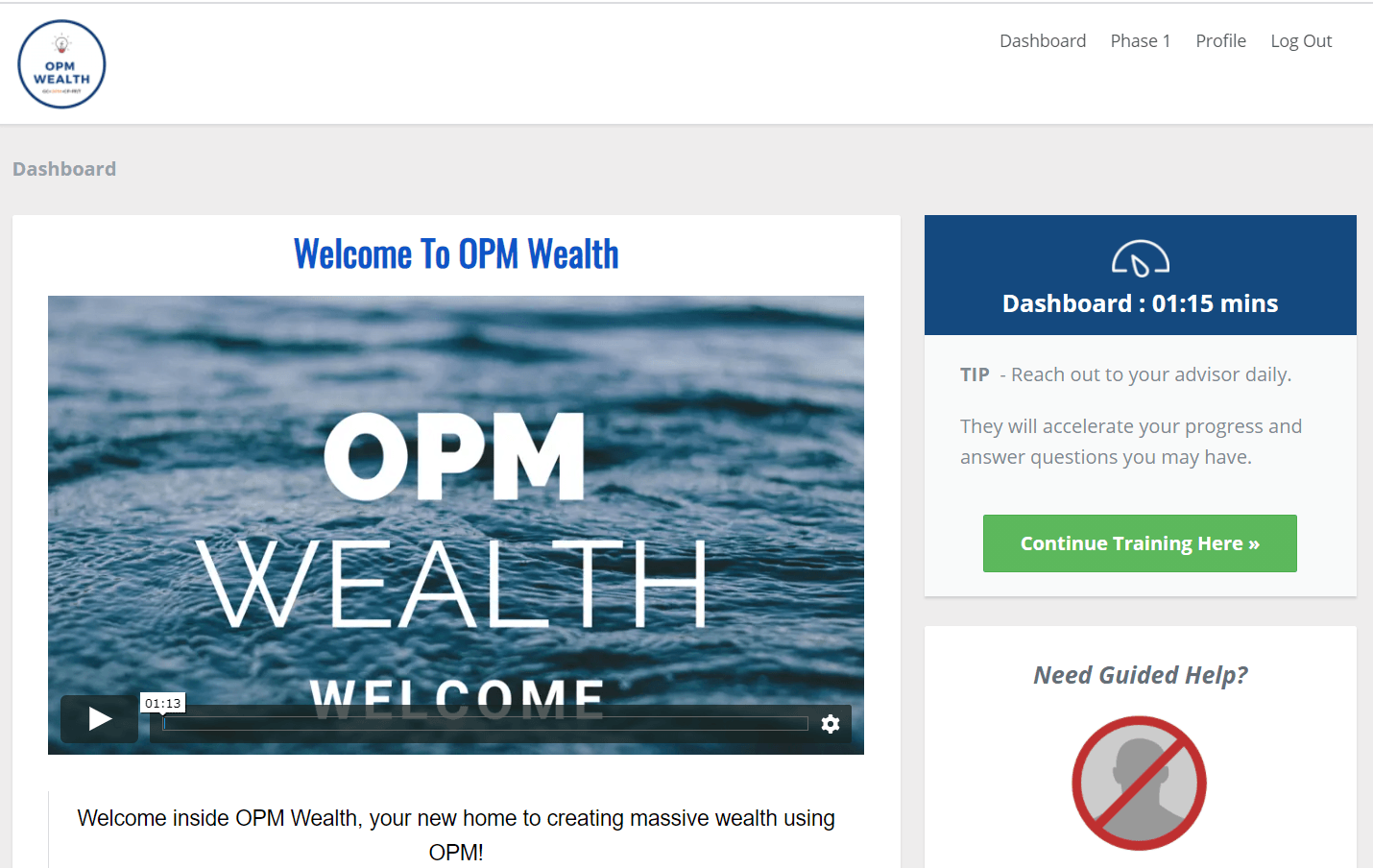 After signing up to enter the site, I was asked a few questions and entered in info. This took me to a membership page of OPM Wealth with a welcome video, a starter video and a link to talk to a motivational speaker.
In my personal experience, this kind of content means one thing:
High ticket sales calls, which in OPM Wealth's case, they call success stories and being connected to their top tier members. Maybe it's possible, but in my opinion, the more likely thing is you may be asked to pay a lot to really get into this program.
3) The cheesy sales page of OPM Wealth: 
Before having to fill out a form to talk to my "motivational coach" and success story, I sat through a video talking about doomsday topics, such as the dollar collapse, economic turmoil and ways to hedge against it, which is where OPM Wealth comes into the picture.
I honestly dislike when people use fear, doubt and negativity in their sales videos to get me to join a program. I don't argue the points made in the video, but I do not like when negativity is used to sell stuff. It basically makes people act out of fear.
When I make money online and I sell things as an affiliate, I do it through telling people of the potential of making an online business in topics they love, and in reality it is exactly like that.
Update: See a review of OPM Wealth here.
One more update: I reviewed a program called The Prosperity Warrior on another website I run and what I noticed is that this program also has a "veteran" promoting a high ticket program and the testimonials are very similar as the ones I saw here. It's a strange coincidence but one I felt important to mention.
4) The price.
So the info I have about prices come from the ScamXposer.com website. Based on what they say, the prices of OPM Wealth can range from $2,000 to over $20,000 which is insane.
IF this is true, then ladies and gentlemen, we are looking at your typical high ticket program that starts you off at a low price, hypes you up, then does the typical, buy more and more to get more and more and to make money with the program likely involves you selling it.
And again, taking it back to Digital Veteran Blueprint, I'm 99% certain they are affiliates for OPM Wealth, so if I buy into the program, they'll make a cut. It explains the big checks I saw in the sales video of Digital Veteran Blueprint (considering they are real).
5) I didn't get much for value, so they didn't earn my trust.
Folks, whenever an opportunity or make money online program gives you hype and no real value, watch out.
In this case, what I got was hype, testimonials, a personal sign up to a program I had no clue about, a fear video about uncertain economic times to sell me something, and a potential sales call that may result in having to pay a lot.
Nowhere did I actually get any training, any blueprint or any reason to trust this program, and this is why I won't recommend it.
Final Rating: Digital Veteran Blueprint
3 stars
Yellow flag
3 out of 10 stars. All the clues I see in this program remind me of ALL the programs I've gone through in my experience in trying to make money online, paid for and experienced that have never really resulted in things I like. I know about making money online and I know it won't cost so much to do it.
Contrarily, it isn't easy either, but I'd rather you do it the right, realistic way, than through a magic pill that is pitched through Digital Veteran Blueprint (done for you, revolutionary system and other nonsense claims), and have to pay a lot for doing it.
Before you call me a guy who is bashing a program without trying it:
I actually dug into it.
I don't call it a scam, but I do explain my legitimate doubts (and I do believe they are legitimate).
I've gone through this experience MANY times because I've been in the same type of business for 15 years.
I make money online FULL time, and this comes after having many bad experiences.
I know how sales funnels like the one in Digital Veteran Blueprint flow, and this is why I see where the sales funnel is leading.
My final thoughts:
Let me summarize the following:
1) I believe Digital Veteran Blueprint is promoting OPM Wealth.
2) I believe OPM Wealth might be legit, but it is expensive.
3) I have a hard time trusting either of these programs because neither have given me much reason to.
4) There's also new sites coming out promoting Digital Veteran Blueprint like Simple System Access to be vary of.
Contrarily, here is an example of the opposite:
1) I promote a program whose name is Wealthy Affiliate.
2) Like Digital Veteran Blueprint, it is free to try.
3) But unlike Digital Veteran Blueprint or OPM Wealth, you get a TON of value and learning experience on making money online which is through creating websites on niche passions you have.
4) Unlike Digital Veteran Blueprint, I cannot promise you a revolutionary, and easy system, but I can tell you that it works, because I and so many members and success stories of Wealthy Affiliate use it's training to make money consistently.
5) And I can also personally help you (without extra cost) within Wealthy Affiliate which you can learn about here.
I'll look deeper into OPM Wealth, but this review was more tied into Digital Veteran Blueprint. If there are any updates, I will include them here, but being very experienced in this business, I wouldn't bank on the review changing much.
You can make money online with a system like Wealthy Affiliate (and rare others). It's free to try and nothing like what OPM Wealth charges to show you and that is really the bottom line here.