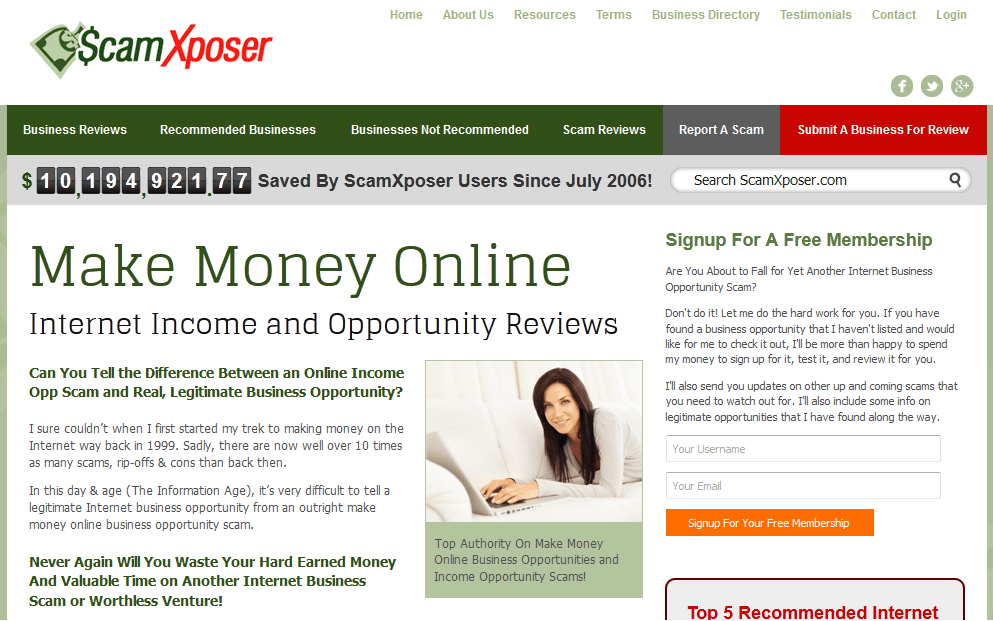 ScamXPoser, created by David Harris is a website that provides reviews on many make money online (MMO) opportunities and tells you whether or not they are legitimate. While I like the overall site and agree with most of the verdicts given there, I found that there are a number of products on that website which are given a high rating, that I personally have rated VERY low and consider a scam. While I do like the site overall, I just don't agree with some of it's recommendations.
Before I go any further, I'd like to point out that there are MANY websites like ScamXposer which follow the same model of business:
A) They review products in the MMO niche.
B) They give it a score/rating and tell you if it's a scam/legitimate.
C) Many of these websites also promote the products they rate as legitimate and make a commission in the process.
In fact, the very website you're on right now pretty much does the same thing. However, I consider myself a much more stricter grader of products and recommend very few. My whole idea is that if I can't make money honestly with it, I can't recommend it to anyone.
However the last part (C) is where you may find a potential "conflict of interest". You see many websites which rate MMO programs/companies may pick and choose ones which:
Pay them a lot.

Ones they have a personal connection with. 

Other reasons (financial most likely).
This brings up the issue of trust and whether or not you can believe the reviews you see. In ScamXposer's case, I agree with pretty much 70%-80% of everything listed there and how the programs are rated. I'm also going to be perfectly honest, whenever I do research on MMO products, one of the places I check is with this site. 
But in spite of that, as I said in the beginning of this post, I absolutely do not agree with some of it's recommendations. I'm going to explain this by a number of companies ScamXposer recommends and how I have personally rated these same companies on my site. Some of them are in the green light area (legitimate), but most are not. I'm also going to explain why I gave it the rating I did.
David rates companies on a 5 star scale, with 5 stars being the best score.

I rate companies on a 10 star scale, with 10 being the best score. Anything 4 and lower is not recommended in my book.
Reviews where I

disagree

with David:
Example 1:
Internet Income University (IIU): David rated it 5 stars. I rated it 3 stars out of 10, which is not recommended.
Why I rated it so: It's a decent system, but pushes it's own products for you to promote and it's membership prices as well as what it offers can be attained for less money and even free. 
Example 2:
Empower Network (EN): David rated it 5 stars. The review he put up is from 2012. I rated it 1 out of 10 stars (worst score possible).
Why I rated it so: I consider EN to be an absolute pyramid scheme. It provides you with a blogging platform that once had high prestige in search engines and thus ranked high. Note, I did say ONCE.
It also "provides" VERY expensive training which can end up costing you $1,000's, literally. While you can make A LOT of money through this program, in reality less than 1% of everyone who uses EN makes a profit. Furthermore, it's my opinion that EN is one of the most unethical companies I have ever reviewed. Reasons why.
Example #3:
Work from No Home: David rates it 5 stars. I rated it 4 stars out of 10, which is BORDERLINE recommended in my book.
Why I rated it so: This is one of the few occasions where I somewhat agree with David.  The program is legitimate, but there are missing pieces to it and some of it's recommendations are outdated and just won't work anymore. 
Example #4:
Clickbank Pirate: David's rating, 5 stars. My rating: 2 stars out of 10 which is a red light in my book.
Why I rated it so: Clickbank pirate basically uses a lot of very outdated training that can ruin your website's success. I'm not sure when David wrote the review on this product, but it must have been years ago since at the time of it's release, the program's approach to making money did work. Not anymore.
Example #5: 
Site Build it (SBI): David gave it 5 stars, I gave it 3 out of 10 stars.
Why I rated it this way: SBI basically makes HTML sites and using an approach to SEO (ranking on search engines) that is very outdated. During it's inception years ago, SBI worked very well, but nowadays WordPress is king and SBI just hasn't "evolved" with the times. 
Reviews where I

agree

with David:
Example 1:
Chris Farrell Membership: David's rating: 5 stars. My rating: 7 out of 10 stars. 
Why I rated it so: One of the few programs I agree should be recommended. It is an excellent website for newbies to online marketing. However, I could not give it my "full approval" because it stops after the beginner level basically. Never the less, I like this program.
Example 2:
Affilorama: David gave it 5 stars. I gave it 6 out of 10 stars.
Why I rated it this way: Another good program with excellent training. But I couldn't give it more stars because the program can be very costly and the owner has you promote his products. However, in spite of that, the program is legitimate and I would recommend it. I just wouldn't rate it as high as David did. 
Example #3:
Wealthy Affiliate (WA): David gave it 5 stars. I gave it 9 stars out of 10.
Why I rated it this way: WA is the #1 recommended program on this website. Frankly I think it's as close to "perfect" as any MMO program and the main reason is that they are straight forward and don't hype themselves up.
They simply teach you how to build an online business and they also cost nothing to join. The training there revolves around all forms of online marketing so you're getting the best of everything and the support is amazing.
I've personally been a member there for many years and will continue to do so as long as they keep doing what they're doing. I'd recommend checking out my full review on WA to see if this is something you should try. 
There are a number of other programs I've reviewed that I agree/disagree with David on, but I think you're seeing my point here.
My final thoughts on ScamXposer:
For the most part David does a great job reviewing and explaining many of his programs. While many of ScamXposers reviews are what I would consider accurate, at least by my standards, there are still a number of them I just can't agree with.
My #1 advice is when doing research for MMO products is to explore multiple places which review them and see what the overall score is. Don't just look at ScamXposer. Don't just look at this site. Get opinions from places, B, C, D, ect…, not just A.
One thing I can safely say however is that if you're looking to make an honest buck online, I recommend WA above all. I'm almost certain you'll find similar opinions on other sites for this program.
What do you think? Do you agree/disagree with my opinion of ScamXposer?