Years ago, I reviewed Solo Build it, aka SBI, but it went by a different name then. Why did it change? Was it a scam and is it better now? I'll cover all of this and help you decide if this program is for you.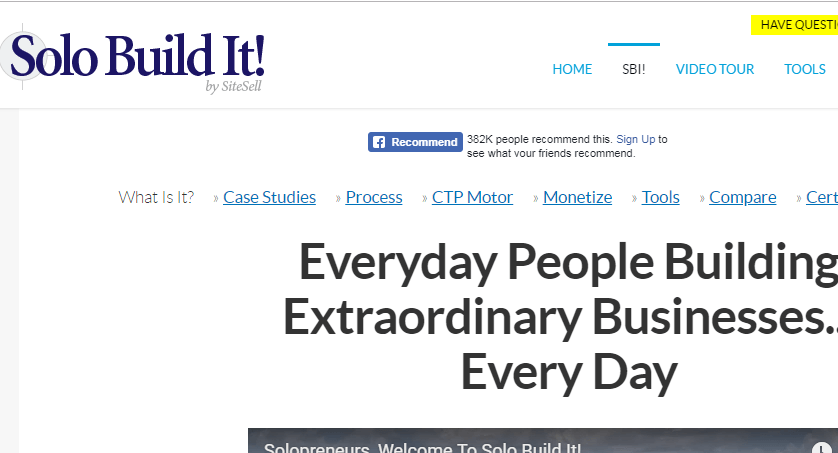 Let me disclose 3 things beforehand about this review of Solo Build it:
1) Substantial improvements have been made to SBI:
I have seen the sites SBI puts out, the evolution it has gone through, the things it teaches and frankly, there has been a major evolution and improvement on their end, so much so, that I doubled the rating I originally gave it from 3 stars out of 10 to a 6 out of 10, giving it a very positive rating that makes it a recommended program.
2) I am not an SBI member, but I do what they teach for a living.
I have been a member of another site for over 11 years, that frankly, I still think overshadows SBI in just about every regard and it gets 10 out of 10 (Wealthy Affiliate is it's name).
3) Wealthy Affiliate I think is a better choice than SBI (I'll compare them both in this review).
The 10 out of 10 program teaches very similar stuff SBI does, which is why I say SBI is legit, but there is "beef" between both programs because there's bad affiliates saying incorrect and false things which has caused a lot of unnecessary rumors to be spread. In this review, I'll cover things in an unbiased fashion.
Here is the short story of that though: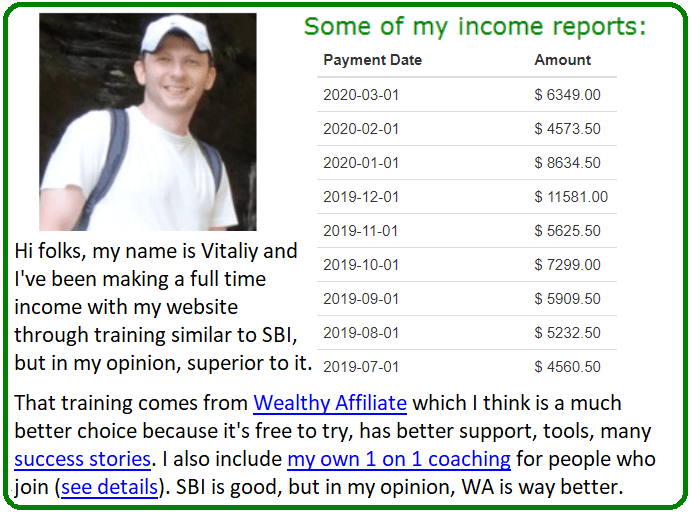 Let's begin and address everything. By the end of this review, you'll know if Solo Build it is for you, whether Wealthy Affiliate is for you and every other question, issue, controversy will also be addressed.
Let's begin with Solo Build it's name change. Why did it happen?
Remember, years ago, Solo Build it was called "Site Build it". Here's the review of the Site Build it program I did and as I already mentioned, there has been a stark evolution in the program for the better. 
But let's address the name change issue:
I couldn't find any official reasoning for it, so I am left to speculate, and the possible reasons I can conclude as to why this happened was:
The program made improvements and thus decided to change names in order to start "fresh" in people's minds.
Perhaps there weren't too many happy customers in the old SBI and a name change is usually a good way to get a clean slate.
I was critical of several aspects of the old business, and for good reason that I'll address. But remember, it has changed and improved since.
Perhaps the beef I talked about with Wealthy Affiliate (and other programs) caused too much bad PR to happen (this wasn't WA's fault, as I'll explain in a moment).
Either way, what you need to know is that the new Solo Build it program has improved and is legit.
Let's cover the "beef" with Wealthy Affiliate.
There's a long history of competition between these 2 programs and I strongly believe Wealthy Affiliate is still the superior program and product. But never the less, SBI has evolved and deserves a fair look. 
The issue isn't so much with WA, but the fact that there's bad affiliates in every program who try to "step" on other program's popularity and push their own recommendation. I've been accused of this many times by the way, as much as I try to do fair reviews, but to be specific.
And while I do overly suggest Wealthy Affiliate, I do recommend these other affiliate training programs, most of which I am not even affiliated with, so if you want to see more unbiased choices that are good, you've got that list.
When it comes to SBI, the old SBI in fact, it had it's negatives and certain bad people from Wealthy Affiliate did review SBI but in many ways didn't give it a fair shake, over blowing things about it that weren't exactly true.
So here's 4 things you need to know about that "beef":
1) I have already covered the bad affiliates within Wealthy Affiliate and you should now that they are VERY small in number, but the problem is people focus too much on the bad apples, even if there's not that many of them.
2) I have also specifically said that Wealthy Affiliate does NOT teach it's affiliates to misrepresent or falsify info on other programs, so the affiliates who say bad things about SBI that aren't true, are not representative of WA itself. In fact, WA is a legit system that never teaches us to bad mouth other program.
3) Because the few bad apples said the bad things about SBI, SBI took that info, and perhaps even thought all of WA is bad, going as far as posting their own thoughts on this where they say that the odds of success in WA is worse than with SBI.
Here is that article, they deserve to have their voice heard too, so you're welcome to read that article, but and I have to say, I disagree with it, because they are citing sources and info which I personally find questionable.
For example, they are citing Alexa to show their sites get success, but Alexa is not a serious program I'd use to show how well a site is performing on Google. I'd recommend Google itself and Wealthy Affiliate shows you how to do that.
As one of the biggest success stories inside WA (and here are other Wealthy Affiliate success stories), I can tell you that we have a ton of success stories and the training is similar to SBI, but deeper and goes further than SBI. I'll cover that shortly, but this an example of me saying things that are true and not bad mouthing SBI, yet some may misinterpret it as that.
4) The original review of SBI that I gave wasn't very positive, but I wasn't bad mouthing it either. Yet misinterpretations and exaggerations do happen by readers and anything that isn't positive may be though of as "oh you're just lying", but let's be serious here, if I'm pointing out legitimate flaws, that isn't the issue, it's that people exaggerate that and make it worse than it really is.
As someone who has made websites through similar training that is taught in SBI, when I saw the flaws SBI had, I had to point them out because you, as the potential customer seeking to put in time and work needs to know where those efforts would produce results, and today, SBI will give you a much better shot at that, then back then, but I still think Wealthy Affiliate will have better chances of doing this for you.
And I am disclosing that I am promoting WA (and giving my personal coaching alongside that).
What was bad about SBI and what has improved:
1) The biggest con was that SBI originally taught you to make HTML sites.
That was one of the worst things about it in my personal opinion since at the time, WordPress was the choice to go with. These are basically 2 site platforms and WordPress is far superior and even since then, it has continued to grow.
Now I give SBI credit, they upped their system and now help people use their same training, but they help them make WordPress sites, so kudos to them for this improvement. 
But there is an extra price for this:
The regular membership of SBI is $299 a year or $29.99 a month, but if you want SBI to host and help you make WordPress sites, that an extra $17 a month or $149 a year.
2) Second I though their support could have used improvement.
It was good, and still is good, but it's a forum environment and you can get customer support. Now that's good, but in WA, they have that too, PLUS a live chat and almost instantaneous support for your site.
From what I have seen, SBI hasn't really changed all that much in this regard, but WA does continue to evolve in that regard. 
3) Their training on SEO was and still is decent.
They still teach the same concept of "CTPM" which means that you create high value websites for niche audiences. Wealthy Affiliate teaches this too, and it is due to that, that I know the SBI training is legit, but I'll say it again, I think in Wealthy Affiliate it's better because it runs deeper, and you learn far more than just SEO.
Do I recommend SBI? I do now, but I still think there's better choices.
And you already know the other choice. 
Now I do have to be fair, let's compare Wealthy Affiliate to the new SBI:
There's 1 area where SBI beats WA and that is the price of membership: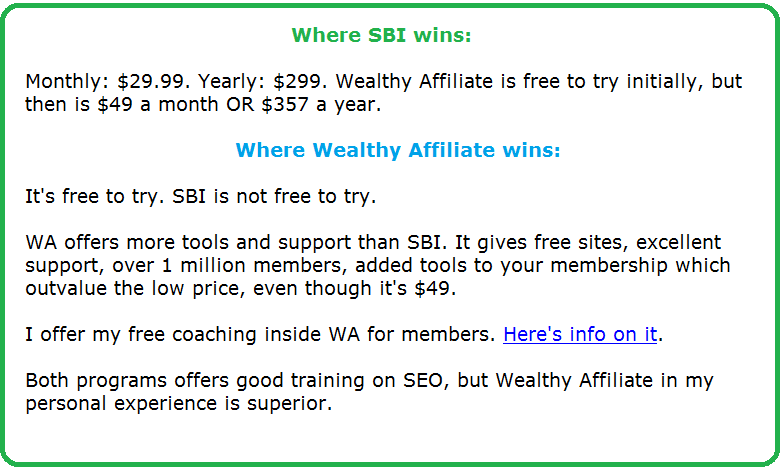 Despite the extra cost, I KNOW there's far less risk due to the free membership option and the added value on the back end that Wealthy Affiliate provides.
Again, I'm not bad mouthing Solo Build it and they have improved a lot, but not enough to beat the program I think would serve you better in building an online business, Wealthy Affiliate.
They just offer more benefits in support, training, tools and perks overall than ANY other company, not just SBI and that's something I can confidently tell you. 
But never the less, I give SBI credit in their evolution and I provided a link to them in this review, that I am not affiliated with in anyway, so you can check them out and make your own decision. I certainly provided what I feel is a fair assessment, but you're welcome to challenge me (politely please) on that below: