Before I write this review, I'd like to let everyone know that I am not an affiliate for Site Build it.
I am going to be critical about it because there are issues I find with this service.
Though everything I'll write here is based on opinion and I did not join them, I don't think the program is a scam, but there are major holes you need to know about.
Update: SBI changed names and evolved…
A lot of positive changes have been made by SBI since the last time it was reviewed here. Please read the updated article here to get a better understanding of the new and improved SBI.
Site Build it (SBI) in a nutshell:
This is a service which was designed to make the process of building an online business very simple as most of the hard work is done for you: Website building, learning how to get visitors, monetizing, ect… are all handled through the SBI system because you get all the tools and training to make it happen.
This sounds great, but as I said before, there are holes as you'll find out below.
What SBI provides (specifics):
Membership with SBI can either cost you $29.99 monthly or $299 yearly. For this price a number of different things to help you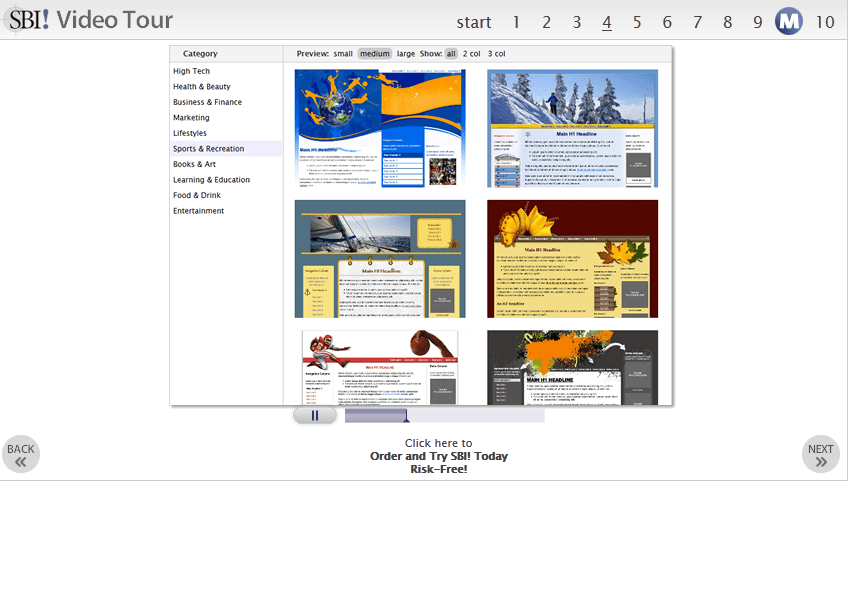 build your online business, but the most important components are:
A website + hosting: SBI helps you create a website rather easily. You get to choose from different templates and can customize your site based on the topic it's focused on.
However what you need to know is that these sites are based on an HTML platform which is a very old school way of making websites and from what I've seen, the process of making the site does have a pretty big learning curve despite videos on the SBI site saying it's easy. Personally, I find WordPress to be much more newbie friendly, but I'll get to that later.
A keyword & niche tool: This tool helps you pick a niche (select from 100 niches here) or subject matter you want to build your online business under. Typically people will choose something they can relate to and/or an already existing physical business they want to take to the online world.
You also get a keyword research tool to help you find low competition phrases people are typing into search engines related to your chosen niche/subject. This makes it easier to focus on your site on 1 specific subject, making it easier for search engines to spot you and get traffic. I can't really speak for this keyword tool since I haven't used it, but the one I prefer which is most up to date is this one: Jaaxy.
In-depth training on having your website appear on search engines, attract visitors and earn money. They break the training down into this "system":
C: Stands for content. You learn how to add content to your website that is focused on your business's subject.
T: Stands for traffic. You learn how to attract visitors to your website. This basically comes down to adding content to your website which is keyword focused. The idea is when people type a certain keyword that is directly related to your site's content, your site should appear very high on the search results and attract that visitor/potential customer.
For example: 
If I made a website that was focused on selling fitness equipment for women, my goal would be to have my website appear as high as possible on search engines whenever someone would type something like this into Google: "Best fitness equipment for women".  Your business idea and site will certainly vary, but this is just to explain how the process of internet marketing works. Here's a full updated tutorial.
P: Stands for presell. Basically this part is all about creating content on your website that builds authority within your visitor's eyes. If they see you as someone who knows what they're talking about, they are more likely to buy which leads to the last part…
M: Stands for monetize. You put everything together: A website. It gets visitors. You build trust. They buy. You earn money and run a successful online business.
My overall thoughts on the training:
While there is a lot of training involved with very in-depth focus on ranking high, some of it is outdated and can hurt your website's rankings. I recently read that since Google updated their algorithm, which basically means they change how they rank sites on their search engines, there were a lot of SBI websites which took a hit, meaning they lost their high rankings and in turn visitors.
Though there is speculation as to why this happened, I believe the main reasons was because SBI's approach to SEO (trying to rank sites as high as possible) was over doing it and trying to be extremely perfect. There is a lot of built in programming within the SBI system that I personally see as trying to game Google and they do NOT like that.
In recent years, Google has been cracking down on websites which try to "manipulate" the system. I'm not saying SBI was doing this, but if they took a hit as I read, there's a specific reason for this and it isn't good.
How well do SBI websites rank in Google & other search engines?
Overall since the Google update, SBI sites generally don't hold the same weight as they used to. This is because they use outdated HTML approaches to SEO which are dwarfed by other platforms like WordPress (WP). 
There are still SBI sites ranking well, but not as many as before. I advise anyone looking to build a website to use WP. If you need help with this, I recommend my approach to building WP websites which only takes a minute and costs nothing.
However, back to the main point: I still wanted to know how well they rank on search engines. This is because in today's world (2014), many people are using WordPress to build their websites and it's showing tremendous favor in  the eyes of Google.
Yet when looking into SBI and seeing some of their sites they show off, the only metric I saw them use to explain how successful SBI sites are, were through Alexa… 
Now for those of you who don't know, Alexa is basically a tracking program which measures the amount of traffic coming into your website.
Then it provides you with a ranking (basically a score) to indicate how well your site is performing. A lot of people like to brag about their Alexa rank being high and use that as a means to promote make money online programs such as Empower Network and other services.
Why Alexa rankings don't mean much…
If you know how Alexa REALLY operates, you would know that their metrics mean basically nothing and you should NEVER judge a website strictly based on it's Alexa ranking. In fact, the ranking a site holds in Alexa means absolutely nothing to me.
Here's why:
Alexa only bases rankings if a website has the Alexa toolbar installed, meaning if a site does NOT have it, Alexa does not and cannot tell how much traffic your site is getting. This means (and this has been tested) that if you have 2 websites, one which has say 10 visitors a day but the Alexa toolbar installed versus a website which has 100 visitors a day, but doesn't have the Alexa toolbar installed, the one which gets 10 visits a day will rank higher on the Alexa chart than the other one.
This basically goes back to the point that websites which brag about their Alexa rank don't really mean much since A LOT of people have stopped using this service in favor for better tools such as Google Analytics, a free program by the way. The sites which don't use the toolbar get ranked lower, giving websites which DO use the toolbar rankings above the non-toolbar sites, giving people the impression these sites are better performing.
The point here is that you shouldn't judge a site by it's Alexa ranking. You should only judge it by real traffic numbers and it's quality content and how consistent they are and one way to do that is to use that Google tool I recommended above. 
So now that we've gotten all that out of the way, let's summarize the good and the bad when it comes to SBI:
Pros:
SBI still provides a lot of valuable training and tools to help beginners build online businesses.

The pricing is pretty fair for the services you are given.

You get access to an SBI forum where you can talk/consult with others.
Cons:
Some of the training is outdated.

Some SBI sites have experienced a Google slap.

SBI still uses HTML format approaches to web building, something that is greatly outdated.

Very difficult to move your site from SBI platform to another hosting/web building tool like WordPress.
Final Rating: Site Build It (SBI)

Yellow Flag
3 out of 10 stars. I wouldn't recommend using it. Yes it still works but doesn't carry nearly as much weight as before. It's much better to use WordPress and get updated training on building an online business from places like my #1 recommendation.
Final thoughts on SBI:
For the most part, the system SBI uses is very outdated in my opinion. This kind of stuff would have worked well back in 2009 and maybe up to 2011, but the internet is evolving and SBI is just not adapting at a pace to keep up with it. 
When it first arrived to the scene, it was certainly a great approach to building an online business, and I'm sure back then it helped a lot of people because it really did organize building an online business into 1 simple system pretty much anyone could use. But as times changed and new ways to build websites & online businesses arose, SBI slowly lost it's momentum. Today, if you're still looking to start your own online business, I recommend this place above all: Wealthy Affiliate, one of the only places that teaches you the right way to get started.
I know this is a subject that has a lot of people on both sides of the aisle so if you're been a member of the SBI program or currently are, I'd love to hear what you think about this program and if you agree/disagree with my review of it.