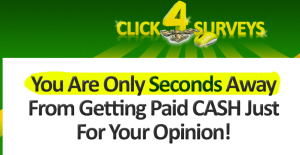 Click 4 Surveys is one of the sneakiest programs of it's kind that I've ever reviewed and yes, I say it's a scam. Find out why.
Quick Report on Click 4 Surveys:
Price: $97, then discounted to $34, then $19 if you click the back button (up-sells also exist).
Overall Rating:

1 out of 10 stars.
I've reviewed a lot of paid survey sites before and I have to say, Clicks 4 Surveys gets the lowest rating. But that doesn't really say much since I consider most paid online survey sites scams to begin with and never give them a green flag (very few are legitimate but that link shows some).
Clicks 4 Surveys in a nutshell:
It's not really a survey site to begin with. It just connects you with other survey websites and I believe this program is affiliated with all of them. 
There's also up-sells after you make your purchase and a few other programs within the members area also being pitched, one of which I've reviewed before and also gave it a red flag.
Why I gave Click 4 Surveys such a low rating:
Just so you know, I did purchase the program.
Truth be told, I hate any type of survey website (or in this case affiliate marketing site) which asks you to pay for information you could get for free because within the Clicks 4 Surveys site, you get a list of 51 survey websites you can join up with.
The thing is, those 51 sites can all be found on your own, for free without having to pay this program a cent to do it. This is my first reason for calling this place a scam. It's just SO disingenuous.
Also since we're on the topic of paying, the $97 isn't the real price either. It's just there so they can give you the coupon (which you don't even have to enter the code for to activate it) to make turn into $34. If you click the back button, the price goes down to $19 which is what I purchased it for. 
Then there's the 2 up-sells. The first is some "inner circle" they pitch where they give you 3 months of personal coaching and access to affiliate marketing training. They promise quick support. The second is a $7/month plan where you get updates on new survey sites coming out so you can be on "top of things" essentially. 
I didn't buy neither because first of, it's $197 and $7/month, then it turns into $67 with same discount code method they used on their original pricing, which then turns into $37 (one time) if you decide not to purchase it. 
And second, I didn't have much trust for this program going into it. I personally do affiliate marketing and there's really only 1 place I trust, Wealthy Affiliate. 
Then there's the members area of Click 4 Surveys:
Have a look:
See that big link in blue? That link is going to take you to a binary options program page. What's bad is that binary options programs are scams in my opinion for a number of reasons. 
What's even worse is that each time you click on this, it'll open up a new page. I believe Click 4 Surveys is promoting multiple binary options programs. Here are just 4 I found being promoted:
2014 millionaire.

Fast Mobile profits.

Millionaire Money Machine.

Insured Profits (I reviewed this one).
I didn't bother to keep on clicking because I assume this is going to continue. So just keep in mind that you're going to have additional offers within the members area. I didn't go through the whole site, just the most important thing which is:
The actual survey lists. You're going to be given a video that will run you step-by-step on what to do. All that this is going to involve is:
Creating a few email accounts.

Signing up with the 51 different survey sites which I already said can be found for free. They are all free to join.
Something to think about with Click 4 Surveys:
Let's take Clicks 4 Surveys out of the equation for a moment. Let's say you joined all of these sites for free. Would this then be a legitimate opportunity? Could you really make some of that extra cash you want? 
I don't think so because I've reviewed a few of these programs before. Most if not all of these places are all centers to give you access to many surveys so by joining these main sites, you're really going to be getting a HUGE list of surveys to answers.
Doesn't that mean that you can make more money? After all, more surveys = more potential cash no? Well technically yes, but in reality, the money you make on doing those surveys is going to be VERY small. Here is a list of some of the sites:
Cash Surveys.

Panda Research.

VIP Voice.
I'm not sure if all of these places are free, not to mention the others within the list in the members area, but I do know you can find them all online. Some of these sites will require registration where you may have to include personal info like your address.
So there's really 2 problems you're looking at:
1) There are WAY too many choices and too much time investment needed to register with each survey site and this doesn't include that each site already has tons of surveys and offers to answer which is going to take even more time.
2) The amount of money you'll potentially make doing this will be very small. These sites pay very little to begin with and this has always been my main argument against paid online surveys. 
Final Rating: Click 4 Surveys
Red Flag (Scam)
1 out of 10 stars. I find very little/no legitimacy with this place. I will never recommend it.
My final thoughts:
If I were to take a list of places you could join for free, then put a price tag for you to view that list, would you consider that a scam? I would. And that's what I see with this place. I can't even call it a survey site.
It just compiled a large list of survey places for you to join and they're also promoting binary options programs plus a few other up-sells. I won't speak for the up-sells but the other things I found made this program very easy to rate low. 
Now if you want to see OK sites like these (there aren't any "good ones", just OK ones at best), here's 5 paid online surveys I trust, but I believe my choice is a better option because it will help you make money online, for real.