I've had a great deal of experience with micro niche sites over my course of doing online marketing and I'll tell you exactly what it is and if they still work.
In fact, some of my best profit experiences came from using them and we're talking 6 figures, but that was a long time ago and if people were to ask me if these types of pages still work, I'd tell them maybe, and that maybe varies if there's 3 situations going on.
Do you know what a micro niche site is? Here is an example: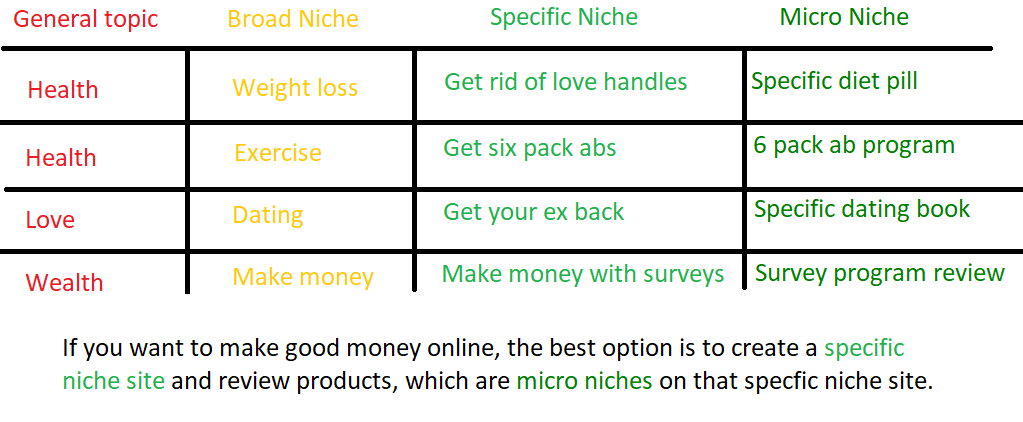 As I continue this article, I'll give you specific case studies of mine where I made money from micro niche sites. But I will still recommend you target a specific niche instead, because today, it is a far more long term way to make money online (and with higher odds of it happening too!).
There was a time back in the "lazy days" of internet marketing as I like to call it where people could make high ranking websites with little effort, targeting the micro niches though. They just needed a few pages and special "SEO" tricks to make this work. 
In fact, here was (and still is) the formula on:
How to build a micro niche site (how it used to work, but doesn't anymore):
You'd target an extremely low competition keyword. 
Then buy an EMD domain for it (Exact match domain). 

Over optimize their websites with a very low competition keyword (The SEO tricks I talked about).

Add meta tags with said low competition keywords.

Target a specific micro niche, like a product review.

Add a little bit of content and bam!
You'd have a high ranking result, within a week in many cases. And this was so easy to do that many programs released guides that basically repeated that formula and offered automation services to build them. 
But again, this is how it used to be for making micro niche sites. But not anymore.
People used the above formula of making a micro niche site so often because it was such an easy way to make money that eventually, you had a lot of these kinds of sites occupying Google, especially in the top results and many of them were extremely bad looking pages that often had incredibly low quality content.
Pages which instead of providing good information only sought to sell things. And that is what ALWAYS happens each time there is a "loophole" in the system.
In the case of micro niche sites, the loophole was that you really needed just a little bit of work to create high ranking websites to bring in traffic and that would also make it easy to sell whatever people were aiming to sell, which typically was make money programs and other, lower tiered products that often didn't get too many positive reviews.
Unfortunately for these people, whether it was people who used this loophole to sell good things or those who just abused it and sold scams, because this literally became an abusive tactic to game search engines, Google, like it always does changed things around and made it necessary for these types of sites to have a TON more content before they could reach those top positions again and when that change happened…
99%+ of all micro niche sites slowly started to fall off the face of the 1st page rankings and to this day, this gap has increased, meaning the criteria to reaching the 1st page of Google has become longer and harder to attain for them and as time went on, the gap and criteria has continued to get bigger and bigger for these types of pages.
Basically as time goes on, any kind of micro niche site has less and less chances of working and I'll point to one scenario below where you absolutely shouldn't be trying to make them anymore.
More specific micro niche site examples:
I'll start from a broad topic (1), work it into a niche topic (2), and then a micro one (3):
Weight loss (1), diets for athletes (2), a specific diet pill (3).

Make money (1), make money online (2), Wealthy Affiliate (3).

Books (1), horror books (2), Stephen King novel (3).

Fitness (1), lifting exercises (2), P90X (3).

Technology (1), cell phones (2), latest iPhone (3).
Ok, so is there anyway to make a micro niche site work nowadays?
Enter the 4 scenarios:
Scenario 1: SEO. The one I would absolutely avoid! 
In this particular case, I would say no. There is almost no way to rank an micro niche sites very high nowadays, no matter how low the competition for it is. 
Imagine the following: You have a keyword with extremely low competition. In most cases, even if you just made 1 page, it would not rank in the top 10 of that said keyword. You just would need more content to do this. 
Ever since the new rule of more content came into play, I have only ranked a 1 page site at the top, only once, but it was for a term that nobody else was competing for or really typing in either.
The fact is: If you're chasing a search term to rank for and you aren't the only one trying it, and furthermore, your competitors that are also chasing it have a better/bigger site than yours, there's no way yours will outrank theirs.
And if you do rank like I did for that one situation, like I said, it's most likely going to be for a term that either no body types or no body is interested in so either way I wouldn't have been able to monetize of it.
Long story short: micro niche sites aren't workable with SEO these days. 
Wait a second:
Isn't the key to getting traffic and making money done by targeting low competition keywords and specific audiences?
You are correct and from a basic point of view, these pages do this, but like I said, Google has changed the rules and made it much more mandatory for websites to hit the first page rankings because remember, if they didn't do that, you'd have garbage results ranked high and selling you bad things. 
If you have an issue with this, I'm going to explain further down why this is actually very good for bloggers and content creators.
Scenario 2: This is the one where I made the 6 figures.
The only situation in online marketing today where an micro niche sites can still work is if you bring traffic to them is not through SEO, but PPC.
This is exactly what I did with the following 1 page six figure case study which ended up making me so much money. I only had 1 page here and it was indeed targeted to a micro niche audience, a gigantic one mind you, but still, it met all the criteria to be classified as that. 
But that page NEVER ranked high in SEO. So the point of scenario #2 is to demonstrate that this can work, but for a particular form of marketing: PPC.
Do I recommend you find the biggest micro niches and started doing PPC for them? Absolutely not. In my case study, I had a good sales angle and a great review page, but in most cases, that same strategy didn't work for other promotions I did and it was money lost on my part.
Scenario 3: Rare cases where you can temporarily profit from trending micro niche topics.
There is one $5,000 micro niche case study where I was able to rank for a popular search term that didn't have much competition. It was a very specific topic and I was able to generate $1,000's from the profits I earned. 
But these things are ticking clocks waiting to expire so I would not look to this example as a long term business. Just a warning. But overall, the next scenario is what I would advise focusing on:
Scenario 4: The one you should be doing. 
Instead of focusing on 1 little micro niche sites, focus instead on a more broader niche audience and within the site, and then target little micro niches, in fact, target as many of them as possible.
This strategy is what works best because it gives you the ability to write the necessary amount of content to attain high rankings in search engines and and then people will land on the actual micro niche page you made as a result and buy from there. 
In other words, focus on ALL the micro niches you can possibly imagine within a broader topic to make a fully trusted site (for Google).
Will this take a lot more work on your part? Absolutely. But this is the mandatory work required to get those top rankings nowadays.
Furthermore, target every little page/product you write about with PPC campaigns as well. This is the best and most stable way to get a great, converting website and the kind of traffic from Google you always wanted.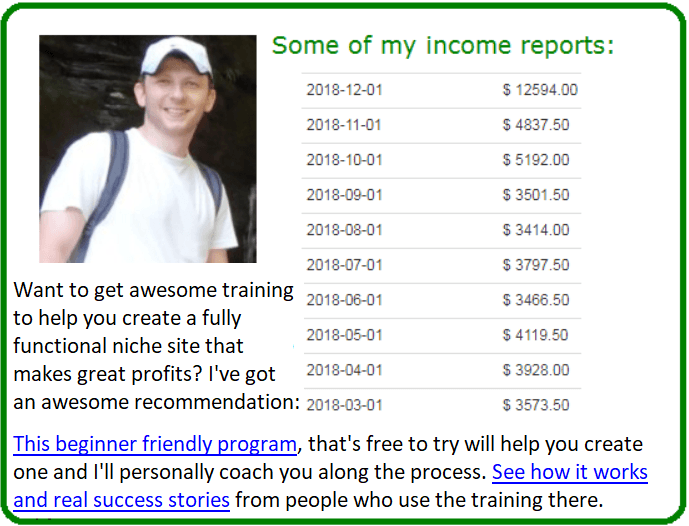 Here is an example of why this type of scenario could make you so much more than anything else:
And on a side note, that same 6 figure example could have been a 7 figure one if only I didn't rely on my PPC version of it and by the time it was making me money, had a good SEO site as well. In other words, in addition to PPC traffic, I would have brought in even more traffic from SEO (organic traffic always gets more targeted views than paid traffic) and that would multiplied my profits easily.
There's an example of why depending on just 1 micro niche sites or just 1 way of making money can limit you so much. 
My final thoughts:
Overall, there is still a ton of tremendous opportunity available with these types of pages, but it's a matter of how you target them and within WHICH strategy/scenario above that I showed you.
While it doesn't work the traditional way it used to (for SEO specifically), you can still make them work through PPC and (much more important) making a much larger SEO page.
You can also combine both of these strategies like I do on most of my sites and frankly, I think that's the best option for most people and this is the best idea in my opinion. It's the one I personally use. 
Doing more work is not a bad thing:
And you shouldn't let this extra requirement stop you from  starting a profitable online business:
You have to understand that there is always evolution happening within Google and I personally agree with the changes they've made. While it does make it more difficult for people to make money online, it is necessary to filter out the lazy people from those who work hard on their pages. 
We've seen what happened when Google made it easy for everyone to rank high (garbage) so the opposite (make it harder) is what made the search engine better and forced people to become better at their efforts. Now when I rank high, it's very rewarding and if anyone outranks me, at least I know it wasn't done through laziness, but also hard work and it pushes me to work harder on my pages.
My 4 guidelines for the micro niche subject::
1) Remember, for SEO, micro niche sites alone will not rank well anymore so don't bother. Target a specific niche and include the micro niche topics inside it like I said above, to help build the site that way.
2) If you understand paid ads, you can create micro niche sites can profit from them that way, but it's hard and possibly expensive. Do not risk this approach unless you first have training on paid ads.
3) For reaching success with either option, get training from the Wealthy Affiliate program. This is where you can learn to create a fully profitable niche site (or micro niche sites if you decide to use paid ads).
4) Click here to see more examples of micro niches and ways to profit from them.