Quick Report:
Name: My Home Job Search.
Price: A free membership is available, but most of the offers inside there require joining another program and to pay for it. And there is also a 1 time offer to their higher service which I think is $99, although a second look showed they push that down to $29.
Overall Rating: 3 out of 10 stars. My Home Job Search in my opinion and experience in seeing these types of sites and even joining their type of recommendations in the past has never ended well and I am seeing the same types of things recommended in this program, thus I am skeptical.
I don't think this program is a scam, but I do not think some of what they recommend to you is a sure way to succeed either as I will explain, SO what I will do is point to some of the things they recommend, explain my personal past experiences in those types of programs and show you actual free alternatives.
My Home Job Search in a nutshell:
From the free membership, in my opinion and from what I saw, it looks like nothing more than a simple affiliate site pitching other programs to you, while making itself look like a credible work at home finder.
Some of the links they provide aren't affiliate ones, but the site is divided into 3 sections from what I saw:
The 3 sections of this program, 2 of which I do not recommend:
Section 1:
You have to pay to get access there. This includes the job findings, and coaching. Here I have identified which areas of the members are available if you pay: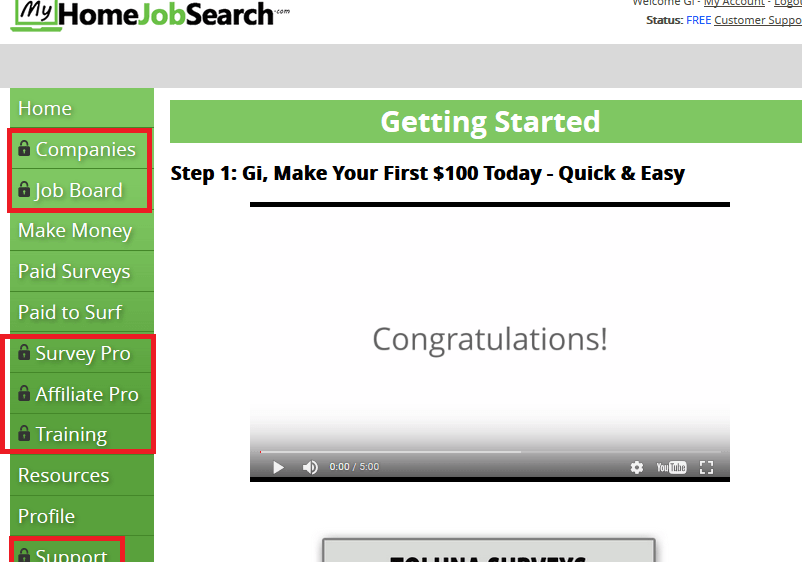 The red areas I indicated are part of the paid program (The $99 or $29 option). 
Why I do not recommend this: Experience has shown me work from home programs which charge you for information typically provide less than awesome results because they usually mimic search results you get from free websites. Take this review I did as an example.
So I do recommend an alternative vs paying for this? Yes, and there's 2:
1) On the main page of the My Home Job Search members area, if you scroll down to the last video where they give you a tour, there is a video which actually shows several sections which are locked to normal members, but in the video, they are unlocked so you can get a little preview of the types of positions offered.
One of the offers was for getting a position with Amazon, which is FREE if you just do it. I don't want to pay $29 or more to learn that information personally!
2) Use any typical job search site to find positions you can have from home. Here's 2:

Section 2:
The affiliate promotions. These sections of the site had at least most if not all areas be affiliate links, meaning:
1) If you joined these sections, you would have to pay.
2) My Home Job Search would get paid for you joining them.
I don't mind a company referring me to something that works, but requiring someone to pay for what they thought would be an extra way to earn isn't the right approach in my opinion and some of the options in this section have that. I think people need to be given free resources without a catch. Here are the 3 pages that feature affiliate links:
What do these 3 places link to? Well one of them is paid survey sites, another is a product review service where you supposedly get paid to review products and a third one where you supposedly get paid to browse the internet, but one of the options there was SwagBucks, which is a good program, but the idea of surfing the internet freely is a bit of a catch because in my experience, those programs require you to search within their own "turf" so it's kind of limited.
Why I don't recommend anything here: Every single paid survey site I have ever tried has been terrible. Product review sites are things I have yet to try so I won't comment, and the third one about browsing the internet, I already explained. 
Do I recommend alternatives? Somewhat.
I have personally only ever known Swagbucks to be good, but it is a rewards site, not an actual money earning site. As for paid surveys, I say forget it, because they aren't worth the time, same thing for "rewards" for browsing the internet. 
In short, this whole section is difficult to recommend alternatives for because most of them are scams in my experience and waste your time in my opinion.
Section 3:
The actual free resources:
So there's only 4 sites featured in this area, but they are all free to join and you can actually find a position, though it may be pretty difficult because a lot of people use it too.
But this section is the one which I see as having no strings there so I trust it more. The 4 sites they recommend here are pretty commonly known freelance websites.
If nothing else, this is the only part of My Home Job Search that I wasn't defensive or reluctant about, and it makes the free membership somewhat reasonable to join, but frankly, many free blogs feature this information as it is, including mine. 
I did a review on a similar program to this one (but it was much worse) and there I also shared 5 other sites you can work at home from.
Final Rating: My Home Job Search

Yellow Flag
3 out of 10 stars. I don't recommend any section that requires paying or joining trial offers and the resources section which has known sites is also pretty known, so overall this whole program doesn't really do anything for me personally but provide obvious resources in the good parts and questionable programs in the other in my opinion.
My Final Thoughts: 
As far as the free membership goes, there isn't all that much free stuff available other than in the resource section, but that area in combination with the video I talked about showing you an inside look into the paid area of the site somewhat justifies for someone to join the free membership, and nothing else in my opinion.
The alternatives I have provided to you above are things I personally have no affiliation with, but I wanted to let you know that you don't really have to pay to get access to that sort of information. 
Be very careful with programs like these. While My Home Job Search itself is not a scam, there are sites I've reviewed in the past (like the one I linked above) that were like it that went really deep into making you pay.

Overall, I do not recommend My Home Job Search, at least their paid or "would" have to pay sections, the free resources are OK.