The ability to travel across the world, not worry about how it will be paid for and better yet, having a source of income that pays you while you do this may sound like a dream, but it is completely possible to achieve with a blog (online business).
This is what I'm happy to report to doing full time thanks to my website (that's me in the above picture of Lake Louise), but I want to show you how to do this yourself, with specific steps and examples you can follow to achieve this outcome.
That's really a huge point I want to make to everyone here:
If you want to travel anywhere you need 2 things:
1) A stable income. Not just any job will do here. There's also a second big necessity and that is…
2) You need that income to come from a source that doesn't keep you in one place. Most people who have jobs are tied down to them. They can't take vacations anytime they wish and they very often can't take work with them.
But there is a way to work such that you can take it anywhere, which is what I do. This frees you from the confines of both income limits and jobs that tie you down.
Enter the whole point:
Have a website and have it be successful. When it makes money, you can access it, run it anywhere and go anywhere. And you can totally do this if you follow what I'll show you: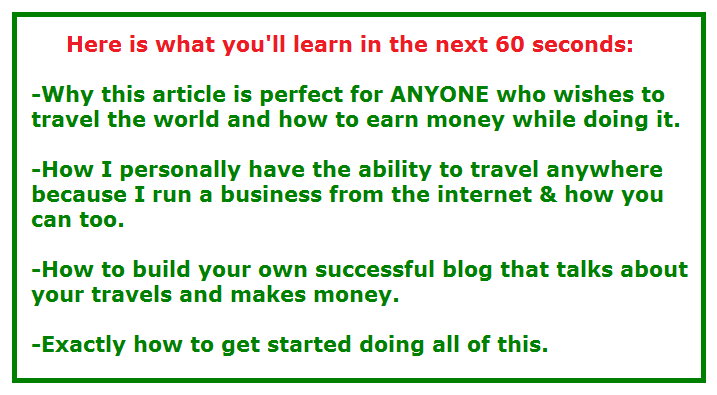 This week, I want to focus specifically on the travel niche and the reason why is because a lot of people whom I help pick out their niche subjects often tend to select that particular topic.
So if you're in this type of category, you should read this entire post because I'm going to break down how big this topic is and exactly how someone who enjoys traveling can make money while they do it, further fueling their worldwide adventures.
For me personally, I have always wanted to see the world and what's ironic is that while I have this opportunity before me today thanks to the actions I put into making my own online business, I have been limiting myself in where I've been going so far, but the point here is that the knowledge I've attained to build successful websites can help anyone who is truly serious about traveling do this.
So how does it start?
Well you need to pick something specific when it comes to this subject:
While the topic of traveling is ridiculously popular and is an evergreen niche, it needs to be better identified if you plan to make it work. What exactly does this mean?
Well traveling in my experience has a few specific forms:
Nature traveling (scenic areas that are generally more wilderness related). This is what I like most of all (I started a blog for this)!

Seeing historic areas (generally monuments, old cities, famous landmarks, ect…)

Just wanting to see the different countries and cultures. This one is more generalized, but it's still something people who love to go places may think about.
Personally, I love the wilderness more so than historic areas, so for the sake of example, I will pick that as the reference for how I'd be building a travel site on. By all means, you can use the same reference, but on a different topic to create the same type of niche page.
A very important thing to understand:
You don't necessarily have to stick to the above choices. Successful niche topics and sites can be made of ANY topic you wish. The website you're on right now is a perfect example of a NON travel site that makes me money to actually…travel. Get it?
Picked one out? Good, now let's make the site.
There are essentially 3 steps to creating a successful website in my experience. For my example on nature, we'll do the following (and this is the summary):
1) I have selected the specific niche of nature traveling.
2) Now to name it, I can go crazy with this idea, but typically a name such as Vitaliysnatureadventures (or something not so cheesy) can work.
3) On the site, I talk about the places I've been, where I'm going. I add pictures there, descriptions of how to get there too as well as I sell stuff on there (camera equipment for filming is a perfect example). This is part of the way that this blog will make money.

Here is what you'll need to do:
Compile as much information as possible on your niche, this will act as a brainstorm for content writing:
Been on a lot of adventures in your life? If so, I hope you documented it in some way. Maybe there were videos, pictures you took, journals you wrote about, blog posts you shared on social media describing your experiences, ect…
I would gather all of these things because odds are, you'll want to share this on your page for fellow adventurers to see. 
Next: Find associated keywords that are linked to your adventures.
One of the key points to ANY successful site is good content mixed in with keywords that people type in. This means that if you've been to any famous place, be it in nature or elsewhere, you're going to want to make the destination of where you were the title of your blog post. 
Now if you were in one or more areas, then each blog post you write will specify each location and it's details such as:
What it's like.

Where it's located. 

Pictures and other media you may have taken while you were there.

Tips and advice on where to go to have the most fun.

Sharing a story about how you were there and what you experienced.
Keep in mind that all these things should be included in EVERY single blog post you write, with each element reflecting each location you've been to. 
For example, to put this into a reference, let me use a popular nature location I've been to numerous times: Kaaterskills Falls. I have so much information and media on that location that writing a blog post that has all those elements above would be easy, but let me describe how I would do it:
I'd first look up keywords for this location. And look at this, it gets some searches:
With over 3,000 searches a month and my personal experience in seeing tons of people there every time I go, this is certainly a hot destination. But unfortunately, the keyword itself has a ton of competing pages (286). 
What I would do in this case is find a longer term with the original name of the destination to perhaps find a lower competing example and while there's plenty, I'll stick to the following one:

Well we went from 286 competing pages down to 1, but unfortunately we also went down to 24 searches a month vs over 3,000. However, fret not because by writing a blog post whose title has this whole term above, you will still rank on Google for and possible show up for the other main term which gets over 3,000 all thanks to LSI (What is this?). 
But I would go with this term because here, you're at least guaranteed a faster, better chance at getting 1st page rankings and then riding that to a better LSI ranking in other terms. So having this keyword, I will now choose my title.
Now it's very important that your title not be dull. For example:

Now aside from the title, once you write the body of your article, it is important to add all the information I mentioned, not just what the title says. There's many things I can personally write about this location that would easily bypass 2,000 words.
How much you write on your blog is up to you, but certainly try to write as much as you can on each location you've been to.
Does this mean that if you've been to 100 different locations all pertaining to the niche topic, that you should have a 100 blog posts? Yes absolutely. And each should follow the same type of pattern as the example I just pointed to, meaning:
Find a good keyword for the location and write as much as you can about it, add pictures and other media when and where you can. 
Ok so, how does one make money off this blog?
Here's the beauty of this whole thing, usually niche topics rarely span into other niche topics when it comes to what you can sell, but when it comes to traveling, there's a bunch of options available.
For example, in nature exploration, I can sell:
Tickets to these places (Planes).

Cameras to film the location. Tons of options here. 

Monetizing off ad revenue on the site. See my Mediavine post to see the potential there.

Gear to put on when people go there (maybe it's super cold?). And the gear itself here can span into everything you can imagine, from shoes to coats, ect…
Some of the products you can sell in your example can go as far as high ticket if you look carefully enough and only if the niche choice allows for it. 
In addition to your actual travel blogs, you can do review pages on the products you used and provide affiliate links to where they are sold and give you a commission, such as Amazon. 
Marketing your website beyond just blogging:
While blogging about EACH location you've been to (And go to in the future) will bring about a substantial amount of visitors overtime, you can and should look into the following 3 places:
1) Social media. Create a Facebook fan page of your adventures. See examples like "Outdoor Project" which basically does the type of stuff I'm recommending here.
2) Make YouTube videos. If blogging was a huge traffic source, then YouTube may come close or even surpass it. Make videos of yourself going to these locations and put them up on your site (this adds to the already awesome pictures and other media you have). And it's so easy these days to upload YouTube videos and attract traffic from there and you don't even have to be good at it (Case study on YouTube).
3) Use Pinterest. Personally I have never been a fan of it because my niche site's topics have never been friendly with it, but nature traveling (and the other types) is very much relevant to this social network because it's very visual. Basically make a Pinterest Board and upload your images there, linking to your blog posts. 
4) Instagram. Ever since I wrote this article, I actually DID start a nature travel site. And one of the ways I've been marketing it is by doing exactly what I've written about here as well as posting images and videos of my adventures on Instagram. It's been pretty awesome to see the followers build 🙂

Summarizing all of the steps to create your successful business & travel the world:
Everything begins with picking out the right kind of travel topic (remember, niche oriented) and then making the website.
Then it's about gathering all the info you can on each place.

Then it's about blogging about each place using the keyword strategy I indicated and promoting products.

Then optionally, as I said, use the extra marketing avenues (the 3 above). 
In the end, you are trying to create a website that is so rich in it's content that readers will absolutely love to read and watch where you've been and the more of that you add to the page, the more visitors you'll get.
As such, you will be able to sell more of the things that you personally have had with you and use that to fund any future adventures, which by the way will (and should) be used for future blog posts and videos to attract even more people to your ever growing blog.
This is how you create your own travel website. Can it really fund you that well? Well experience has shown me that yes it can if you write enough and are passionate enough about your topic.
Now keep in mind that it doesn't have to be an actual travel blog which funds you, it can be a blog that is not related to it at all, but is still used the same way (in terms of marketing) to make money so you CAN go around the world. 
This is what I do, and in 2017 I've started to REALLY put all of this to use. Before, even though I had a good website and was doing pretty well, once I started traveling to one place, to another, I really started to understand how amazing this opportunity is and that I should fully take advantage of it. 
If you are ever had the dream to see the world, understand that through normal circumstances, it is very difficult to do, with the restraining job hours and traditional approaches, few people get to live this type of experience. Fortunately though, with an online business, it can go with you and that flexibility (among other very comfortable perks) makes putting the time into making it totally worthwhile.

Update: I decided to start a travel site.
There was one thing I didn't really mention before in this article, but I actually travel to many nature spots and have recently had my fellow internet marketers push me to start my own blog on this.
It is still in the midst of growing in Google (the website is called The Nature Seeker), but the idea I have is note just run it through the tips I gave in this article, but also do display advertising on it through a company called Mediavine. Once there is enough information on how it's doing, I will be posting an update and link to an article showcasing if it's working so you can also implement the same tips on your travel site or blog.
Also another update is that if you need to see examples of already successful travel blogs, here is one. This person gets over a million visits to the blog via Pinterest and makes money from selling her own guides and products on the blog itself.