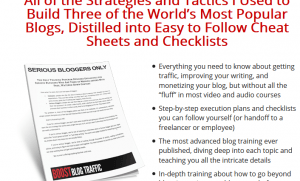 Jon Morrow is one of the only trusted people I follow and his program Serious Bloggers Only is an excellent system. I checked it out, so read my review.
And that's because there are things about it that may or may not suite you, but if not, I've got my personal alternative that is equally good if not better than Jon's program.
Quick Report on Serious Bloggers Only:
Name: Serious Bloggers Only by Jon Morrow.
Price: $49 a month. There might be other offers within the site, but I didn't see them. 
Overall Rating:

7 out of 10 stars

.
I took a moment to clap because this program deserves it for how high it is in it's quality. It really is for serious bloggers who want to create a successful blog business and I even wish I could promote it.
Jon, why haven't you opened this program up for affiliates to promote!? I'd love to! But at the same I have achieved success with blogging via another program, that I actually recommend a bit more to beginners. Here it is:
Serious Bloggers Only in a nutshell:
It's a learning program centered around blogging and taking it to levels where you can get to making 6 figures with it.
There is also focus on list building in the training.
There are training manuals for all levels of bloggers, from those who have never even heard of it or tried it to those such as myself who are already experienced with it, but need ideas to take it further.
Going through this program, I felt a bit nostalgic. SBO reminded me of Bring The Fresh, but when it was in it's early stages, they stage where at one point I though it was one of the best programs I had ever come across. You had help in the forums, you had excellent training and case studies provided and overall, you were receiving an online marketing education that you knew would take you places if you just used it. 
Sadly, in time, Bring The Fresh sank very far, but SBO is very much like it when it was great and I hope it doesn't go down the same road! Right now they are awesome and I only hope they continue moving that way!
What does SBO have to offer bloggers? A lot really.
Most importantly:
This program offers mass amounts of knowledge of the marketing kind and the type that I know works, but even with the things I did see which were familiar, there is still so much new stuff I learned from SBO that I ended up taking notes and adding mental pictures of what I was going to do for future blogs. 
If I were describing this site to people, I would divide it into 3 different categories:
The first is the knowledge part. 
You'll find that in the "Start Here" and "Courses" area of the menu.
This is where you have the guides, tutorials, PDFs and other resources that teach you blogging. There are 17 main guides and each of them also has additional resources attached to help you organize. Among these guides, the ones which stood out to me and enjoyed checking out were the Six Figure Roadmap and SEO 101. 
Six Figure Roadmap (the very short summary) describes a plan of action where you begin by choosing a niche, find authorities within the niche to get in touch with, guest blog for them and then have them help you build an email list by having your own site, having them sign up and then blogging information to them.
Then by doing so, you can get faster social shares, more recognition and very likely strong SEO rankings. The money comes from (and this was brilliant) selling your own personal services such as coaching for hourly rates rather than promoting affiliate offers.
I like that idea, but I have to say that as someone who offers his own coaching on making money online, if you seek this, I can show you how to get it for free in that link.
This particular guide would be perfect for an upcoming project I'm going to set up where I aim to provide content on a specific niche related to the health and fitness topic. I know I'll be using the tips from this guide so thank you Jon.
The SEO 101 book was also equally helpful and if you're a beginner, I'd read that guide. Again, for me like with the other "familiar resources" and topics I saw in SBO, I still learned new tips I had never though of before and I consider myself a non traditional blogger. 
Every single piece of resource within SBO is very helpful, but the way this site is set up, you're not really mandated to read all of them. What Jon did was create the Start Here page where he lists whatever level you are in the blogging world, to read one or more of the 17 guides.
So if you've never run a blog, have one with an email list under or over a certain number (or no list), these are all different stages people may be in and for all of them, there is a list of recommended readings to check out within the site.
Those are going to help you set up faster and have a purpose to strive for rather than read other information you won't use, although if you were to start, do it the way Jon suggests, read the recommended material for whichever level you are on, finish that and then read the remaining guides. 
The second is the case studies and bonuses: 
Located in the "Extra content" section, there are 3 sections within this menu tab where you can read and watch videos of people who implement the techniques from SBO and share what they specifically did for their niche site. This was one of the biggest things back in the good Bring The Fresh days which I loved and SBO does a great job here. They also made bullet points on what was done to also help you organize your personal blog.
The last one is the forum:
There's a very active forum within SBO that I enjoyed browsing through. There's also a success area where I did a number of people post a lot of different stories where they share their success from following SBO's training. 
Final Rating: Serious Bloggers Only

Green Flag
7 out of 10 stars. I think anyone who does blogging and has serious intentions with it needs to read every single resource within SBO. I certainly enjoyed it and I can tell you it does provide an excellent blueprint, but I still think the Wealthy Affiliate program is better for beginners for this exact goal too. 
Overall, Jon Morrow's advice on blogging (which you can also see for free here), is amazing and I really should be adding him to my list of internet marketing gurus.
My final thoughts:
Serious Bloggers Only is awesome and while at first I had confusions on how to properly utilize all of the training in there, I just went along with what they told me to do and it made sense. The bigger picture began to come out and realizing that, I saw how genius the site's blueprint is on success through blogging.
Not since Wealthy Affiliate, which I still think is the best site for blogging training (or the old BTF) have I seen such a great educational website. SBO is easily close to it though. Cancelling is also easy and I didn't see any surprise charges or up-sells inside, which further solidified my trust in SBO. 
What it did teach me personally was a new way to do something old (blogging). I can't wait to try some of this stuff and put up some case studies on it. 
I also want to add that what Jon talks about in terms of writing incredibly good high quality content is something I have taken very seriously and started another blog on for affiliate marketing called HelpingHandAffiliate.com. 
Jon's teachings (as well as Wealthy Affiliate's) reflect in that blog and I am proud to say that blog has helped many people which is the overall goal of a blog in the first place and it's what makes a blog, profitable.
Serious Bloggers Only
$49
Pros
Jon Morrow is one of the best bloggers I know.
Serious Bloggers Only offers a lot of incredible learning material for bloggers.
I have a lot of respect for Jon since he overcame a ton of adversity.
Cons
Serious Bloggers Only strategy might be a bit much for beginners.