I tried IMEye and I have a lot of experience with keyword tools in general. In this review, I'll explain where this particular tool falls short and what's better.
Quick Report on IMEye:
Price: A $1 trial for 3 days is available. After the 3 days, it's $147/month.
Overall Rating:

3 out of 10 stars

.
For the terms it does find, it's great and you'll be able to spot a lot of low competition keywords and come up with great ideas. However, there's a big problem with it in that it often doesn't give you results for broad or even specific terms (or phrases). 
IMEye in a nutshell:
It's a program for researching keywords and niches, but the type that are very long tailed (very specific and it can help find micro niches).
You type in a basic word or phrase and this program will (sometimes) give you results for terms related to that, but a very important thing to note is that often you won't get the exact information on the specific keyword you typed, but ones that are related to it. 
This is good only from one angle because by looking at one of these results, you may find more niches, but the bad thing is that you're not going to get any results for the one you typed. This happened a couple of times with this program.
IMEye is "accurate" with certain terms, but blind to

many

others:
It's ironic, but when I first purchased a trial with this program, I looked at a number of videos showing how to use it. I then went to create my first campaign to test out how well it works and used the term: "Extreme Home Profits" as my first example.
That's a program I tried awhile back and wanted to see what the program would show. 
Well I typed it in and clicked on it to search and it didn't show me anything. I got an error saying I need to broaden the keyword I was typing. This gave me my first clue that perhaps this program might not be able to spot very distinct terms like the one I was using.
Here is an example of this message. In this case it came up for another phrase I was typing (not Extreme Home Profits):
I then tried a few other phrases, a few of which gave me the same response (broaden the term) and a few did return some results. The ones which did, did not provide me information on the actual keyword.
I then really went REALLY broad and typed something REALLY standard: "How to lose weight":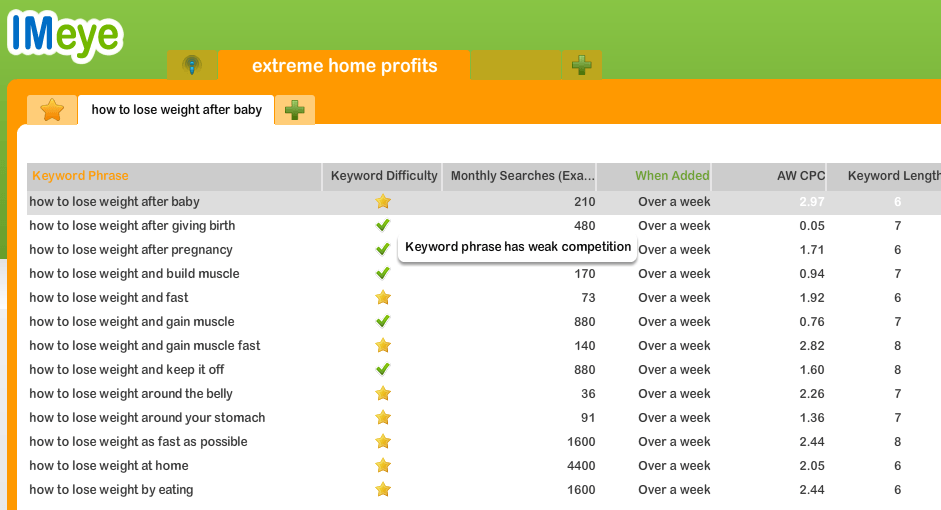 If you look at these results, none of them ONLY say "how to lose weight". They have that phrase and then add more words to it to help me spot more niches. In this case I spotted about 3 or 4 more. 
But the problem here is that the main word I was looking for wasn't retrieved for me. I do know very well that the phrase I typed is VERY competitive, but I wanted to see exactly how many times it was searched and I didn't get that information. 
You don't see it, but I did type it in:
In the above screenshot, nowhere does it only say "how to lose weight".
This may make people think I didn't type it, but I did and I even went back and tested it again. It apparently just added more information to my search and gave me attachments to the term which made it something completely different and very specific.
In my opinion a keyword tool is not supposed to do this. If I want to look up results for broad terms, give me information on that. Sure give me more ideas, but why keep the one I was looking for omitted? 
There is also another thing and that's with every single search I did that there is no mention of the exact competition for the terms. You can do it with Google, you can do it with a number of tools, why not this one too? The only thing they'll tell you is if it's competitive or not, that's it, but there's no number attached to it. 
$147 a month. Why so much?
Based on what I've seen with this program, I don't understand why anyone would want to pay $147 a month for it. Where is the value?
It's a crazy price and remember, you may not even get all the information on certain terms you type either! I have seen more expensive tools, but you have to at least get what you paid for and I don't think you get that here.
And honestly, even if you don't try the alternative keyword tool I'm suggesting, then you can also get more value out of finding your profitable keywords this way or even using a free tool I also use called Keywords Everywhere.
Note: Keywords Everywhere costs $10 a month and up now.
There's so much more value in these 2 options (and the third being the other keyword tool, Jaaxy) than with IMEye, seriously.
Instead of IMEye, here is a better tool:
Jaaxy. It is the most complete tool in my experience. What it will basically do is give you the same and really more accurate and long tail keyword results than IMEye for your searches.
Whatever you type, it will find and in addition to providing the results for it, it will also give you related search. In other words the best points from IMEye are included with Jaaxy and it does way more.
In terms of price, we're looking at IMEye's $1 trial for a few days and then the $100+ amount vs Jaaxy's free trial, followed by either $20 or $60 a month. 

Final Rating: IMEye

Yellow Flag
3 out of 10 stars. If they could give you more results, this program might be awesome, but it's not in-depth or direct enough with the searches you put in now. 
My final thoughts:
Other than Jaaxy, IMEye can really find you some incredible keywords and often ones you never though of looking for! That can really serve you well, but that's really the only good thing I found with this program.
But the whole thing about it not being able to find or show me results for very specific terms (Extreme Home Profits and a lot of others) and also even broad ones (which every tool should be able to show!) is going to get in the way of me knowing whether it's a good or bad term.
What if I am doing research on a niche and look for 20 different products using this program and it only shows me a portion of them? That's missing keywords that could be profitable that I would not know about had I depended on this tool. And if it can't show me accurate results for all 20, I need a tool that will and Jaaxy is that tool.