For several weeks, I've had an ongoing debate/argument with a friend looking to invest in very cheap, newly released gTLD, specifically a .sale one.
Note: I will mention what a gTLD is in a moment…
I keep trying to tell him that these things are not a wise investment for the reasons I will talk about shortly, but at the same time, I've been researching the history behind them to get a second look and possibly re-adjust my opinion.
I know that many of you reading this now have possibly also been in the same situation that I'm in as is my friend and are wondering if purchasing one of these lower tier domains is the right move. Perhaps you've received some sort of promotion from one or more registrars pushing them and how it's the next big thing in domain names.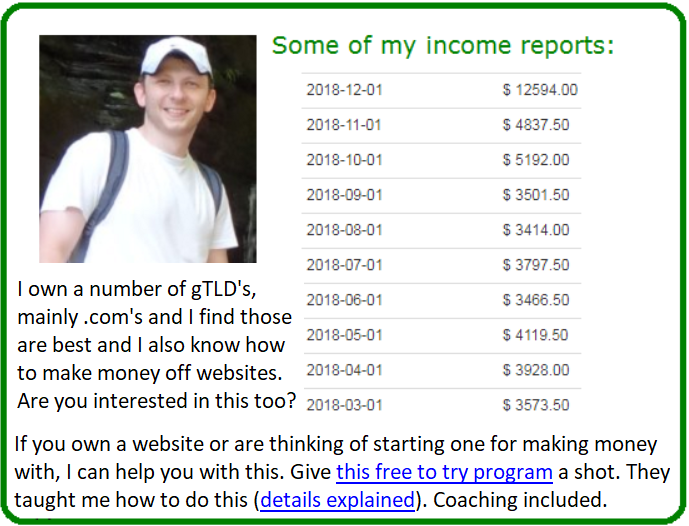 In any case, as I said, I've been doing a lot of research on this lately and I will admit, I have re-adjusted my position on them, but to anyone seeking to make a website in 2017 and beyond, my prediction, after making websites for 12 years is that you should stick to the more popular/widely used gTLDs as they have always been shown to offer the most results.
In short: The most traditional types of gTLDs are still the best ones to get.
But let's start from the first and most important thing:
What is a gTLD? 
Here is the meaning of it:
Now what exactly does that mean?
Well take any domain name, and the extension it has, and that represents the gTLD. So a .com, .net, .org (which are domain extensions) are examples of a gTLD. So in short, a gTLD is ANY known and sold domain extension out there. 
There is a tiered system to gTLD's and this is where it gets important:
Not every one of these extensions is looked at, priced or ranked in the same way on search engines. Some are considered to be better than others. For example: 
The .com, .net, .org ones are considered to be at the top of this system (and thus more expensive to buy), and are also referred to as TLDs (just remove the generic word in the beginning) and they are the most popular because they are purchased most often by people looking to make websites and traditionally, these were and are still the most popular domain extensions you see today.
However, every few years, new domain extensions (gTLDs) are released by domain registrars like GoDaddy and other big names to try and "expand" people's name buying options. For example:
Let's say someone took my name and made it into a .com, a .net, and a .org. Now if I wanted to buy a website with my name in it, I'd either have to contact the person/s who purchased those domains and/or use the lower tier extensions and go from there.
I can also just choose to make a different name (for example Vitaliy1.com). But this is where things get interesting and confusing for people thinking about buying gTLD, and it is something I am about to clear up:
Important facts and experiments that make an argument for buying lower tier gTLDs:
1) If you are seeking to make a website, and have it rank on Google, the good news is that they have already said that they do not give extra points for the domain extension you use. This means, whether you buy a .com, or something like a .sale, the weight in terms of how well that site's extension impacts rank is basically the same (here is the article), but this is a screenshot that proves it:
2) However, what is also true is that the number of second, third tier gTLDs is also being purchased on a very low level (for now) and the websites being made out of these domain extensions is very low, at least compared to the number of the top level extensions out there. 
3) Although rank on things like Google vary on MANY types of ranking factors, having personally done various searches to test out the level of importance an extension plays, I will say, my experience has shown that so far the higher, more popular level extensions do rank better.
For example, I specifically did a search for a .sale extension and didn't see a single one ranked on the first 5 pages of results from Google:
Most of the results were .com pages.

The others were .org pages.

But not a single .sale on the first 5 pages.
Of course this may not necessarily prove that they don't rank them, but more than likely that there's no one making these sites yet or they aren't on a big enough trust level to rank to rank on Google's first page results (something I will comment on very shortly that is also pivotal). 
4) I did do a URL search for my friend's website and it is INDEXED on Google, though it's rank as of now is very low. This certainly does provide evidence to the first point that Google indeed does not care about the extension your website uses:
5) I also ran another experiment where I did a search for websites in my area (NYC) with the extension .nyc. 
In the first 5 pages, I saw 7 domains RANKED with that extension, while the others were mixed between the higher tiered ones.
Arguments and facts

against

lower tier gTLDs:
1) As of this time, the second, and lower tier ones are not being purchased as highly as domain registrars are pushing them. Sure they're saying it's going to be a good, cheap investment, but remember, they are the ones selling them so of course they want you to buy them. 
But the argument here is that to this day, the highest level extensions are taken more seriously by people who buy them and I would argue people who visit those sites.
Think about 2 websites you visit:
One being a .com

And the other being, say a .guru.
Which would your eyes take more seriously?
I think the first extension would be treated with a more serious look, although that also is dependent on the type of content the said website has, which is going to be another argument.
When I think about potentially buying a domain name from someone, the FIRST extension on my mind is a .com. If I were given 2 websites to buy, 1 with a .com extension and another with say a .guru, and both charged me the same price, I'd 100% choose the .com.
It is a factor in my opinion on how people choose their purchases when it comes to domains a more known extension can actually raise the value of the site. See a $40,000 case study.
2) The internet in my opinion is being directed by certain companies, Google being one of the main ones, and if you look at how they look at websites, then you'll know they don't necessarily judge the site by it's extension nearly as much as they judge it by it's content and overall quality.
The argument here is that regardless of which extension you buy, they can ALL ultimately rise to being a highly lucrative website as there is large amounts of content on it.
This means that: 
A .com with one page will simply not beat a .sale that has 100's of pages on it, at least not in terms of it's Google ranking. And you can also say the same thing if the .com had more content than the .sale site.
3) Provided all things are equal, I would argue that STILL, despite Google's own words, if 2 websites have the same amount of content, comments and quality, the higher tier domain extensions like these will get that extra point in the rankings and the reason is because the more stable, popular and reputable extensions are still the go to ones used today.
This means if we took the same .com and .sale, put a 100 articles on each of them and had them compete on Google, I argue the .com would get more points in ranking and I also think the people viewing the sites would likely see the .com as more of an authority compared to the .sale page.
4) This is more of a speculation but there is an underlying paranoia I have about buying the lower tiered extensions as I honestly think they won't rank as high and if I put in so much work on a lower tier domain, and then have it get outranked by a site with a higher tier extension, it would really destroy me. I would make the safer investment and just start my website off with a higher tier domain extension (and I will make a legitimate argument for that in a moment).
My final thoughts: 
To really understand where new gTLDs are going and if they will be popular, you'll just have to look at the history…
There was a time where the internet started with just .com's and then eventually expanded into .net's, org's, .edu's, and the other top tier extensions you see today. At one point those other extensions were also low tier and dismissed by many but overtime, grew to become top tier ones. 
I believe the same will happen to all these new gTLDs being released, but it will depend a whole lot on the amount of people who buy them. But it is something that needs to be carefully done and the reason is this:
I believe that the more wide range of gTLDs that will be released over a short period of time will only lessen their quality and give weight to the existing, higher tiered ones. The more options people have, especially in this particular subject, the more likely (in my opinion) they will gravitate towards the more known extensions. 
Why your domain extension choice is like choosing a stable currency:
I honestly look at all these extensions this way, where the top tier ones are basically the "gold standard" and the up and coming ones are still trying to get to that level.
While the opportunity is there for ALL gTLD's to become a gold standard level extension, there still exist the top ones that have NOT lose their value over all these years and I believe the safe investment, thus, is with them and not with the new ones. 

In addition, that argument is in regards to the extension alone, but as I said earlier, the internet is moving towards a content rich experience, where ultimately, regardless of the extension your website has, the content you have on the site is what TRULY matters. And frankly, it is the only logical way of seeing things.
Why give SO much extra weight to someone who just chooses "right" on their website extension? It would eliminate the need/incentive for people to create content in my opinion.
Ultimately though, in my opinion, having a "gold standard" extension and a high quality content site is what will determine the success of it. 

I will also admit that my position on the lower tier extensions has loosened, but I will still advise either waiting for the others to rise in popularity/market value and/or to just forget about them and go with the existing top ones.