A lot of people new to website building nowadays find difficulty in choosing a domain extension for their site/blog.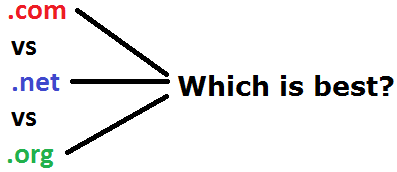 A .com vs a .net vs a .org. Which is best?
The answer is in this order:
1. .Com
2. .Org
3. .Net
Typically this is how extensions rank against one another, considering all else equal (same site, same quality content). But this isn't always absolute. 
You can have a .net site rank higher than a .com if you have better content on the .net site as opposed to the other site you're going against or for the keywords you are competing for.
But…
You'll often times stumble onto great keywords which have a lot of search traffic but little competition and when you go to buy the domain name, you'll discover the .com and .org are often taken and in many cases even the .net.
What do you do in those situations? 
You can either try to offer to buy the domain from the owner (I wouldn't recommend it as it's pricey.) or you can easily edit the name of your site and see if a .com extension is available for that or you can edit the keyword in a way which cuts out a small word from it (for, at, but, to). If you have plural names ending in "ing or s", you can edit your keywords such that the plural part is removed. This keeps the keyword pretty much the same.
Ex: A keyword "Women's fitness programs" is highly searched for and has little competition. You discover the domain extension is taken for ALL 3. You can do the following:
BestWomen'sFitnessPrograms.com, .org or .net
Women'sfitnessprogram.com, .org or .net (keep in mind that this keyword may have completely different statistics than the original so do research first). 
Women's bestfitnessprograms.com, .org or .net (this keeps the keyword intact and uses EMD). 
What if NOTHING is available?
Then make up a domain name which defines what your site is about. You can STILL rank higher for the keywords you are chasing even if your domain name isn't the keyword itself. This kind of method didn't work as well in the past, but through recent changes in Google's algorithm, now you can get away with this. 
If you find a GREAT keyword, and all domain extensions available, should you buy them all? 
It's really up to you, but I do not suggest it.
You can do something like buy up and own all the top extensions for a popular keyword and then try to sell them to someone. In those cases I would recommend it. If your goal however is to monopolize on the all the possible extensions for this keyword, then I would save yourself the money and time. It doesn't cost much to own all 3 this day n age.
Just try not to go through regular registrars as their whole game is to start you off on a cheap yearly price for that and slowly raise it every year. If you want to avoid slowly paying more and more for your site, register your domain here.
It's price is frozen at the same level year after year, so you save a lot of money if you plan on owning it for several years. Plus, it comes with numerous other benefits included.
While that link points to an internet marketing program, it is also a quasi registrar site, so once you sign up for free, you're able to buy domains at that frozen price.
Never made a website before? Then check this out: 
There are many methods to creating websites, but one my personal approach is this method. It costs nothing, you can make a .com in less than a minute and you can get it to rank just as well as any other site, paid or free. 
One last thing I want to get across: Your site name is SECONDARY to it's content which is PRIMARY! 
Although keywords are a crucial part of getting traffic and the name of your website should identify what your page's subject is about, the content you put on your page is what really counts in the long run. 
Write quality content for your website and you will rank for the keywords you are chasing and even keywords you never though existed, whereas the person who owns the domain name for the keyword who doesn't write good content will rank under you. 
Writing up great content is not difficult as long as you understand your site's main subject and write about related issues revolving around it. This will allow you to create what's known as an "authority site/blog" which will get ranked very high in search engines, attract a lot of visitors and in turn provide you with revenue potential. Learn how to build a authority website here.
Thank you for reading this article! I hope it has helped you. If you have any questions, feel free to leave a comment below! I'll reply within 24 hours 🙂
Note: An update to domain extensions…
As you may know, a these 3 options are NOT the only extensions out there. In fact, many new (called gTLDs) have popped up, making the original question this article posed that much more serious.
While I maintain the same order above is best to use when picking yours out, in spite of all the other new choices, it's important you know all there is to know about this whole gTLD topic and here is an updated article you should read, which not only explains how it's all evolved, but that still, despite all the choices, a .com is likely your best pick still.
As time goes on, I do believe the extension a site carries will matter less and less and it's content will matter more and more, but to this day, a .com is still far more recognizable for your site than any other option and that still makes it hold higher value.
Of course, do not ignore all the stuff I said about content earlier, because that is what is going to rise higher and higher and be the true thing that carries the site.