If being an affiliate marketer is something you're already engaged in or are a complete beginner to, let me tell you, these 10 killer tips are going to save you!
Affiliate marketing has been my main business for over a decade and I'm here to tell you that you haven amazing opportunity before you if you know how awesome it is and how to tap into it. The following tips I have are really going to propel you forward this year and if you have any personal ones you wish to add, leave a comment below.
First, my proof: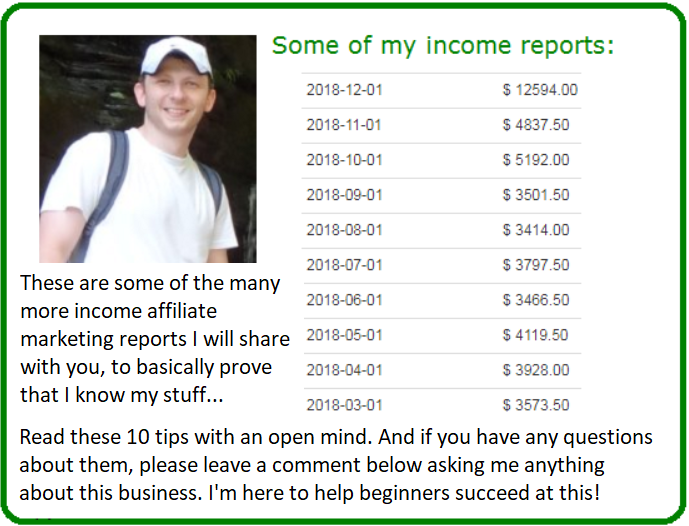 Now let's start this list of affiliate marketing tips:
I promise you that if you're a beginner, you're going to get a lot of value out these tips:
Affiliate Marketing Tip 1:
If you're a TOTAL beginner:
Read this definitive guide on affiliate marketing here if you are NOT familiar with this business. It explains literally everything I know about affiliate marketing and how I made $1 million in sales from it.
Affiliate Marketing Tip 2:
This business is ever expanding. Absolutely ANYONE can enter the affiliate marketing world THIS day and become successful. There is no such thing as "too much competition". You are NOT entering this game late, believe me.
There is no such thing as not enough space on the internet, it's ever growing and once you admit this FACT to yourself (that's the tip) , then it will drive the ambition to push you to become one of the many people in this industry who have made it big. And here's a list of 10 incredible success stories in this business.
Affiliate Marketing Tip 3: 
The best way to get started is to select your own personal niche topic and not a topic you believe to be a profitable one. Here is a pivotal article on niches I recommend if you're new to them. After you read it, pick one, then continue on with the other parts of this article. And if you need ideas, how does a list of 100 affiliate marketing niches to get you started sound?
Niche topics are without a doubt the MAIN starting point for MOST affiliate marketers out there, including myself. The idea of selecting a specific group of people and giving them specific solutions to their problems continues to be the KEY to success.
Everything that comes afterwards which is getting them to your website/videos/social channels is secondary, but it actually easy to do when you have that main bulls eye prepped (the niche chosen).
Affiliate Marketing Tip 4: 
Understand that after the niche, keywords and content creation is your next most important component. Find niche keywords, write and/or create video/social content based on the keywords and go from there. Build your website, grow your video (YouTube channels), grow your Instagram account with the niche audience.
The keywords help the niche audience find you.

The content creation helps the website grow and get the niche audience more and more exposed.

More content creation through targeted keywords (and hashtags if you're using Instagram/Twitter) is the way to combine these elements together to get traffic to your channel/website/page.
If you're building an affiliate marketing business that sells solutions on getting six pack abs, utilize these tips as follows (use your particular niche in accordance with this example):
Find keywords on six pack abs, the more you find the better. Review exercise equipment, fat burning pills, topics and FAQ's on the subject and break down each particular product/topic into it's own blog posts/articles/YouTube videos where you answer this.
Make sure to attach a keyword to every single product and topic you review and make sure it gets searches. Use this keyword tool to help you.
Never stop growing your page/channel using this strategy. The more content you create like this = the more exposure that content gets and it's all exposure to the niche audience you want to have.
Affiliate Marketing Tip 5:
Decide which route is best to grow your business. There's many choices, but make sure 90% of your attention is focused on whichever will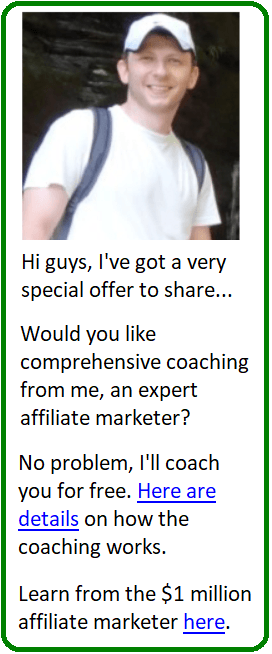 help the online business grow.
Here are your options and my recommendations:
SEO: Arguably this is the best starting choice/point for affiliate marketers. Despite social channels growing a lot, SEO and making websites rank on search engines continues to be the primary way most affiliate marketers make money.
If you write in a decent way and up, make a website, and write content in the form of articles using the tips in #4 (keywords, content).
YouTube: This is basically video content creation. The same idea applies, but it is better meant for people who are good speakers and can make OK and up videos about whatever niche subject they chose.
Entire businesses can be made on this as YouTube (like this affiliate marketing case study) has many opportunities and auto pilot business tools to help you make videos, grow a following and go from there.
In the case of content creation, let me use the six pack example, just apply the recommendations in #4, but in a video format. Find topics on six pack abs, make videos on every single topic you find and explain things. Grow the channel and as for money…
You can either funnel the traffic to a website you made or affiliate offers of your choosing. Direct linking in YouTube videos works very well (I have a few case studies here where I did affiliate marketing with YouTube and how this earned me money).
And I've got my own guide to making money with YouTube here if this is the route you want to go.
Instagram: IG is a social channel I've come to appreciate a lot, but not every single niche you choose is ideal for it. My understanding is that more visual niches are better to promote on IG.
For example: Raising dogs, getting six pack abs, exercise types, nature exploration, raising animals, things that people crave to SEE, not necessarily READ. If they crave reading it, then focus on SEO.
And if IG is the way to go for you, grow your IG page via hashtags using the same understanding as keywords. Here's a tutorial on Instagram Hashtags.
Pinterest: If you decide to go an IG route, consider adding this social network to your business as well. It has basically the same idea behind it, except there's no hashtags. 
Paid ads such as Bing/Adwords and FB marketing. If you have a budget, this is an additional bonus I'd recommend if you go the SEO route as it's great for getting you extra, targeted traffic in DROVES. 
For affiliate marketers, paid ads are a must in many cases. Here is a tutorial for you.
Facebook ads/fan pages and more. I'm going to tell you this right now: If you're running a local business or a website/channel where your name/website/brand name is known, make a Fan Page and share your content there, it will help it grow further.
These are 6 of the biggest drivers of traffic and profits and for affiliate marketers, they are the drivers of success. In my case, 90% of my success has been through SEO while the other 9% is paid traffic and the other 1% is miscellaneous stuff.
But again, pick one main option and STICK to it using the main idea of creating content through targeted keywords/hashtags. 
Affiliate Marketing Tip 6:
Stay extremely consistent. I promise you that if you create a new article, targeting a new keyword, every single day and/or create a new IG post, targeting good hashtags every single day, your website/channel will grow. It may not be a huge growth, but it will go in that direction.
Consistency is one of the toughest things for affiliate marketers to maintain because frankly it takes a lot of hard work to do and most of them want fast results, which is a mistake that leads most who try this stuff into ruin.
1) You're not just going to create a website with 100's of articles in days that have huge rankings.
2) You're not just going to create a YouTube channel with tons of videos that get tons of views in an instant.
3) You're not just going to make a huge IG/Pinterest channel in an instant.
All of that comes in time and that is also in GREAT part due to the consistency of the person who works on it.
Affiliate Marketing Tip 7: 
Set a quota. 
Using the above recommendations, set a quota on how many videos/articles/IG posts you wish to make within a year and make sure to not undersell this. Go into the 100's, 100's of articles, 100's of IG posts, dozens of YouTube videos, ect…
Make it happen because with this, you will be executing the recommendation I gave about growing your channel, growing your site and growing your business.
My final thoughts:
All of these tips will really help you grow a business, but I did miss one thing and that was about the money…
So here's a final tip:
Pick an affiliate product that will make your audience happy, and one preferably that you have tried and loved using. Do not mistake this for something that JUST pays you a lot and you believe it'll help people, KNOW it will help people, particularly your niche audience. 
Do not worry about promoting just 1 thing or many. If you find 1 good promotion, set your whole business around promoting that 1 thing. I do that with great success and believe me, you can market an unlimited amount of products to an unlimited amount of people and make an unlimited amount of money off just promoting 1 thing. 
And when you choose that 1 promotion (or several if that's the case), make the CASE for why it's awesome so the niche audience will love it.

And remember this:
A happy niche audience that gets their solutions makes a happy affiliate marketer.
Update: Want to get even more awesome affiliate marketing tips?
I have a website, it's called HelpingHandAffiliate.com and it literally was designed for people seeking help with this business. Check that site out if you need more resources and help on this subject.