For years I've used 2 particular places to buy very cheap, and just as importantly targeted website traffic.
Through properly using them, I have also been able to generate some sick profit numbers and today I will share with you what those places are and how to correctly utilize them the same way I do. 
How much traffic are we talking? The numbers, from just 1 of the sources below:
If that pic is too small, here are the details: I am currently buying traffic for 3 websites and through this source, here is how many visitors it has brought me and how little I paid for it:
1. The top most page has 99,566 clicks (visits) and for each click, I pay an average of $0.07! A little over a nickle! 
2. The one right beneath that is a weight loss page I run. It's an off and on campaign, but the traffic is ALWAYS there. 37,714 clicks and also a measly $0.07 per click!
3. A recent campaign I ran on drones started about 2 months ago. It currently has 586 clicks and I also spend the same amount.
The point is, I know how to utilize the following source to get visitors and I wouldn't be spending my time on it if it didn't make me any money, thus there is profit in it, a lot of it honestly…
Ok, let's move on and find out what these sources are, as well as how to get these same numbers I did (and higher!):
Let me start by saying that there are many sources/places to purchase website traffic on the internet and my experience has shown me that for the most part, it is like a sea saw, where one side is quality, laser targeted visitors, and the other is junk visitors. I think that even if you are hearing these terms for the first time, it's pretty obvious what kinds of visitors you want…
Based on that sea saw understanding, the more you pay per visitor, generally the higher the quality of that visitor (meaning they will likely buy) and if you pay very little to get massive visitors, you are generally purchasing very low quality visitors to come to your page (meaning there's no chance they will buy). 
Naturally this experience would make one think that a big investment is needed to get higher quality visitors, but the truth is that it's not. If you do a little work and use a little bit of intelligence, you can absolutely get REALLY high quality visitors for VERY cheap costs. How cheap are we talking?  
Well let me give you an example:
When you spend $0.05-$0.10 per website visitor, you're basically spending little/nothing and if you do the right things, then even making a single sale is already in the profit area. For example:
If I am selling a $20 product, and paying $0.05 per visitor, guess what? I can get away with getting at least 400 visitors (that would be the break even level) before I would start losing money through the method I will show you and the good thing is that in addition to the VERY cheap option you are getting, I will also show you how to maximize the potential that EACH of those people who visits the site actually buys the product.
If you don't believe me when it comes to those numbers, here are some real case study numbers.
So you get a number of things here:
Cheap visitors.

Converting visitors (they'll actually make a purchase).

Maximum profit. 
Ok Vitaliy, so what are these sources of cheap, but targeted website traffic?
It's not even a secret, it's just that people either don't know about them or are afraid to use them…but here it is:
Here are the 2 best places to buy cheap website traffic: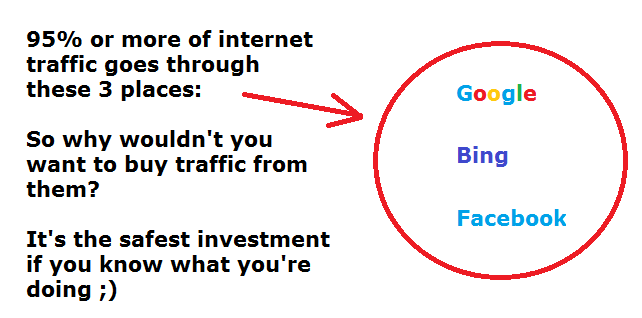 95% (if not more) of all internet traffic goes through the following 3 sources: Google, Bing & Facebook and all 3 of those sources provide their own advertising networks so you can BUY visitors from them:
Google = Google Adwords, Adwords Express.

Bing = Bing Ads.

Facebook = FB Ads.
With the exception of the FB ads, I only use the first 2 and I find that it is more than enough to get me cheap, high quality visitors CONSISTENTLY, completely contradicting the whole "rule" of the sea saw I talked about earlier. 
Ok, so how does one use these sources to buy cheap traffic? 
It is actually simple: 
1) You create an account on both those networks.
2) You identify specifically what you are selling on your website. If it just 1 product, fine, if it is several, segment them because you will need to create separate ads for EACH product (trust me, this is the most profitable way to do it).
3) You identify the keywords potential buyers will type into Google and Bing if they are looking for the products in question.
4) You create an ad with the keyword/title of the product in it, so it is EASY for the browser to see the ad when it pops up.
5) While the chances of a click are basically maximized through the first 4 steps, it is important that your page that visitors go to is good enough to get them to actually make a purchase (get high conversions). 
The 5th step is arguably the hardest because if you lack experience in online selling, it will require testing and perhaps even re-framing, re-writing your sales page/s.
You have to understand that my strategy ensures the following:
You WILL get visitors, it is absolutely simple through this strategy. 

But whether or not they will buy will require a different strategy that is unrelated to this whole topic. 
And the beauty is that these 2 sources operate in a way where you ONLY spend money for each click, which means your investment isn't a gigantic one, you will literally only spend as much as you want to. This is another HUGE reason why you really need to start using these 2 sources, especially if you can't spend a lot to begin with…
Here are 2 specific tutorials that will ensure you do everything correctly:
1) Tutorial 1: It is my personal guide on Bing ads. It's free to check out and I absolutely recommend you do. Fortunately if you read and use that guide, you can also apply the same thing to Google Adwords, so that one tutorial is already applicable to 2 of the biggest traffic sources on the internet 🙂
Again, you seriously need to take some time to read that tutorial because if you really understand it, I promise you that any future investments you make to get traffic to your website are going to be the most cost effective they can be possibly be and you WILL save more money than you can imagine, guaranteed.
2) The second tutorial is all about getting traffic to convert in which I will basically show you how to structure your website and pages so that the incoming visitors (who are already good, potential buyers) will actually make a purchase. 
Other "noteworthy" traffic sources worth mentioning and why you should avoid them:
1) Solo ads. I guarantee there will be people who ask me about this. I used to be pretty open to using Solo Ads, but today the only way I'd justify ever using this approach is if you have a lot of money to spend that you don't care about, which I doubt is the case for most if not all of you (including me). Here is what solo ads really are.
You see, I look at Solo ads a form of "pimping" out one's email list to one or more buyers willing to pay a lot to get it. Add to it, the price of purchasing a solo ad is also extremely expensive.
I would say that even for the highest quality visitors, you're going to pay $100 or more for about 100 or more clicks in some places. And remember, the highest quality solo ads will give you the "highest quality" buyers (or so they say). Whatever, let's assume that's true…
Compare that to my approach where you spend pennies to purchase actual high quality buyers. Let's compare:
$100 for 100 clicks (visits) and I assure you, not all of them will purchase your offer, in fact, less than 50% will in 99% of all cases.
Now compare that versus getting 100 quality visitors, at $0.05 like I showed above, via my sources, you'd pay $5.00.
You're saving $95 in advertising and still getting the same (possibly higher) quality visitors. Come on…
2) Junk traffic sources. Just by the name, I shouldn't even go further in explaining why it's bad, but I will just for argument's sake…
There's many traffic buying sources out that which can actually send you 1,000's and even millions of visitors. In many cases, a majority of those visits are bots (fake users) and/or people who will never in a lifetime buy.
Though junk traffic typically costs very little, the ROI (chances of a sale) is 0% in most cases.
My final thoughts: 
In short, solo ads and junk traffic are basically the 2 sides of the sea saw I talked about earlier and it is the type of "opportunity" too many people (for lack of education) get trapped or tricked into using because it is easy to set it up but because people don't know what's really behind it, they don't know that their investment is in fact a risky/failed one.
My options, the actual, traditional sources are still the best to use.

Need help with getting visitors to your site via my methods? Let me know…
If you are looking to purchase traffic, read the 2 tutorials above that I specifically told you to, and if you still encounter issues, let me know below the type of website you have and the type of products you are selling so I can help you correctly advertise them through Bing and Google.