I finally decided to started to experiment with learning about how do hashtags work on Instagram because for quite some time I had wanted to do a travel blog.
My initial efforts into this new world of marketing led me to start learning about hashtags and how they work and I've got a great deal to share with you on this topic today.
Now I want to make a confession. When I said I caved, I did so because I had always hated the word "hashtag", mostly because I didn't understand it and when I heard people say it out loud, it irritated my ears. I once even swore I'd never use them, but here I am, giving you guys a tutorial on it now…
Let me say that my view on this topic has evolved a great deal because I had always seen the potential of using social media for niche marketing and in my case, a travel blog, one which features pictures of nature most specifically, something like Instagram would be perfect for testing out the potential of this stuff and I will admit, my knowledge on it is still pretty new, but given my above intermediate experience in basic online marketing, I have been learning this stuff pretty quickly and figuring out how to maximize on this subject. So let's get to it.
Don't know what Hashtags are? Here's a quick explanation:
They are basically keywords (if you're an internet marketer, and know a little something about SEO and PPC), but they have this symbol: #, next to it. This identifies the topic.
Now let's cover how hashtags work on Instagram:
Even though they are also used on Twitter, Facebook, YouTube, ect…, I'll only cover the Instagram portion of them. Let me explain how these things work by offering a real life example:
Suppose you have an Instagram account and enjoy looking at something like nature scenery and want to find tons of pictures pertaining to that.

You'd look up the term nature scenery or anything like it and Instagram would give you tons of hashtags that pertain to that topic and would then give you a whole bunch of pictures to look at that reflect that search.

Now in the case of nature scenery, there would be a TON of different hashtags available, as I found out recently. For example:

A quick analogy for you SEO people (me included):
Let's look at this from 2 points of views, first from the SEO perspective:
As a marketer, you make a niche site, target different keywords so that when people type them up on Google, they'll hopefully see your site (here's a good program to train you to do this).

And as a browser, you also go on Google, type up a keyword and get website results that relate to it.
No problem, but now let's look at hashtags and social media. It's really not that different. As a marketer, you would take a picture of whatever you have, then put RELEVANT hashtags on it so that when people type them up in the search of say Instagram, you would potentially appear for them.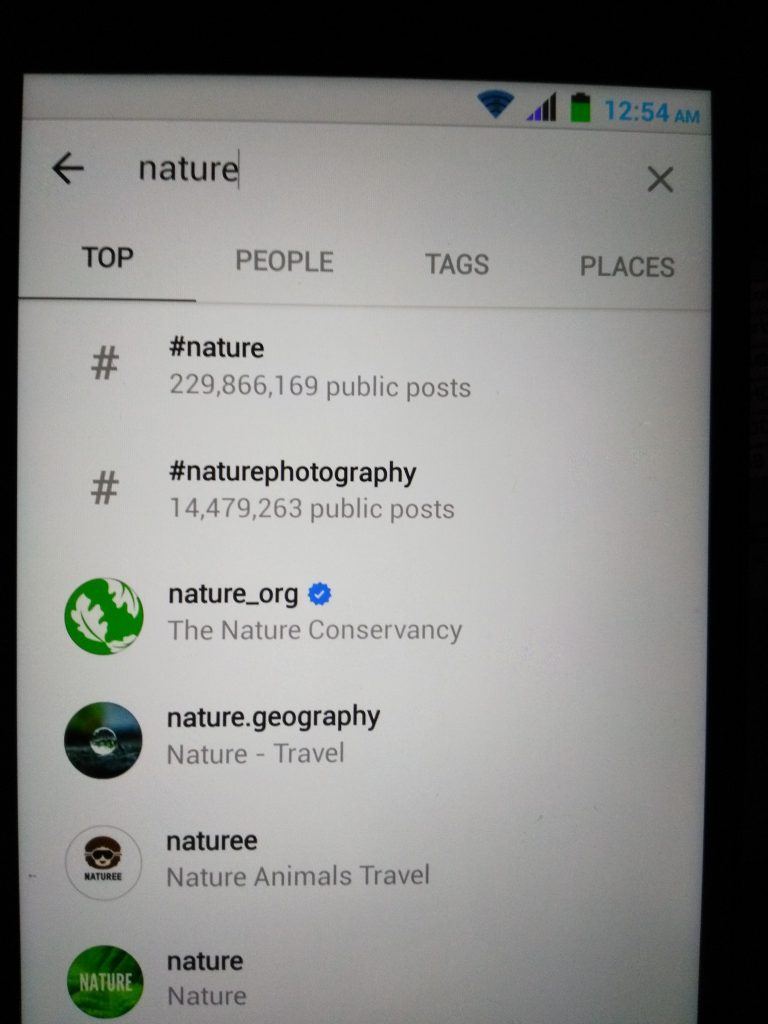 Now the thing about this is that when you type a keyword, in this case…nature for example, you won't get pictures right away, you will instead get channels or popular hashtags associated with the keyword you wrote. Here is an example: 
You should notice that the top results also show a number called "posts". That's basically the number of different pictures posted on that "channel". In this case, the top one has over 200 million pictures (aka posts)! That's pretty insane. And the second has over 14 million. The top 2 results I got from typing my keyword are popular to say the least.
Now the question is, how can you leverage this information for say…marketing purposes?
Well let's establish a purpose to all this first. I don't know about you, but to me, as someone who is aiming to have a popular travel blog, I would try to utilize Instagram and gain followers, likes and link them to my page to sell them things. That's really my main business plan summarized. So with that in mind, how would I do this?
Enter the steps:
1) I'd need to actually have an Instagram account for starters.
One thing I started with was setting one up and linking it through my Facebook account. What this gave me was the opportunity to add the same friends I had on FB, but on Instagram, at least the ones who also had it. Now what this does initially is that whenever you post a picture and they like it, their friends will see it too and if its interesting to them, they may follow you and you can grow a following.
Now this isn't a mandatory step and it's unlikely to produce anything huge unless you are a popular celebrity so don't worry about this. In any case, just get an account set up whether or not you have FB set up.
2) Decide on a niche topic you plan to show pictures of.
It is also ideal to have an existing niche site because your Instagram account will link to it in your profile. In my case it's nature.
3) Prepare to post a picture a day. 
In my case, I've got a lot of different pictures I've made over the years of nature related stuff, so I have a perfect stock to work with. 
4) Find hashtags pertaining to your niche topic and prepare to add them to each picture you upload. 
Now there's 2 options available here. The first is the most obvious one, yet it has a low probability of success and that is:
Select the hashtags that have the most posts in your niche topic. You are allowed up to 30 per post.
So in my case, when I put up a nature picture, and decide to add my hashtags, I'll either have to review the top ones for nature OR I can start typing up keywords that relate to the topic and and an auto fill in will appear to show me the most popular hashtags associated with it.
Think of Google instant filling in a keyword you type, this is exactly how this feature works on Instagram and it's quite awesome. Here is an example:
Note how every single hashtag I use pertains to my niche. This is what you'll also want to do, but use the ones that are pertaining to your topic instead (unless it also deals with nature). Now I have really only tackled the most popular hashtags I was given, and I did manage to produce a bunch of extra likes and a few new followers.
But there is a problem with this strategy which is why there is a second option…
First the problem:
Theoretically when you submit your image to appear on the most popular posts (#'s), yours will appear, but the problem is that because it's such a popular subject, there's tons and tons of people CONSTANTLY submitting their pictures as well and the more they submit there's, the more your picture/s get pushed down and away from the top, and literally with every passing second have less chances of being seen.
So unless you can keep putting up tons of pictures daily, you're really not going to get a lot of exposure and potential followers this way.
Having tried this several times, then looked through the posts themselves to find my picture, I couldn't even do it because there were so many new ones being submitted. It makes for wasted effort in my opinion.
Note: This problem really affects niche topics that are popular/competitive. Nature in this case, which is my topic, is quite competitive.
So what is the other option?
Well you need to (ideally) find a hashtag that is both popular, but doesn't have a lot of posts and at the same time is still relevant to your niche topic. What are the benefits of that? Here's a couple:
1) You won't have as many new incoming posts being put up so your picture will be at the top of new posts for a longer period of time.
2) This extra exposure provides more opportunities for likes and followers.
3) This essentially provides better chances to grow a higher following and develop your channel.
4) There also exists a "top posts" for each hashtag and if you can land there with enough likes, you can really start to ride a wave of extra higher exposure. Think of hitting the first page of Google and how much more traffic you get from that, that's how this also works and you have a MUCH better chance of landing there through this option.
Well how do you do that?
Thanks to a few YouTubers who were kind enough to share their "secrets" publicly (I will mention their videos shortly if you wish to watch them too), I found out that you need to look at what the tags are of the keywords you look up on Instagram, and not the TOP posts. 
The tag option will also open up a list of hashtags, but ones which aren't as gigantic as the top ones. And if you target those, you will benefit from the 4 things I just mentioned. 
So let's apply that principal to my case. By following this idea, here is what I was shown:
Now you may find that in YOUR particular niche, this option is not necessary as the top posts will not be popular enough for you to worry about looking at lesser competitive hashtags in which case, by all means, chase the top ones and reap the benefits. 
But in my case and in most niche topics that are huge, you will likely have to depend on this second option to grow your following. 
Now for those YouTubers I promised I'd mention to you guys:
Here is the full name of their videos and channel names so you can find them. I typically do not like linking out of my site, but these are the full names you should look for on YouTube if you want a more in-depth look at the strategies I was talking about:
My final thoughts:
I will tell you guys this much, this world of hashtags is still opening up for me and I am very astounded by the information and opportunity available with this. 
I will keep experimenting on my site and updating you all with posts on this one as to how it's doing. I can definitely tell you there is amazing opportunity with Instagram, especially if you are making a niche site that is visually focused like mine. 
Now I do want to tell everyone NOT to forget about SEO and go forth with this because in my opinion SEO and Google still hold a higher profit potential, BUT if you can figure out and grow a huge following on Instagram, use it together with SEO strategies to create a very profitable website. 
What do I mean by that? Well let's go back to my nature site which is called The Nature Seeker. I will be putting up blog posts targeting keywords of popular places and writing posts on them so I can rank on Google.
At the same time, I will be putting up pictures of those places on Instagram so I can send people to those posts.
Overall, I will be harnessing the power of 2 very powerful networks:
Google and Instagram to get traffic and this will really help the site grow. Although I will say, my #1 priority will be SEO, not social media, at least not until I learn it better and until you do as well, do not over focus on social media, stick to SEO, trust me, it is VERY reliable to make a great and profitable website through.
Any experienced social media marketer out there? Let me hear from you!
I'd absolutely love to hear your strategies if you do social media marketing, especially Instagram related stuff. This is still a very new area for me personally that I am fascinated by and if you have your own tips for growing a following, I'd love to know about it!