Despite the hyped messages and testimonials within HQ Solo Ads, I'd advise you take risk if you plan to try it. I have a good reason for why in this review.
And the main reason I'm not using them is because Solo ads in general are in my opinion not a smart way to make money online. I'll explain everything in this review:
HQ Solo Ads review & summary of how it works:
Cost: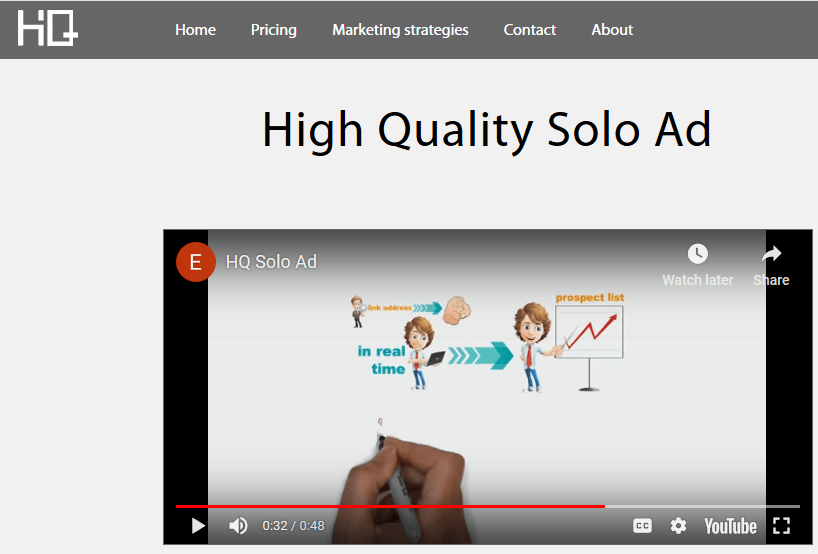 The membership is free, traffic packages cost anywhere from $49.99 for 50 "guaranteed" clicks all the way up to $664.99 for supposed 700 "tier 1" level clicks. 
What is it?
It's literally a traffic package site that's only meant for make money online opportunities.
It doesn't really say that when you visit the page, but based on the testimonials and what the people in those testimonials are promoting on the back end, it's pretty clear that this site is MMO oriented only with the packages it sells.
The basic premise of using this program is that you get high quality clicks, opt-ins and can turn them into sales for whatever MMO offer you are promoting.
Overall Rating:

3 out of 10 stars

.
I don't have enough evidence to say HQ Solo Ads is a scam and when in doubt, I'd like to think it's legit, but I do have enough evidence to suggest the approach to marketing, which is solo ads, itself is quite risky and has a very low conversion rate if you're not careful and that is ultimately, why this site is labeled as risky by me.
There are pros to this site:
1) Testimonials seem legit.
Usually, testimonials, especially for offers like these tend to be paid for. However, one of the testimonials I found on the main site was from someone who used this service to get clicks to his site which also promotes the same program I am on my page, Wealthy Affiliate. 
2) It appears it's been around for a bit.
A few years based on the look of the site, the videos on it and the people talking about it on other pages I've found.
But the cons list is far larger than the pros:
And here they are…
1) Prices for buying solo ads there are huge.
I will tell you this, generally speaking, getting a high quality lead from paid sources is usually NOT cheap, but I did manage to do it through marketing via Bing Ads, and my #1 recommended program, Wealthy Affiliate does discuss the secrets to doing this. For example, they teach people to drive targeted and even laser targeted traffic to your site via free and paid ways (not through solo ads) and in following the training they deliver from one of their guides called the Wealthy Affiliate Bootcamp, I was able to generate over $300,000 through free and paid traffic methods.
Because solo ads are a form of paid traffic and I think there's better options, which Wealthy Affiliate taught me about, as an example, thanks to their training, I've got about 100,000 clicks, from Bing Ads alone for under $0.10 a click.
And this is paid traffic, and in this case, it is FAR cheaper than what HQ Solo Ads charges for clicks AND the traffic in my case WAS laser targeted in a majority of cases, while the one in HQ Solo Ads in my opinion is likely cold traffic (possibly warm).
2) It's a very vague site in general.
I don't like that I had to guess that it was an MMO traffic package site and that you don't even get to select other niches. I also didn't like how vague the tutorial videos about traffic were, they are missing a lot of important pieces…
Even places like Udimi, which is arguably one of the most popular solo ad sites today does this and while I don't really recommend that service either, it's a safer investment than HQ Solo Ads in my opinion.
3) The ever present risk of using solo ads in general.
This is the big picture, the elephant in the room if you will:
I never recommend using solo ad websites because they are not designed to give you the best traffic possible, despite saying it's high quality. You want to know what high quality is?
Laser targeted traffic, and you will likely never get that from any solo ad site. But you will from proper SEO training and using Bing Ads and again, Wealthy Affiliate is the best course for learning both. 
I once made a pretty good image that details the type of traffic you'd get from solo ad services and it's generally not the warm, hot buyer traffic you'd need to make sales. Here is how it looks vs how they make you think it looks:
4) The back end issue (it's more than just clicks).
There is an untold issue I will mention regarding testimonials, because just getting clicks is NOT enough to get sales, there's a lot of other factors that aren't considered.
I can pay for ads right now and get  1,000 clicks in 24 hours, but that doesn't mean I'm a traffic master, and I assure you, a few of those clicks would ever convert either. 
The issue is beyond clicks:
It's the quality of the clicks (the con above).

It's about the level of marketing skill you possess (lower = less chances of making this work).

It's how you structure your sales funnel and what you do after the clicks/people see your landing page.

It's about how you structure your opt in.

It's about how you sell to the email list you gather.
These are the general, most important guidelines and only one of them is in relation to the solo ad site you use. Considering you somehow manage to find a truly great one, you still have to make sure those other factors are in near perfect alignment to make money with this whole endeavor.
So as you can see, it's more than just buying clicks and making sales (it's the typical myth of solo ads), there's a bunch of factors in between those 2 points that you have to get right, and very few people do.
This is why if you understand traffic generation from a point of view of getting the BEST (laser targeted) one from the beginning, you can then pitch the best offer, the best opt in and so on and make sure that traffic truly converts. It's how I've made money online, and it's what Wealthy Affiliate taught me how to do.
Final Rating: HQ Solo Ads.

Yellow Flag.
3 out of 10 stars. Too much risk at too much cost. I would not use this service unless you possess some truly next level online marketing experience and are so good at it that you can turn cold traffic into buyer traffic. But I assure you, that even if you do, you probably wouldn't waste your time with these services and would make money online through a different method. It's what I've done for years.
My final thoughts (about that previous testimonial).
In one of the pros above, I had mentioned one of the people I saw on HQ Solo Ads provide one, was someone who was marketing Wealthy Affiliate, like I am and he mentioned his site and his results (clicks and opt-ins) were referenced.
It was quite high, meaning he purchased one of the click packages from HQ Solo Ads and had a pretty good initial result. However, I had never heard of this person within Wealthy Affiliate, nor his site, so based on his testimonial and hearing it, I decided to check it out and guess what? Nothing showed up, the site is none-existent. 
Now I don't think that the testimonial was a fake, but I do believe the person who owns or owned it probably didn't succeed at promoting Wealthy Affiliate through solo ads, and Wealthy Affiliate by the way doesn't teach it's students to use them for the same reasons I said above. 
And finally, with regards to the other testimonials, yes of course they are showcasing their best results, but most of them showcase the clicks and opt ins as results and few show the money made from it. I'm sure SOME money can be made and even good money too if you're really good at this, but most of the time, like I said and continue to say, it's not worth it.
If you want great traffic generation help and success at it, do it the way Wealthy Affiliate teaches it.