I was pretty shocked in a good way when I found out that Income School and Project 24 isn't a scam. It's 100% legitimate, and there's no denying this program is amazing, but this review isn't what you think it is.
What I mean is, while I think the program as a whole is an incredible learning program (and I will break it down for you), there is 1 alternative like it that just has way more to offer in regards to everything, for way less: Wealthy Affiliate. 
This review will get into details of both programs and show you what Income School has to offer (and why it's great), but why at the same time, Wealthy Affiliate (WA) will still offer you the same kinds of things, for less.
Now while I will be recommending WA, you can feel safe knowing that Income School itself and specifically it's Project 24 is a safe investment for you to make, but before you make that final choice, read this whole review so you get the most info on both programs.
A summary of Income School, it's prices & what it has to offer: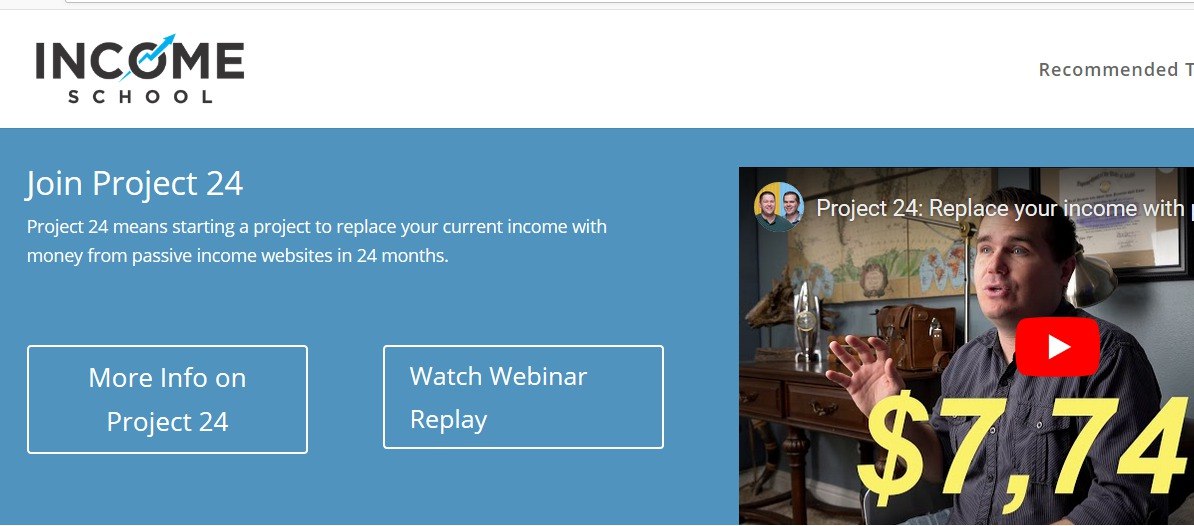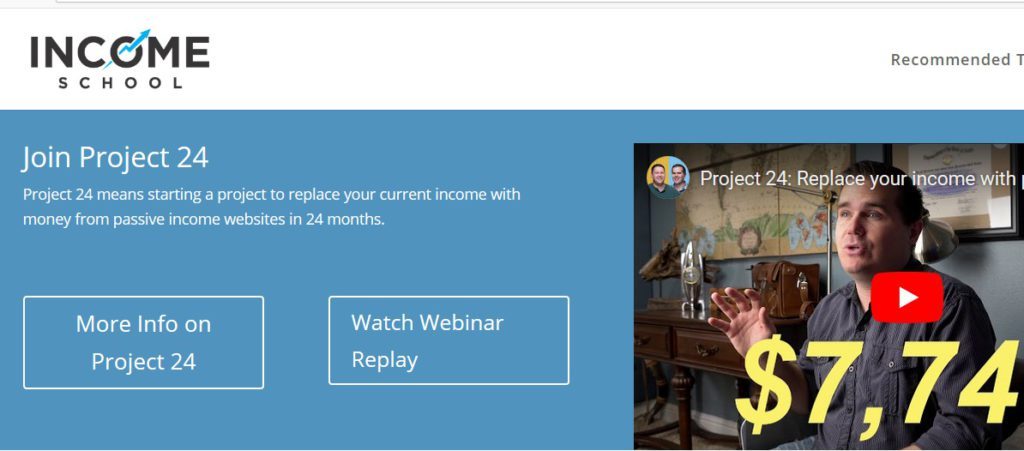 Creators: Ricky & Jim.
Price: There's 3 paid services offered:
Private Coaching: $599-$899 and the more expensive option has more coaching obviously.

Project 24: It's $449 for 1 year, but if you remain, it's $199 the second year and every single one after. Try Project 24 here.

An Immersion program: $2,750 or pay $1,375 twice.
Summary: Regardless of which paid service you choose, the overall goal of this program is to help you build a niche specific online business in the same manner Ricky and Jim have done it across their niche sites. They do show you them for free and do provide case studies, and structure their training to basically "copy" the formula and make your own business from that.
I will be getting into the training, specifically Project 24 in this review.
Overall Rating:

7 out of 10 stars.
My reason for the score: This is truly an excellent program for learning online marketing. Everything I've seen on the sales page of this program, to the reviews, to the free content both Ricky and Jim provide, for free, is phenomenal. This is in my list of the top 3 best programs for learning blogging (here are my top 7).
However, the price to take action with this program and start an online business, even with Project 24 being the cheapest option is where I take a bit of pause and want to interject the Wealthy Affiliate program as the better alternative, because I did not see anything within Income School nor what it said it teaches that isn't already taught within Wealthy Affiliate, for less (and yes, that includes coaching, which I'll go over too).
Here's a video review of Income School and Project 24:
And now, here's my official text review of Income School as well as Project 24 if you need more info:
An honest disclosure about my experience with Income School:
First, I want to keep this review 100% honest and I want to start by saying that I didn't buy any of the 3 services above, because I just don't need to pay so much money for stuff I already know and learned from the alternative program anyway.
I make my own (about me), full time earnings from the very same methods and techniques taught by Ricky and Jim and reading their sales page and watching their free content on their YouTube channel provided me with the evidence I needed to know that Income School is indeed legitimate.
Everything I've seen them suggest and talk about is something I agree with either 99% or even 100% and things I practice as well.\
I just believe this stuff is better offered within Wealthy Affiliate and soon, I'll compare both these programs like I said earlier to fully detail why this is the case.
Let's get into the details of Income School:
Again, the main goal of this system is to help people create niche businesses (online). And if you're new to this concept, you can either read this article on that subject and how that works, OR you can just see examples of this here:
The major things Ricky and Jim talk about and sell to you are how you can build this by creating a website and doing the right things to bring the niche traffic to the site. Most of these strategies including blogging, making YouTube videos and I believe they also teach you how to advertise the site on search engines.
Either way, this system is how I personally learned to make money online and I can 100% tell you that it WORKS (but it's not easy). In fact, I detailed this very same formula in my affiliate marketing guide here.
Their training from what I understand also goes over things like monetizing on ads with the website you make with places like Ad Thrive which are legit. Here's an example of how to get ads on your website.
Moving on: The 4 ways you learn from Income School…
I said earlier that this program offers 3 ways you can learn how to build niche businesses, but there's one more and that is…
1) Their YouTube channel & free content:
I linked to their YouTube channel above, and I have also found that their site transparently shows the very same sites they make that generate a lot of money for them. Here is the link to that. 
And in fact, I'll say this program as a whole is one of the ONLY high ticket programs I'd ever recommend, being that they offer REAL value and don't try to get you into some "promote us only" pyramid scheme.
If you're interested in trying out Project 24, click here.
2) Project 24. $449 for 1 year, then $199 for every year after.
This is the 2 year program that is the most realistic financial option to build an online business if you're a beginner. So far, this course offers about a 100 lessons and growing and will be teaching you the niche formula I outlined above, about finding audiences with problems and building a website to help that audience find your site to sell them the solutions.
3) Coaching. $599 or $899 for more benefits.
I would assume the coaching offered by these gentlemen compliments the core course itself and/or if you have an online business but need more 1 on 1 help.
I will however be showing you that with Wealthy Affiliate, you can get this kind of professional coaching included as a member of the program, without paying this much extra (more details coming up).
4) The Immersion program. $2,750.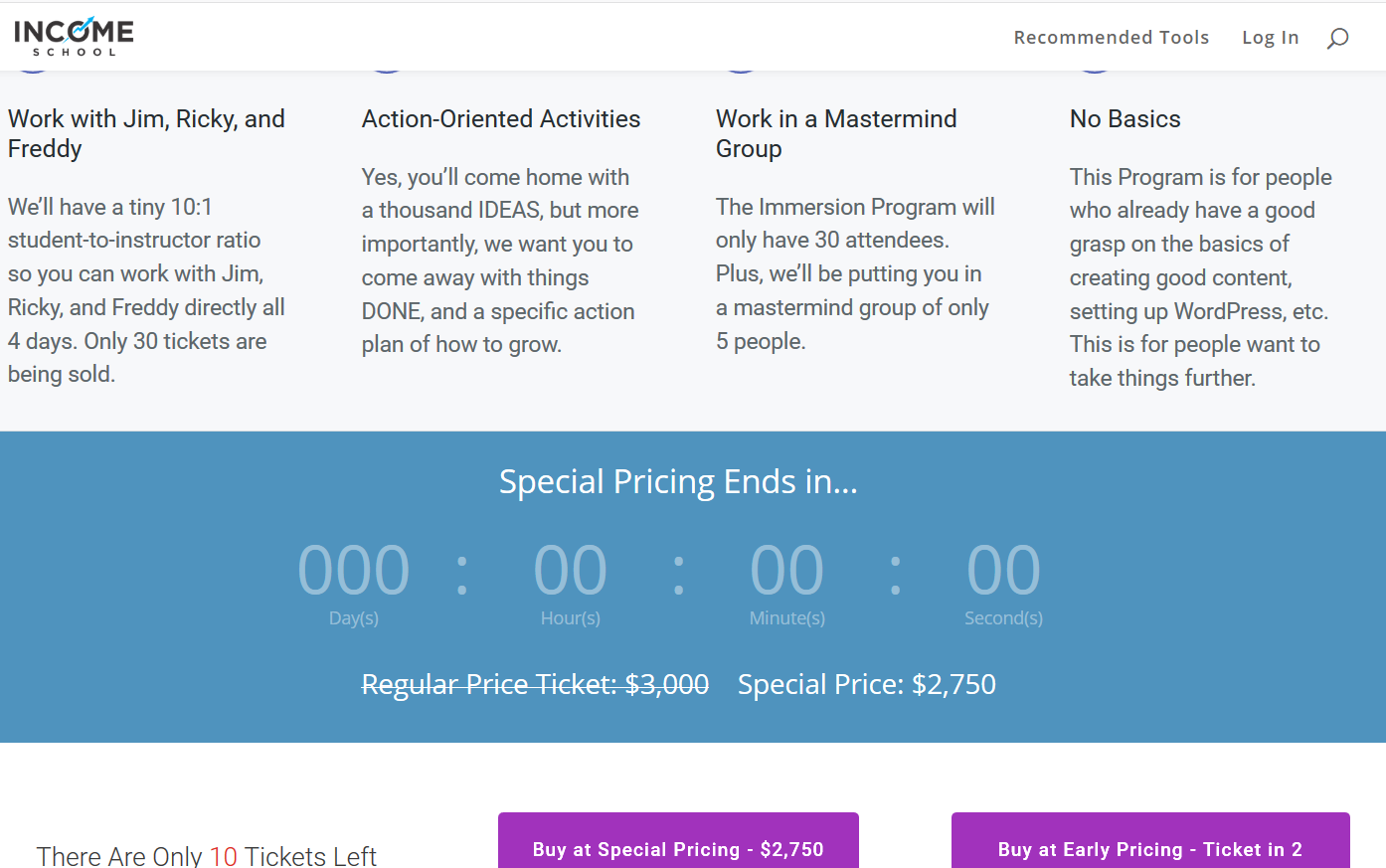 This basically sounds like a group type service where you can other people gather with Ricky and Jim and you all build your own individual online businesses but in a group environment.
Based on these offers, I'd say Project 24 and their free content would be the best things to focus on, unless you have a lot of extra money for the other 2 services.
Final Rating: Income School.

Green Flag (Legit!)
7 out of 10 stars. Again the only issues I have are the prices and the extra costs for other things like coaching and the Immersion program. Aside from this, the program is awesome and I DO recommend it, so if you're looking to try Project 24 and this review helped you, join it here.
But now, let me explain 5 reasons why I believe WA may be better:
Like I said in the video above, I AM biased to WA more so than Income School and this is for 5 main reasons (but both work, so let me make that clear!):
1) Same training, just for way less.
Let's start with the fact that Wealthy Affiliate's training is pretty much similar if not identical to Income School's stuff, specifically Project 24.
And it's because of this that I was able to figure out the latter program's training as being itself legitimate too. I've gotten incredible results (as I showed above) with this training and know with both programs, that you can do it too. Here are success stories: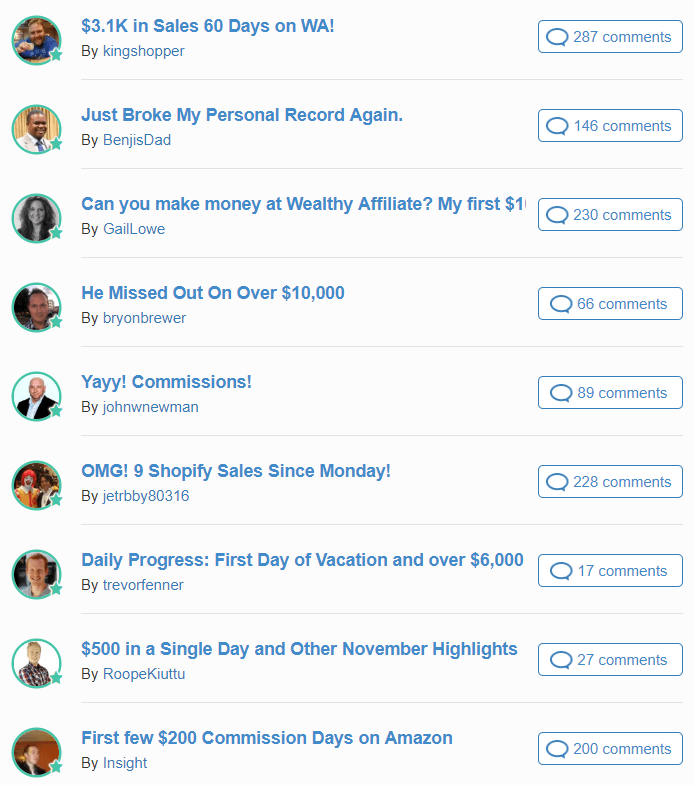 Furthermore, I will say this:
Wealthy Affiliate has MORE training to offer it's members than Income School. There are MANY more lessons available and constantly new content being produced and added.
You also get a core step-by-step course like you would in with the other program for generating a full time earning from a niche website.
2) There's a risk free way to try the system before investing.
I WISH Income School was free to try or offered a cheaper way to start. Luckily, Wealthy Affiliate has BOTH these options: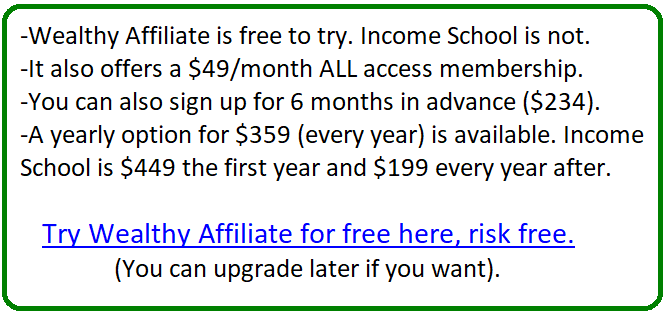 Even if you don't believe my position on WA being better, you can see this for yourself by testing it for free, something you would NOT be able to do with the other program.
3) Coaching is included, not something you pay extra for.
WA has coaching INCLUDED with your membership. With Income School, you do get help, but for the serious coaching, this is a separate (and very high) cost.
While Ricky and Jim are true experts in this business, Wealthy Affiliate gives you access to WAY more people who are also experts, including myself and you can get OUR help, faster and for LESS.
Wealthy Affiliate has over a million members, but with the large number of success stories, we are able to get to your questions faster, and I'll even add this: If you join WA today, free or paid here, I will personally expedite that service and help you ASAP.
Here's just a brief look at my overall "helping score" so you can see I'm not kidding:
4) Income School has extra costs if you start. WA's costs are more inclusive (you save $$$).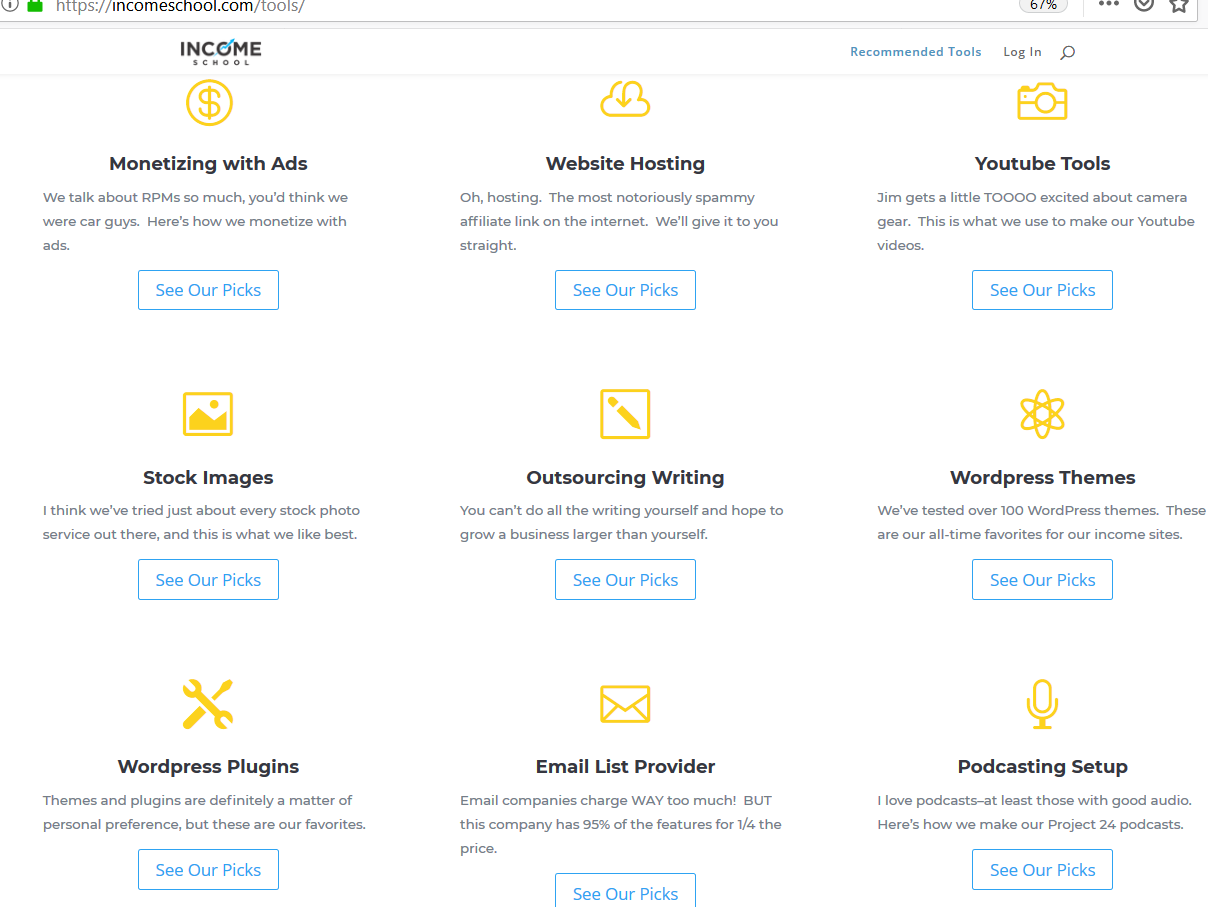 Let me show you a screenshot from Income School and then explain what I mean:
Now some of these tools and services are free, and even many of the the beneficial things and many ARE optional, but if you start with Income School from nothing…
There will be mandatory extra costs you need to invest like buying a website domain and getting hosting, both of which cost something extra. 
With Wealthy Affiliate, there are only 2 main things you need to get:
A website domain and a keyword tool, both of which are cheaper than what other places offer for these same things.
Everything else is included with the membership (hosting's free and you also get security for the site included), so overall, there are bigger savings.
5) Insanely awesome support that is unmatched.
I am absolutely certain that Income School offers awesome help and services (support), but frankly, there isn't a single program I've ever seen that offers this kind of stuff better than Wealthy Affiliate.
Not only do you get the coaching and support help from the program itself as a member, but you also have a live chat where you can communicate with other members, all the time:
Again, I do recommend either program, but with all these extra benefits inside WA, I would say it's the better choice and I'm certain you will see that if you try it risk free and get all the above benefits I listed.