Quick Report: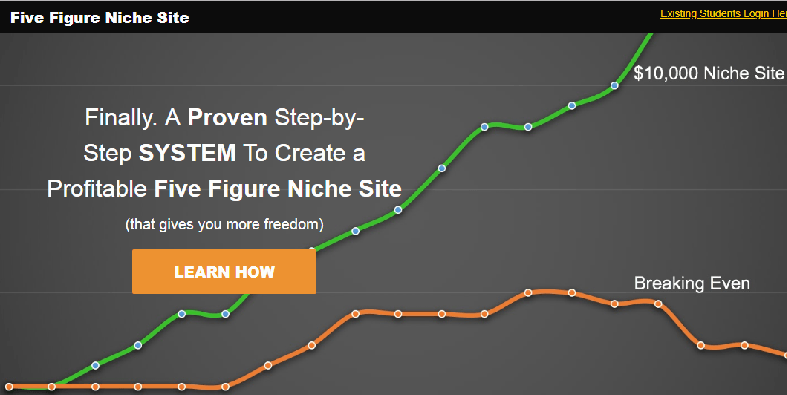 Name: Five Figure Niche Site by Douglas Cunnington.
Price: 3 memberships are available, each one lasts for 10 months.
Basic: $69 a month (10 months). Total, $690.

Advanced: $129 a month (10 months too). Total, $1,290.

Premium: $227 a month (also for 10 months). Total, $2,270.
Note: Purchasing the entire package instead of going monthly gives you access to discounts.
Overall Rating: 6 out of 10 stars. While each membership's prices add up, the overall program is highly valuable with it's training and potential for success. But yet again, I find myself still sticking to an alternative program which I feel offers more value, for far less costs…
Recommended? Yes, but hold on because I have an alternative…
What is Five Figure Niche Site?
It is a course which teaches you to create affiliate websites and promote products from Amazon. That pretty much encapsulates most of it. Broken down though, this course lasts for a few months, there's over 5 modules of training, a lot of support, private sessions with Doug provided and other courses that teach you how to go beyond the affiliate model and into things like selling your website.
Speaking as someone who has had and continues to have success selling stuff as an Amazon affiliate, I will say that Doug's program is totally legit. It's teachings resemble the same things I learned when I was first starting out with an online business and having seen success from that personally, it's only natural to assume Doug's program will do the same for you.
Pros:
-The training is legitimate in that it shows you the straight forward way of building a profitable affiliate site.
-Doug is very upfront in his sales letter in that his training is NOT a get rich quick scheme. Early on, he makes it clear that expectations on how soon you can make money vary. I like this because programs which do the opposite and promise quick money fail to deliver almost every time.
-There are a wide range of success stories ranging from those who literally make five figures on their pages via Doug's training and those who make a few dollars doing it. 
-The training extends outwards eventually and people can elect to follow Doug's formula of making successful niche pages, but start promoting things outside the Amazon realm. This is something I personally do since most of my promotions offer low commissions (thus I switched to different affiliate networks).
-Doug personally provides his support and help with Q & A sessions to members. I don't know if you have to be in the upper tier of his program's membership to be eligible or if it's across the board for ALL members, but this added support is a big deal and something very few programs offer nowadays.
Cons: 
There's just 3 major issues I see:
I don't like that there's 3 membership levels. Clearly each one offers benefits the others don't, but if someone registers with the original one or the middle one, they will be missing out on fully disclosed training that the highest tier members get (premium):
I would have preferred to see 2 membership levels, and possibly one that was free so people could test out Doug's program. As of now, you can only enter in as a paid member to see if it's good (and it is, but still, a free membership would definitely be good).
And finally, the price. I added up the total costs for each membership above and as you can see, it's pretty huge. Now obviously, if you can succeed with this program, then the costs of each of these memberships are worth it. But I've recently been reviewing similar programs to this one, and I have said that the price is too big, especially since there's alternatives that teach the same kind of stuff where you're better off spending your money.
Final Rating: Five Figure Niche Site.

Green Flag
6 out of 10 stars. Another excellent program. If you use the training that's provided, you can absolutely achieve excellent results. Speaking from experience doing this, it is possible through the formula this program provides.
My Final Thoughts: I've made multiple five figure niche sites, but through a different option…
While I very much like Doug's program, the 3 main cons I listed really make it hard to rate it higher, despite the program itself being extremely high quality and offering immense value. 
The alternative program I suggest actually shows the same type of training as Doug's program, but it is free to try and provides far more training, for less prices. You also get similar perks such as coaching.
Here's the specifics on my #1 recommendation, Wealthy Affiliate as compared to Five Figure Niche Sites:
-WA is free to try, with the other program, you're looking at least $69 a month or anywhere from $200+ a month.
-WA has 2 memberships, one is free, the other is $49/month (everything included). With the other program, it's 3 tier memberships, all paid and one more expensive than the next.
-Both programs have great training, but WA talks about making money as an affiliate via Amazon and other places. The Five Figure Niche program centers around Amazon only, but there is training that extends beyond that as you progress. Overall, WA has MORE training value to offer members.
-Both programs offer coaching, but with WA it's part of your membership and there is no limit. With the other, you get a Q & A session, but it is limited to how many you can have.
-Through WA, I've literally made MULTIPLE 5 figure niche pages, including the one you're on right now (see my stats here). I have no doubt the other program can help you do the same, but there's more than one option with WA in the mix.
Overall to conclude, the few times I've run into good programs like Doug's and my option, I've found that they essentially teach the same things and there's really 1 main formula to making it work, regardless of which program teaches it.
But the factor that makes them different is the price and WA just can't be beaten in that regard. Having seen tremendous success from it's training, I've continually recommended them.